This DIY Feel Better Kit post was sponsored by Pfizer Consumer Healthcare, but all words and opinions are 100% my own. See my disclosure policy.
Children getting sick is the absolute worst, but this DIY Feel Better Kit can help brighten their spirits when kids fall ill!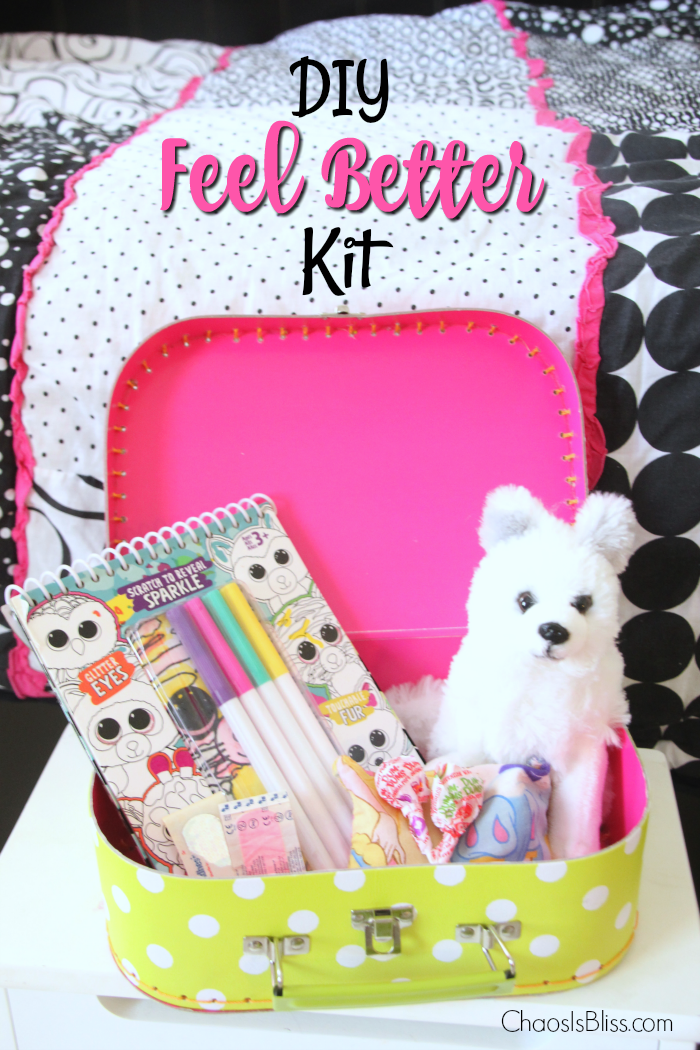 We're very fortunate in that our kids don't get sick very often. But when one does, you just want to take the pain away, comfort them and even wish you could take their place.
Depending upon the age of the child, each of ours has their own tricks that help to ease the burden of being sick. It might be extra screen time, watching a movie in the middle of the afternoon, or even a popsicle.
DIY Feel Better Kit
This DIY Feel Better Kit is designed to help brighten spirits when a kiddo is sick.
It includes:
Icy Pack – In our house it's called a "boo boo kiss" – silly name I have no idea how we came up with it, but basically it's a soft pack filled with corn kernels that we keep in the freezer. It's softer and not as chilly as a bag of ice, and provides cool comfort to bumps and bruises.
Activity book – It might be a joke book, "scratch art", doodling pad or a coloring book.
Markers or crayons
Bandages – The sparklier the better.
Stuffed animal – All ages in this house have their favorite. No judging.
Hard candy like Jolly Ranchers or suckers
What's great about a Feel Better Kit, is that it's packable for travel. Because let's face it – when sick gets real, it doesn't play favorites to your family's schedule. It can come on whenever and wherever you are.
You may also choose to include solutions like Children's Advil®, Children's Robitussin® and Children's Dimetapp® to ease those aches, pains and coughs, especially when packing for a vacation – so you're prepared to tackle the symptoms.
Children's Advil® for kids 2-11 comes in several flavors including Sugar-free Dye-free Berry, Bubble Gum, Grape, Blue Raspberry, Fruit and Dye-Free White Grape flavors. Infants' Advil® White Grape provides unsurpassed fever relief (among OTC pain relievers) with a syringe for easy dosing for children 6-23 months.
Children's Robitussin® Extended-Release 12 Hour Cough Relief controls and relieves symptoms all day or night. Available in grape or orange flavor, for children ages 4 and up. Please note, certain Children's Robitussin® products are only suitable for children ages 6 and up.
Children's Dimetapp® Multi-Symptom Cold Relief Dye-Free in dye-free grape flavor for children age 6 and up eases your child's stuffy and runny nose, while quieting a bothersome cough.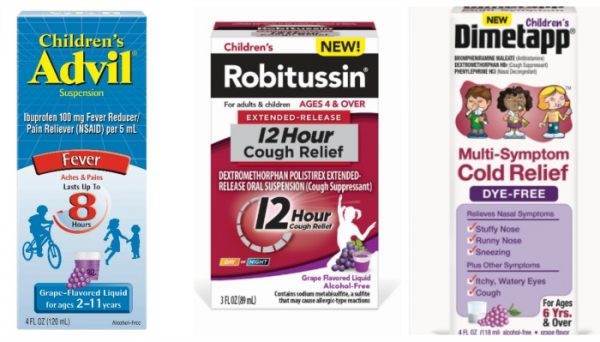 $25 Visa Gift Card + Pfizer Pediatric Products Giveaway
To help stock your own DIY Feel Better Kit, Pfizer Pediatric products has provided me with a $25 Visa Gift card and one of each of these products (Children's Advil® Suspension – Grape, Children's Robitussin® Extended Release 12-Hour Cough Relief, and Children's Dimetapp® Multi-Symptom Cold Relief Dye-free) to give away to one Chaos Is Bliss reader.
Enter through the Rafflecopter widget below. The contest is open now, and ends at 11:59pm August 23, 2017. No purchase is necessary. You must be 18 years of age or older to enter and win. U.S. residents only.
a Rafflecopter giveaway

You may also like to check out: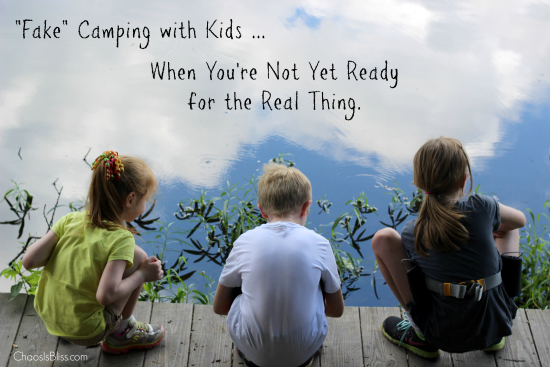 (Visited 1,454 times, 4 visits today)