I was compensated by ACT for my time on this sponsored post, but all words and opinions are 100% my own. See my disclosure policy for more info.
You've heard the old adage, "you can't have your cake and eat it too". Halloween is for fun, games, and trick-or-treating for candy and treats; but here I'd like to share with you some non-candy Halloween treats that will keep your dentist happy. Because if your kids are like mine, without some care and thought from parents stepping in, they'll eat candy after candy … which can lead to cavities – and no one wants that!
Be sure to read through to the bottom, where you have a chance at winning a prize package that will help those teeth stay healthy long after Halloween!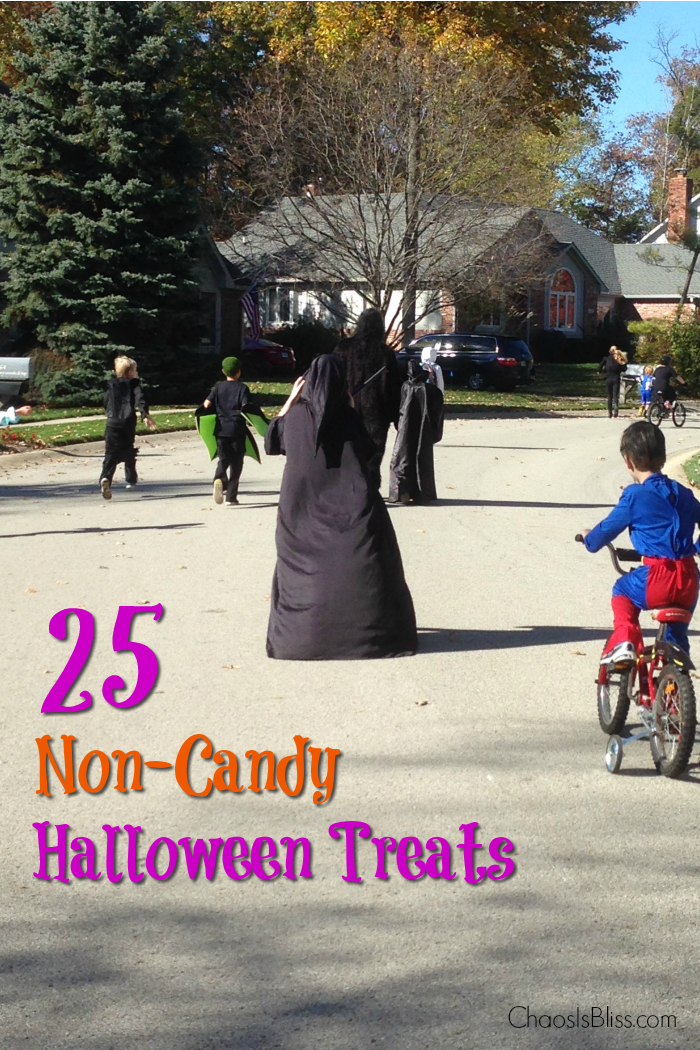 Non-Candy Halloween Treats that will Keep your Dentist Happy
Glow Sticks
Stickers
Temporary tattoos
Snack crackers
Coins (I'm serious. I remember when I was little, we taped two nickels together and wrapped in white tissue paper with orange ribbon. But that was 1977…)
Pencils
Pretzels
Sidewalk chalk
Coupons for free things – ice cream cone, rental video code, kids meal, miniature golf
Fun erasers
Play-doh
Individual raisin boxes
Bookmarks
Bouncy balls
Hot cider or Hot chocolate packets
Fake Billy Bob or vampire teeth
Sugarless gum
Crayons (could even make DIY themed crayons out of broken crayon bits and a mold)
Mini gel pens
Spider rings
Jelly bracelets or slap bracelets
Bubbles
Stampers
Pocket toys & games (from party favor section of mass retailers)
Silly straws
No matter what you pass out to the neighbor kids for Halloween, remember these tips to scare away cavities (this is not intended as medical advice, just a little common sense):
Limit the number of sweets your kiddo can have – little kids might have fun counting out their age in smaller candies.
Avoid gummy candies (and gummy vitamins) which can stick to teeth.
Keep hydrated with lots of water, and vitamin D-enriched foods to promote healthy bones (and teeth!)
Brush teeth after eating sweets, ideally for two minutes – a fun timer helps!
Rinse with an effective anticavity rinse like ACT Kids (recommended for children ages 6+ years)
ACT Kids Anticavity Rinse was ranked as the #1 recommended children's mouthwash by pharmacists in the 2016 OTC Guide from Pharmacy Times.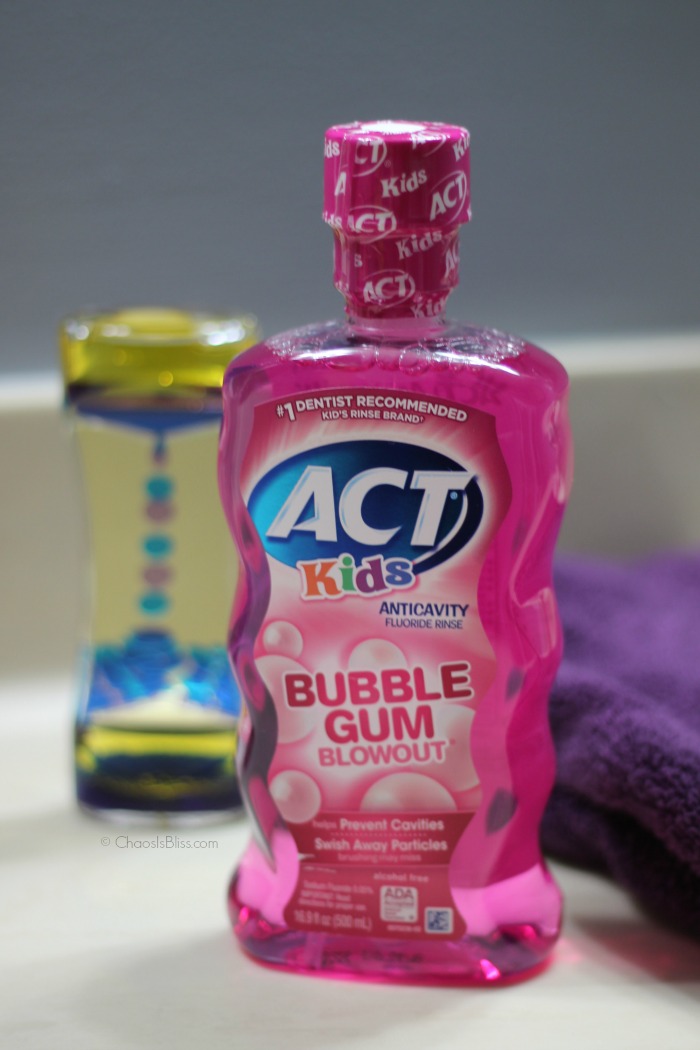 My kids (ages 12, 10 and 7) tried ACT Kids for the first time recently. They loved the Bubble Gum flavor, and knew to follow the directions of rinsing, then spitting out. ACT Kids makes it easy to use just the right amount, with the auto-fill bottle neck. Just gently squeeze on the bottle, and the right amount will distribute into the upper neck. Pour into a cup, rinse and spit.
Since this was a new thing for my kids to try, they may actually enjoy brushing now!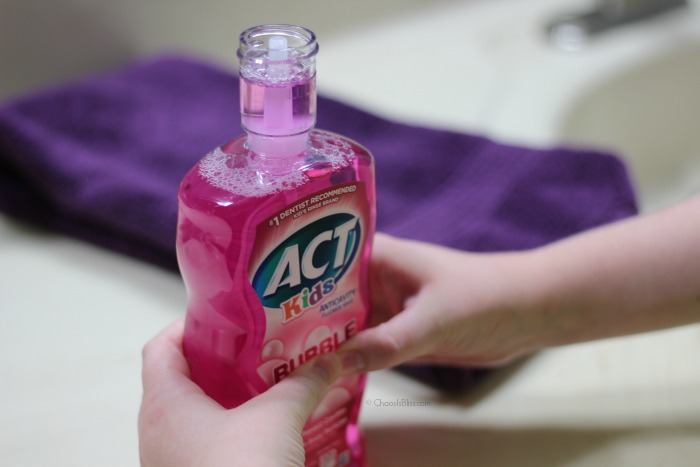 You can sign up for ACT Kids coupons, learn more healthy dental tips and more fun at ACToralcare.com.
GIVEAWAY
ACT Kids has provided me with a Halloween-themed anticavity goody bag and is offering one as a giveaway to one lucky Chaos Is Bliss reader! Your prize will include a full size bottle of ACT Kids Anticavity Rinse, a fun mouthwash timer, dentist-approved treats, and more!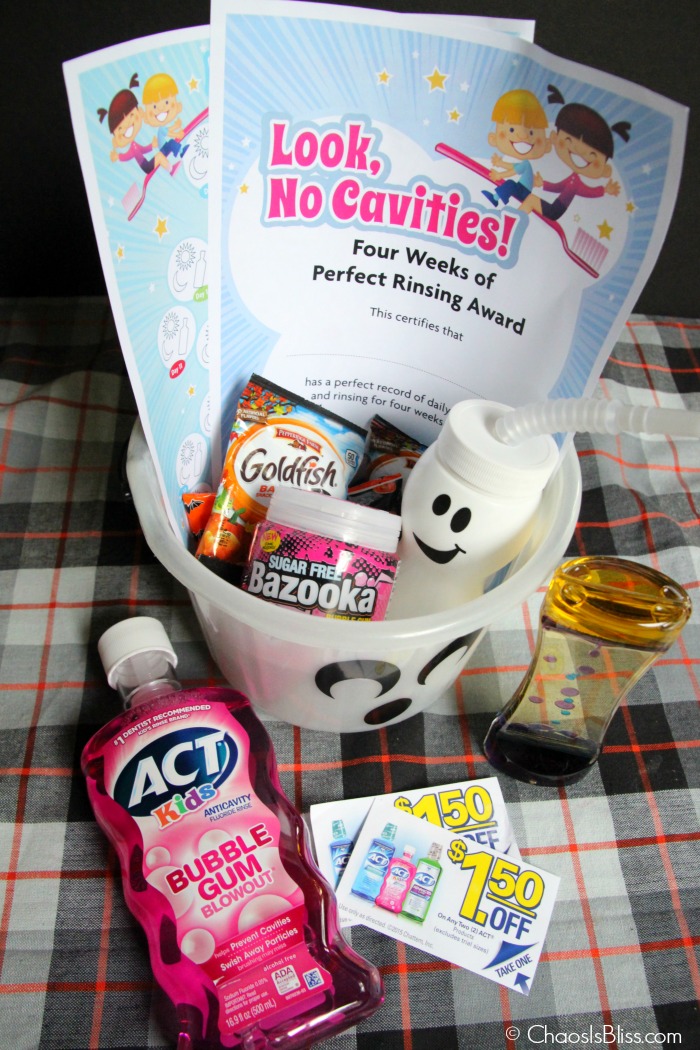 Enter through the Rafflecopter widget below. The giveaway is open only to US residents ages 18 years of age or older. A winner will be chosen at random through Rafflecopter at 11:59pm ET on Tuesday, October 25, 2016. Good luck!
a Rafflecopter giveaway
Be sure to check out more
Halloween fun from Chaos Is Bliss
!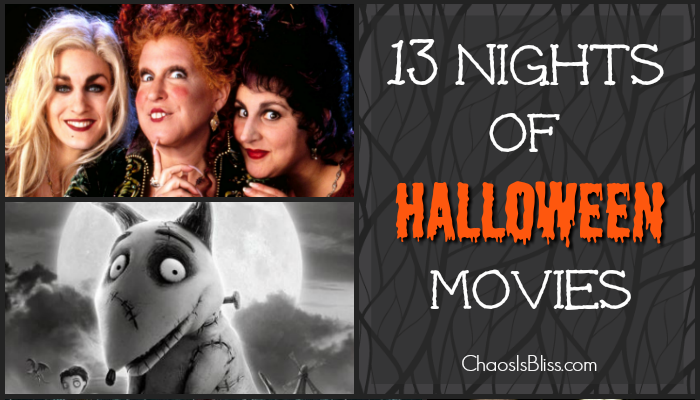 (Visited 767 times, 12 visits today)