On a budget? These frugal birthday gifts for kids will give you a ton of easy, fresh ideas for the next birthday party your child attends!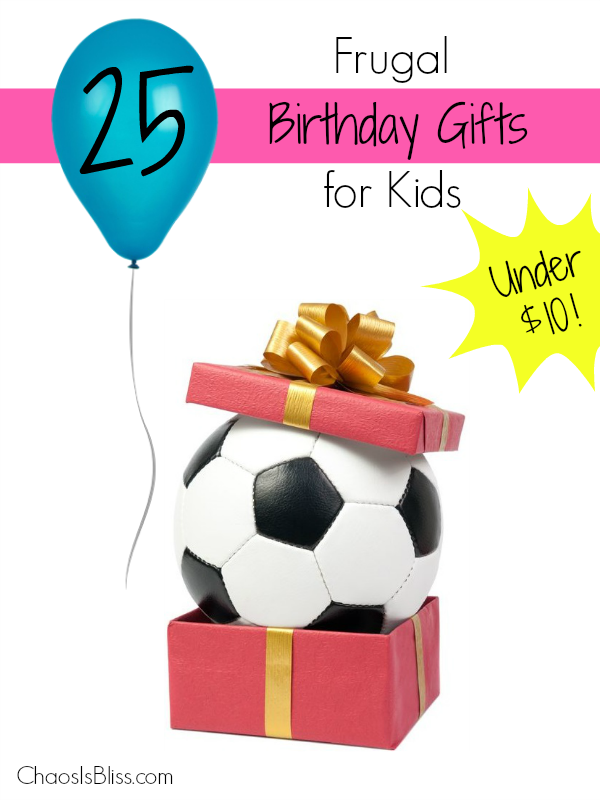 If we're honest, birthday parties for toddlers are a great excuse for the moms to get together and chat, and except for photos, the kiddo just isn't going to remember much.
But as children enter the school-age years, invitations start to flood your mailbox (virtual or postal), and because no one wants to be racked with guilt, we over-invite, overspend and overindulge on birthday parties and gifts.
Here are 25 birthday gift ideas for kids, on a $10 budget.
A bag of microwave popcorn, tucked inside a new tumbler from the dollar store, with a couple of candy or granola bars, and five Redbox movie codes.
Makeup kit
Two or three nice hardcover children's books from Half Price Books and a cuddly throw
Kids' apron & chef hat – decorate using fabric paint!
Gift cards for an experience, like a local ice cream shop, a bounce house or arcade, miniature golf, or a game of bowling.
Hula hoop or Skipper ankle jumping thingy
Craft kit from Michaels, JoAnn's, or Five Below (where you could get two!)
A hand-made "coupon" book (examples to include: an overnight at your house, a bike ride together, painting each other's nails, friend's choice of games to play for one month, etc.)
Oversized floor puzzles
Devotions for Teen Girls and for Teen Boys
Plushie!
Stomp rocket (outside, puh-leeze!)
Dress-up costume, purchased new after Halloween on clearance or check local consignment/thrift stores
Markers or crayons and new oversized coloring/activity book
Colored pencils, new erasers and blank sketch pad
Magazine subscription (check here, sort by price low-high and use code CHAOSISBLISS for 20% off making a few $10.39).
Personalized, or monogrammed notecards
Build-a-bear or American Girl Doll clothes/accessories, or gift card
Basketball, Nerf football, or soccer ball
Gardening tool set just for kids!
Backyard Safari Mini-Lantern, Critter Shack or other camping and outdoor exploring gear from Backyard Safari
What would you add to the list? What are some other out-of-this-world frugal birthday gifts for kids that you've heard about?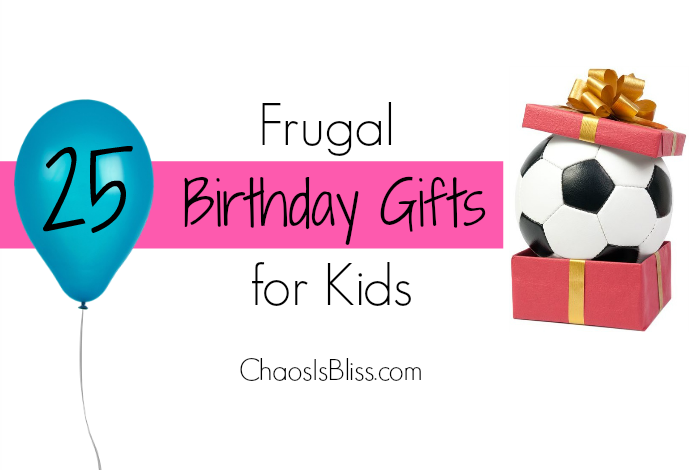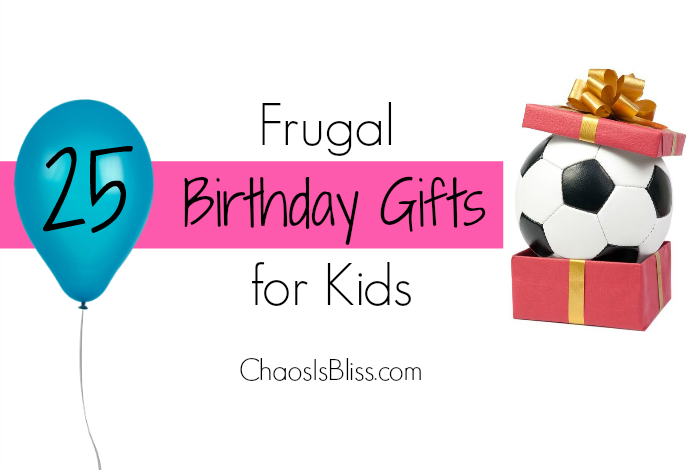 Before you check out, check these that also might interest you:
This post has been updated and was originally published April 6, 2015.
Copyright: all32 / 123RF Stock Photo
(Visited 2,680 times, 51 visits today)