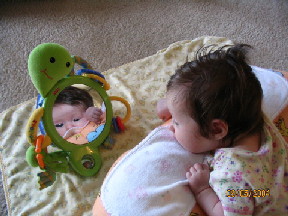 For me, it's Tommy Tummy Turtle.
This is a picture of my oldest daughter when she was two months old. She's turning 7 this month. The toy in front of her is called Tommy Tummy Turtle. I don't remember if we bought it, or if it was a shower gift, and really it's not that it was such an awesome toy or that "go-to" toy for a fussy child.
But for me, I have the memory of Mallory laying on the boppy pillow, my first child, trying to work that "tummy time" so she didn't have a flat head; so this toy provided at least a small amount of visual stimulation for her to have a moment of interest. Until of course she slid down the Boppy, did a face plant into the floor, and I'd pull her back up again.
Why did this toy, or better yet this memory, resurface after almost 7 years?
I have a screen saver on my computer that I have not changed in, well, probably 6 years. It is set up to run a slide show of photos, pulled from a folder of the photos I took with our first digital camera, purchased right before I gave birth. Two kids later, and the screen saver still shows pictures of only Mallory, when she was a baby. Not that my other kids aren't cute, mind you, it's just one of those things I've never gotten around to changing.
Yesterday she came to me, teary-eyed, asking what happened to her baby toys. Now while I am a bit unorganized in certain rooms of the house, I have never considered myself a pack rat. And I l-o-v-e to gather up outgrown, unused, unloved items for a garage sale.  So yes, there have been many a baby toy that has been donated, given to a friend, or sold in the last 7 years.
When she asked about her baby toys, I had a moment of panic – Yikes! Did I sell them all? Did I keep anything? What kind of a mother am I that I sold everything to make a buck at a garage sale?! – but then I calmed down, and remembered that I did save a few toys, a few of my favorite outfits, from each of my children.
And I called Mallory over to her little sister's room. I closed the door, opened the closet door, and from a box in the back of Carlie's closet, I pulled out Tommy Tummy Turtle. And I told Mallory about my memory of when she was two months old, and I would lay her on the Boppy pillow and she would look at her beautiful self in the little mirror. And then slide down and do a face plant on the floor.
We had a good, long hug after that.
I heard some advice recently, I can't for the life of me remember who said it, or where I was when I heard it. Regardless, she reminded us to put down the camera, and just live in the moment. However I am really glad that I have this picture, which I'll probably print and put into a box with Tommy Tummy Turtle, and save for Mallory … forever.
(Visited 110 times, 1 visits today)