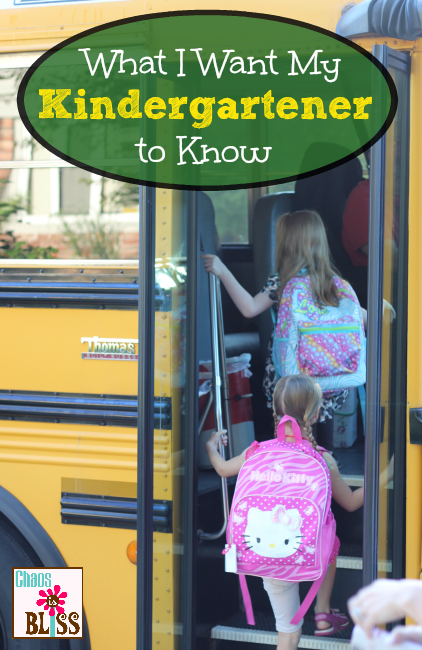 This morning, I watched a big chunk of my heart hop onto the school bus and drive away.
The last kid.
My baby girl.
And I didn't shed a single tear; well, until I sat down to write this.

Dear Sweet Child of Mine,
As I watched you ride away to school on your first day as a Kindergartener, I wasn't sad. I was very, very happy. And I want to share with you why.
You see, there are a few things Mommy wants you to know.
1. The smile on your face from when you first wake up in the morning, to when you shyly ask me for Just. One. More. drink of water at night — that smile will help you make new friends, and will brighten the day of any child having a rough start to Kindergarten.
2. Your teacher is also excited and nervous to start school, and perhaps a little sad, too … Maybe she dropped off her new baby into childcare for the first time, or waved good-bye to her older kids as she drove to work before they even got on the bus, or maybe she had a rough morning trying to get it all together and out the door without losing her ever-lovin'-mind. All grown-ups have those mornings.
3. You've been in training for this day. From Daddy and your siblings, you've learned to play and laugh. [And argue.] From Mommy, you've learned to speak up, use a big-kid voice, and to give really, really good hugs. From playtime with friends, you've learned to share and to get along. From your preschools, you've learned to stand in line, listen to your teacher, and wait your turn. From playing by yourself, you've learned life-long skills of creativity and imagination, that will continue to grow and define you. And how you can role play in multiple voices when you play with your princesses or Barbies or stuffed animals is beyond me. But I'm 95% certain it's a skill you'll use to your advantage one day.
4. You might love school, or you might hate it. At least I hope you'll love it. You will soak up the love and knowledge doled out to you from your teachers and friends. And if by chance you're not a fan? We will talk about it, pray about it, and work through your feelings together. Or Dad and I may just tell you to suck it up because you have another 12+ years. But most importantly, we want you to know you are safe and loved and important.
5. When the day is done and you arrive safely back home, you will be entirely worn out. And you can nap in my arms. And if you come home sad, I will be here with really, really good hugs.
P.S. I have cookies in a private stash as a back-up.
Love,
Mommy

Really, I'm not usually this sappy. This is just me, speaking from the heart. More family life musings & fun can be found here and here. You might also like to poke around our family's favorite recipes too. But usually I'm posting about really good deals.
(Visited 280 times, 3 visits today)