This week has been an "Aaah" kind of week. My two older kids are finishing their 2nd full week of school, and my youngest has started preschool. Need I say more?
This is my New Normal.
Four days a week, I now have about 3.5 hours completely to… myself? Hmm, let me think on that one:
What My Husband Thinks I Do
Blog. Play on Facebook. NOT clean the house.
What My Kids Want Me To Do
Go through toy catalogs searching for the price of whatever they've been asking for.
Research hamsters and bunnies, their ideas of the next family pets.
Coordinate playdates for every day that ends in "y".
What I Do When The Kids Leave
Clean up from the kids' breakfast, and try to remember to have something for myself.
Shower, most days. Today in fact.
Grocery shop once or twice without children – what a blessing.
Put in at least a couple hours for my newest job handling marketing/PR for Indy Kids Consignment Sale.
Blog.
Laundry. Lots of it, but who doesn't have lots of laundry.
Get Peanut off the preschool bus at noon, coax some lunch into her and clean up again.
Repeat, throwing in several games of Zingo, Memory and tons of cuddles.
What I Wish I Could Do
And if I was SuperMom, I would totally have all our meals planned out a week at a time. If you're like me and don't plan your meals, believe me there are people that do it faithfully every week, and even (gasp!) consult their spouse on the menu. I need to be doing this so I'm not sticking my head in the freezer at 5:30 pm wondering what the heck to feed my starving children and husband.
At the age of my children (8, 6.5 and nearly 4) they're not yet so busy with sports and activities that we can't sit down for family meals. I grew up having meals as a family, and it is just a way of life. Of course there are days that someone needs to skedaddle but for the most part we eat together, as nutty and as loud as it can be.
Make Extra and Freeze
It helps tremendously knowing what's for dinner. The other night I made stuffed shells (using the same recipe as my manicotti) and made extra, laid them in a 9″x9″ pan lined with plastic wrap, and froze them. When they were frozen I took the wrapped shells out of the pan then placed them in a freezer bag and returned them to the freezer. Now I have an easy meal already prepared which I can use for my family or to take to a new mom or other friend in need.
Save Time on Cleanup
Another blessing is recipes like this one for 1-pot meals, or better yet slow cooker dinners. You have one pot to clean. Uno.
September is National Chicken Month (who knew?!). Here's a factoid for you from Indiana's Family of Farmers: Despite what you may hear, no artificial or added hormones are used in the production of any poultry in the United States. Regulations of the Food & Drug Administration prohibit the use of such hormones. Any brand of chicken can be labeled "Raised without hormones". However, any package of chicken with that type of label must also have a statement that no hormones are used in the production of any poultry.
If you like comfort food and you don't mind blending in cream-of-whatever soups, here is a to-die-for Chicken & Noodles slow cooker recipe from my most awesome MOPS cookbook…
Slow Cooker Chicken & Noodles
4 Boneless, skinless chicken breasts
1 can each: Cream of Chicken Soup, Celery Soup and Chicken Broth
1/2 tsp. seasoned salt
1/4 tsp. black pepper
1/4 tsp. celery seed
1 pkg frozen egg noodles (I use Reames), cooked and drained
Cut chicken into small pieces and place in bottom of crock pot. Combine cream soups and chicken broth, add seasonings and pour over chicken. Cover and cook on high 3-4 hours (or on low 7-9 hours). Fold cooked noodles into the chicken mixture and continue cooking another 25-30 minutes.
You're welcome.
Are You in a "New Normal"?
So let me hear from you … If you have children, how have you adjusted to having the kids back at school? Do you have dinner as a family? What do you do to make mealtimes easier? Please share your tips in the comments.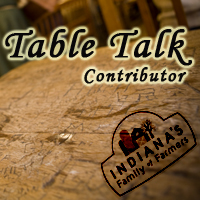 Are you a Hoosier? You might like some recent Indiana deals & discounts. Also take a look at other recipes I've shared.
This post was sponsored by Indiana's Family of Farmers. All opinions are 100% mine. See my disclosure policy for more information.
(Visited 453 times, 8 visits today)