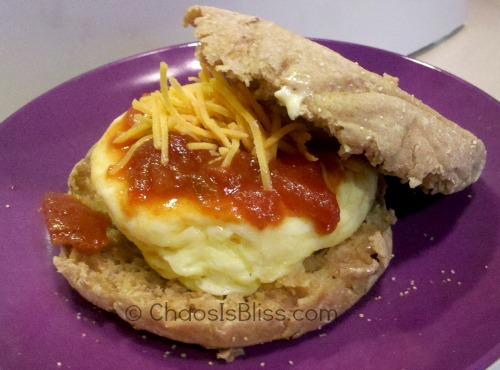 My 3rd grade daughter just started ISTEP testing this week, so to try and give her a different protein source for her breakfast than the standard scrambled eggs, I tried something different!
Last weekend I gave a trial run of this recipe that I'll call a Quick & Tangy Egg Muffin. It uses Salsa Me Krazy which is a sweet, tangy salsa that uses all-natural, American-grown ingredients and no artificial preservatives.
The "quick" part of the recipe is that I cooked the egg in the microwave (What?! I know!!). Not that eggs take a long time in the skillet, but to make a great round little egg patty for the sandwich, it just works so well this way.
Ingredients for 1 Quick & Tangy Egg Muffin:
Easy peazy directions:
Using a 1-cup round glass dish (I use this Pyrex one), spray the bottom with non-stick cooking spray. Crack egg and scramble with fork in glass dish. Add in 1-2 tsp milk, if desired. Cook uncovered for 1 minute on high in the microwave. You'll notice it puffs up, then lays back down in a lumpish sort of way, kind of like how I feel on Mondays: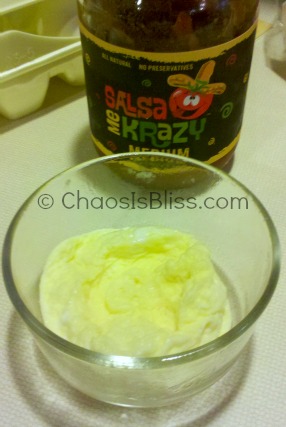 Toast your English muffin and spread with a little butter. Lay the egg on the bottom, top with Salsa Me Krazy and sprinkle with cheese.
You can find out more about my first Salsa Me Krazy experience, and purchase a jar to try for yourself at SalsaMeKrazy.com. In fact, the entire month of March you can purchase as much as you like for 30% off! No promo code required, just head here to purchase and the discount will be automatically applied. Enjoy!
If you like this recipe, your friends will too! Please consider sharing it with the buttons at the top of the post, or clicky right here for easy pinning:


Be sure to check out more of my family favorite recipes!
This post contains affiliate links and was sponsored by

Salsa Me Krazy

. All opinions are 100% mine. Eating a Quick & Tangy Egg Muffin will not improve your child's ISTEP scores. Or maybe it will. I don't really know, but figured I should still include that in a disclaimer so you don't come after me if your kid scores poorly. See my

disclosure policy

for more information.
(Visited 239 times, 2 visits today)