Well, here goes!  This is the first in a series where I'll show you my 'problem areas' of cluttered rooms in my house, and how I am working on de-cluttering, cleaning, organizing and keeping it that way.
This is by no means a quick fix, and as a stay-at-home mom to 3 kids (ages 6.5, almost 5, and 2), it is very much a one-step-forward, two-steps-back kind of project. Especially with the 2-year-old. Rome wasn't built in a day, and this process won't be either. I am not a professional organizer (duh, see below!) but I've learned a few tips that I'll be sharing with you throughout the series. And please feel free to comment with anything you've learned, or if you share my frustrations with clutter in your own home!
Oh, and since you usually don't stop by a blog to read a novel, I will break up each room's progress into several posts, over the next few months.
Home Office Headache
The first space which, quite frankly, required the most urgent attention, is our home office. You can see from this first photo, there is a decent-looking desk, computer desk and bookshelves that match the room and serve the space fairly well.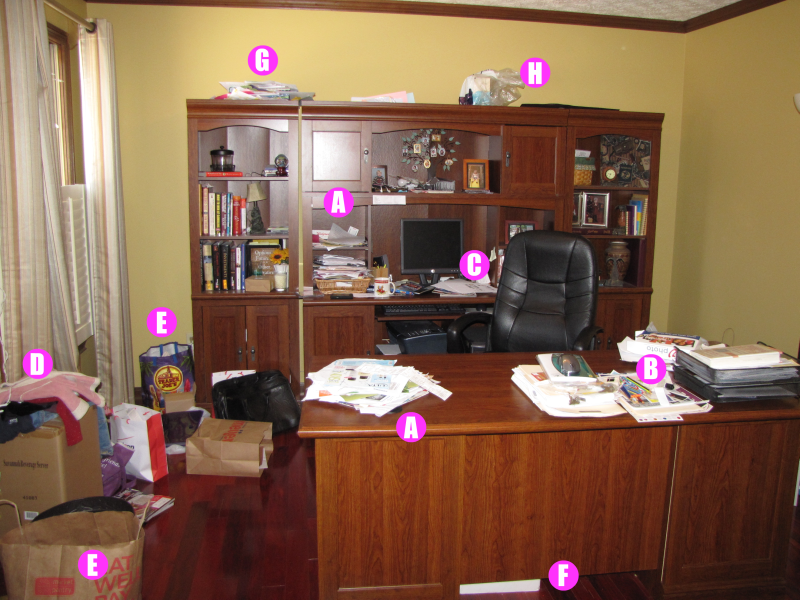 I've labeled the areas that are needing attention:
A:  My in-box piles. More on that in my next post.
B:  Hubby's in-box piles. At least he usually can keep his to the file basket, with a couple of exceptions of current projects.
C:  Generally, paper junk. Coupons I've printed that may or may not be expired, post-it notes, Pampers Gifts-to-Grow and Huggies Rewards codes I need to input, notes of things I need to do or look up on the computer.
D:  Clothes to sell. I have a bad habit of trying to make the most money I can from re-selling my kids' outgrown clothes. "I would only get $1 at a garage sale for this, or I could post it on Craig's List and ask for $5, then actually sell it for $3." Seriously, I know I should just donate and take the tax write-off, but I like the feel of cash in my hand. I may need therapy for that one.
E:  Bags of clutter. Yes it's not enough for me to have piles of clutter on my desk, but I like to bag it up as well!  The clutter in these bags most likely came from my kitchen counter, and when I'm in the 11th hour before guests arrive instead of taking the time to put every paper where it belongs, I shove it all into a bag and put it in the office to deal with later. But "later" never comes.
F:  Box of files. One of our file drawers in the desk completely fell apart, and while hubby tried to fix it, it would take a carpenter to get it working again, and since a carpenter would cost more than the desk did, we're getting by with a Xerox box of files that were in that drawer. Which means our desk chair can't slide underneath.
G:  Kids' papers to save. Now surely everyone has a pile like this somewhere?  You get 100 papers a week, and even though you only save a couple papers, those certainly add up over the months. I have a plan for them, it's just not in place yet.
H:  Crap we don't know what else to do with. In this photo, it would be a bag of 40-year-old family photos on slides. Certainly not 'crap', but for now we're just not sure what to do with it. Probably should go into storage, but for now it sits on top of the computer hutch.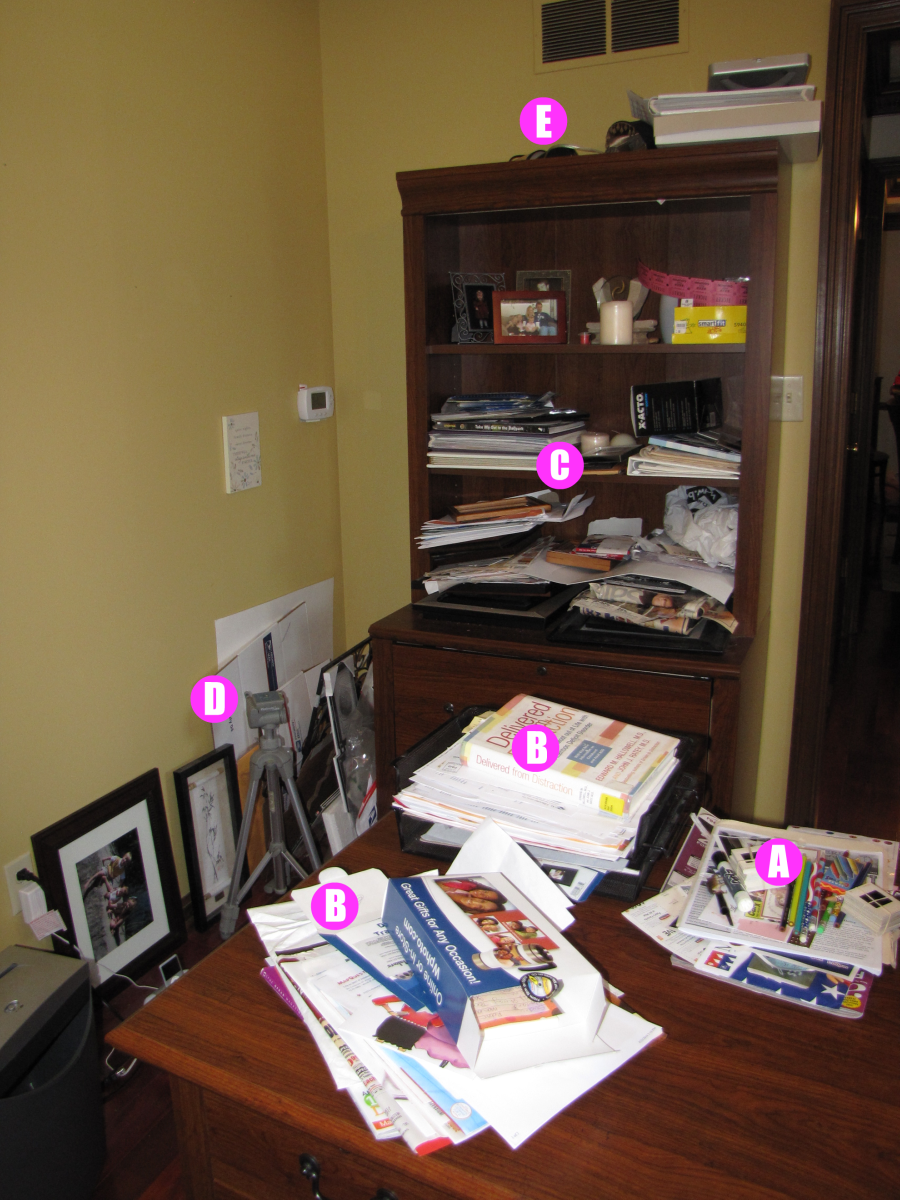 Here's a shot of another corner of the room, which has a (very full) lateral file, topped with bookshelves.
A:  My in-box piles.
B:  Hubby's in-box piles.
C:  Photos upon oodles of photos. Any photos we have taken and printed since we moved to the house in 9/08, have sat here. Along with those ginormous envelopes from JC Penney Portrait Studio, class photos and soccer team photos. Honestly, this may be the last to get organized, because I need to figure out exactly where and how to store these memories. See the small yellow box? That has 11 Mini-DV tapes from our old camcorder. It's another "need-to", I need to send those out and burned to dvd, just haven't gotten around to it.
D:  Might-need-its. Priority Mail envelopes and various size boxes, pieces of cardboard that I may need to pack into a large envelope to mail something in ("one day"), framed art/photos that haven't made it on the walls (in 2 years!), posterboard, blahbity blah blah…
So there you have it!  That's what the space looked like before I began. If you haven't yet seen a common theme, it's the word "later". I've been meaning to … I haven't had a chance yet to … I'll work on that … LATER. Peter Walsh, organization guru, has his own show now on Oprah's new OWN network, called Enough Already!. I caught the first episode, and that's exactly what he said was the most common among theme cluttered homes, the concept that you'll work on it "later", but later never comes.
Well 'later' is the process I'm starting now. Thanks for joining me!
Next up, my step-by-step process in organizing this room.  Stay tuned!
(Visited 437 times, 1 visits today)