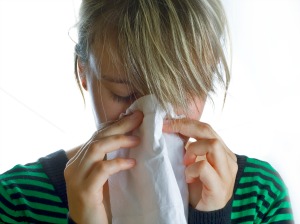 We are extremely lucky in the health department. None of my family has allergies, and generally my kids only see the doctor at their annual checkups.
I know I can't attribute our good health to a clean house. I *know* that. Quite the opposite, I look at it as a little dust will build up their tolerance for dust mite allergies (not intended as medical advice, it's just what I'm going with to make myself feel better about my infrequent dusting).
We don't even take vitamins. Not even my kids. We just haven't developed the daily habit of vitamin-taking, and while I know it's an area we should be better at, I also look at our overall general good health and think "ehhhh, someday."
So what, pray tell, is the formula that has helped my family stay healthy? Just the basics (possibly with a little luck)!  Nothing earth-shattering you haven't already heard about:

Eating well-balanced meals, especially for my children. My two older kids love vegetables (they get that from Daddy). Heck, when my oldest was a toddler I just about had to hold her vegetables for ransom and force her to eat her meat first, then 'reward' her with vegetables. Crazy, isn't it?  I'm not nuts about veggies, I'll admit. So far my youngest (3 1/2) is taking after me. But these past few weeks I've been taking part in a challenge at my local Y and I've been having a salad or other veggie at nearly every dinner, and fresh veggies at lunch (*patting self on back*).
Limiting sugary and/or processed food and drinks. I'm not going to preach on processed foods, in fact 90% of my readers know more about health and nutrition than I do. But I take snippets of what I've read about and try to incorporate it into our daily diet.  With the exception of a couple of convenient juice pouches for on-the-go convenience (of which I choose 100% juice), when my kids ask for juice at home I water it down about 60/40. They're so used to this in fact, that they believe that's how we "make juice". I also look for foods without HFCS (high fructose corn syrup), and 100% whole grains. I do let them have a sweet treat if they've eaten most of their dinner. Rarely do they drink soda – maybe at a family birthday party or once in a while at a restaurant.
Get moving. We are not couch potatoes. In fact the only TV my husband or I watch is maybe between 10pm-11:30pm only a couple of days a week. With the exception of blogging work, I rarely sit down, even sometimes I'll eat breakfast and lunch while standing in the kitchen emptying the dishwasher or cleaning up. For me, I think it may even help me to eat less because I'm distracted with the task at hand. We try to limit screen time for our kiddos, and admittedly this summer with 100+ degree temps I'm running out of ideas for indoor play. Even playing the Wii – yes, it's screen time, but they enjoy moving with dancing and sports games.
We're now just under a month away from the kids' first day back at school, and because of our fairly decent health history, I don't have nearly the concerns many parents do of kids picking up germs from surfaces and in the air at school.
Many moms who who make monthly (or more often) doctor's visits with sick kiddos are looking for ways to keep their families healthy. Did you know the nose is a major entry point for germs?  (I had no idea!).  There's a product sold at Walgreens and other stores called Nozin Nasal Sanitizer. It's a gentle, kid-friendly formula of natural moisturizers (zinc- and gluten-free), and kills 99.9% of germs. It lasts up to 8 hours, so even just using it once in the morning before heading to work or school can provide you with protection from infections for a good part of the day.
See for yourself, with these 10 reasons to try Nozin. Plus if you enter this giveaway from Prime Parents Club you'll have the chance to try it for FREE!
If you think it's worth trying, Walgreens has a promotion running through 7/31/12 for Nozin Nasal Sanitizer:
Find out more on Nozin's Facebook page!
I was selected for this sponsored Nozin opportunity as a member of Prime Parents Club Contributors, and the content and opinions expressed here are all my own. See my disclosure policy for more info.
Image credit: evah
(Visited 161 times, 1 visits today)