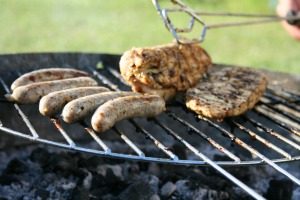 Fire up the barbie, it's almost Memorial Day weekend! Here around Indy this weekend there's a little thing going on where cars are being absolutely noisy going 'round and 'round in circles. It's an exciting time kicking off summer, whether you follow the race or not. Families gather for grillin' out, cornhole in the backyard, kids running around scraping their knees, cold lemonade, colder beer … it couldn't be more perfect!
Indiana's Family of Farmers provided me with a marvelous basket of goodies to help me kick off my Memorial Day weekend. The best part is the amazing recipes I was given from Indiana farmers, called the Food for Thought Recipe Trail.
But before I get to the 'good stuff', here are a few tips for food safety to keep in mind as the temperatures start to climb when you're enjoying your meals outdoors:
Keep your food cold with an iced party tub, cooler, or I like to use an oversized galvanized tub. If your container would leak water from melted ice, be sure to keep it on the ground or with a folded towel underneath so you don't have drips destroying paper napkins!  My mom turned me on to these ice sheet mats that you freeze and can keep containers on top of, or fold and keep in a cooler. Whatever your method, make sure you keep your cold food stored at 40 degrees or colder.
Use a picnic food umbrella to keep bugs away, and you can even spritz a solution of peroxide and water to ward off insects (fill a spray bottle 1/4 to 1/3 with peroxide, fill the rest with water).
Make sure to use a meat thermometer so no one gets a tummy ache from undercooked food! The internal cooked temperature should be at least 145 degrees for pork and beef, and 165 for poultry.
Here's a recipe for  Dirt Cake, provided by Starkey Farm Parnership in Brownsburg, IN.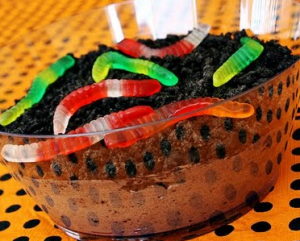 Photo credit and alternate recipe: Designs by Vanessa
Prepare ahead of time:
1 chocolate cake (from a box mix), baked and crumbled
Ingredients:
1 pkg of Oreo cookies, crushed
1 C powdered sugar
1 large box chocolate pudding
1 8oz package cream cheese
1 8oz container Cool Whip
To make it purty, you'll need:
8 1/2″ plastic flower pot
Garden trowel
Plastic flowers
Gummy worms
Spread one package of crushed cookies in the bottom of the flower pot, for the "dirt". Combine cream cheese, powdered sugar and Cool Whip. Mix and spread over layer of "dirt". "Plant" the flowers as you add the layers. Mix chocolate pudding with slightly less milk than in the package directions, making the pudding thicker. Spread over Cool Whip mixture. Sprinkle crumbled cake over pudding. Add gummy worms here and a few on top. Spread remaining crushed cookies on top of crumbled cake. Serve the dessert with a garden trowel!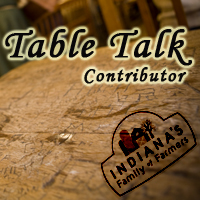 Are you a Hoosier? You might like some recent Indiana deals & discounts. Also take a look at other recipes I've shared.
(Visited 643 times, 3 visits today)