Family Travel in the Midwest isn't complete without stops at Indiana Dunes and southwest Michigan. They make an affordable family vacation!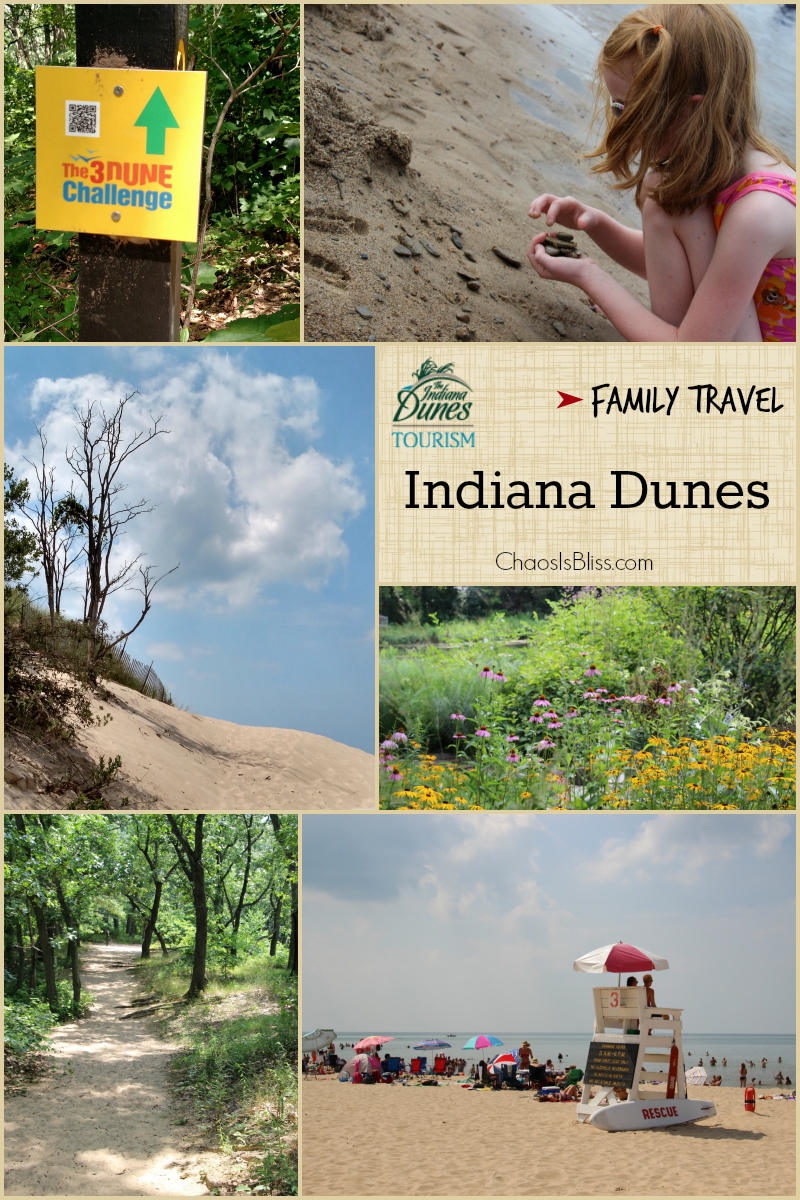 If you're just "tuning in" to learn about our family vacation to Indiana Dunes and southwest Michigan, you can start here for the first part of my trip review, or hop right on in to this post you'll learn a little about Holland, Michigan and a LOT about Indiana Dunes!
Holland, Michigan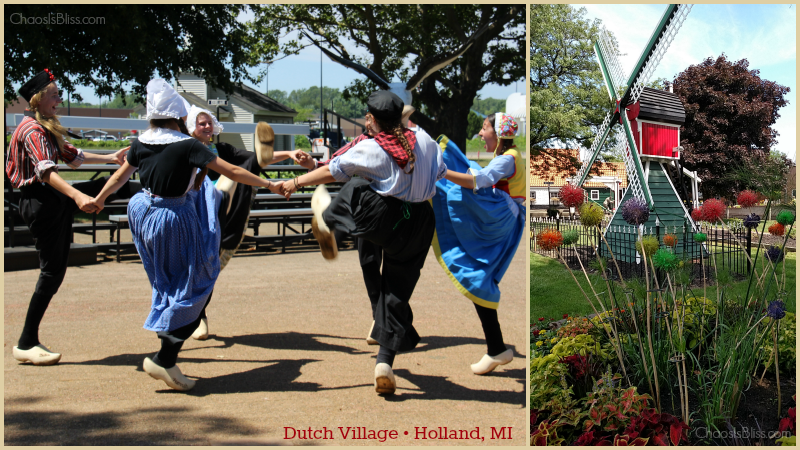 After leaving the South Haven area, we knew we were only a stone's throw from Holland, and yet we didn't have much time to spend before we wanted to head to Indiana Dunes. We learned about Dutch Village and thought the kids would love the rides, petting zoo and seeing some Dutch culture (albeit in the Midwest). On our drive there (only about 45 minutes from South Haven), I checked my Trip Advisor app and read some reviews. One reviewer mentioned Dutch Village offered a Groupon (nla but check back in case it's offered again). That saved us more than $10 on our tickets!
Although it was hot, the crowds were light (we went on a Monday) which was perfect – our kids could hop on rides with little to no line, and just keep going and going. We rode the ferris wheel, swing ride and carousel, and I even tried the kiddie zip line (it was not pretty). There were dancers, talks on how to make traditional Dutch wooden clogs and handcarved candles, and such beautiful gardens to stroll through.
We stayed for lunch, and left after spending about half a day.
Learn more about Dutch Village here.
Indiana Dunes
Why on earth we had never visited Indiana Dunes before now, I haven't a clue. We live in the Indianapolis area, and if I had known there were white sandy beaches with lifeguards and picnic areas and beautiful water only 2.5 hours from home … I certainly would have spent many a weekend at the Dunes with my husband, the kids or even a few girlfriends.
Indiana Dunes stretches 15 miles along the shore of southern Lake Michigan. The beaches rank in the top 5 family beaches in the country, and we could see why.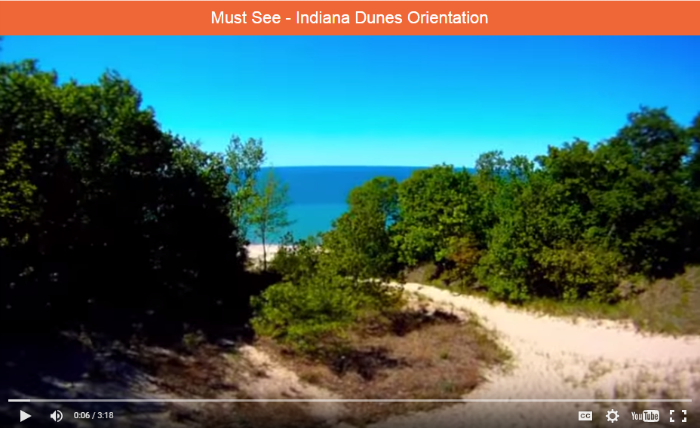 Indiana Dunes State Park covers 2,000 acres of trails, trees, and a diverse ecosystem of bogs, swamps, marshes, all carved by glaciers. The state park is fully surrounded by the Indiana Dunes National Lakeshore. The video series created by the tourism office does an excellent job of not only showing off all there is to do in the area, but even teaching the ecology and history behind how the dunes were formed.
The 3 Dune Challenge
You could choose to be lazy for an afternoon and soak up the sun on the beach. Or, you can get active with The 3 Dune Challenge.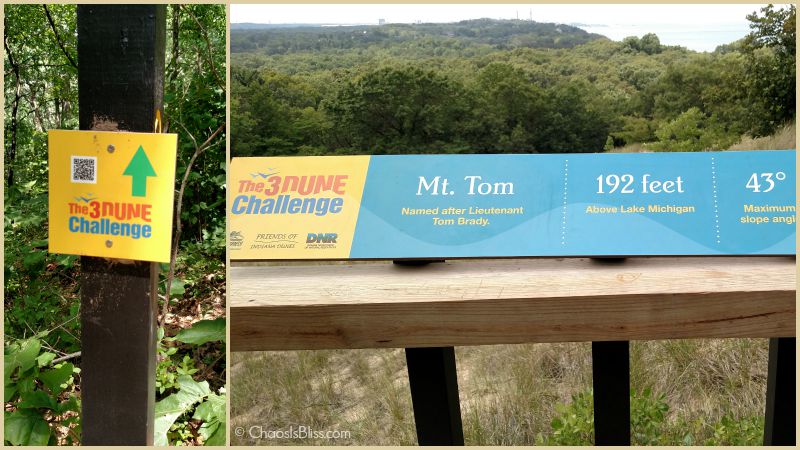 Bring water, sunscreen and good shoes. You'll need all three for this challenge.
The 3 Dune Challenge takes you on a 1.5 mile hike up and down the three highest dunes: Mt. Jackson, Mt. Holden and Mt. Tom, at times even above the forest canopy.
Now, you may think that 1.5 miles is "no big deal." That's what I thought. So as we started out (in sandals, mind you) we were talking, laughing, stopping to take pictures … until the first incline. That's when Carlie (age 6) started a little whine, that turned into a full-blown, too-old-for-this-behavior tantrum. The sand was incredibly hot, and we were incredibly dumb to be wearing sandals. All five of us made it up Mt. Jackson to at least say we did, then I took Carlie back down to the air conditioned Visitor's Center while the rest of the family forged upward and onward.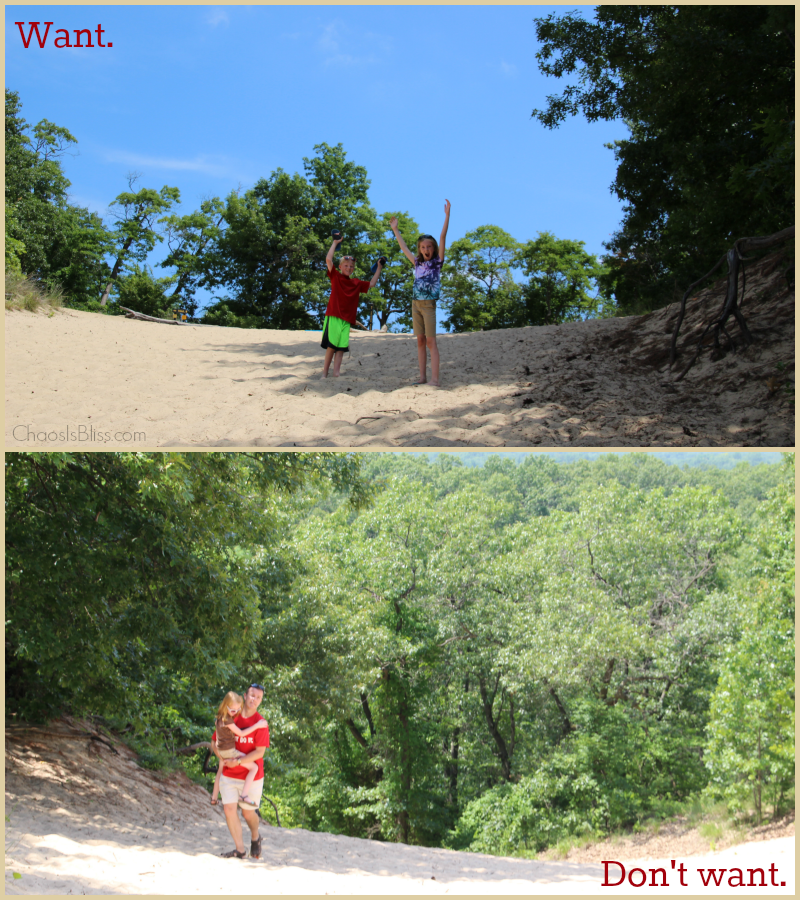 On the 3 Dune Challenge you'll face some 40-degree inclines, and quite literally you'll take two steps forward in the sand, and slide back one. It's a challenge, friends, but good for those calf muscles. But my husband and (2 out of 3) kids felt a sense of accomplishment, and earned a badge (sticker) of honor, and the right to pick up a 3 Dune Challenge t-shirt to commemorate conquering their quest.
We also spent one afternoon hanging out on the beach at the Indiana Dunes National Lakeshore. After many trips to various Florida beaches with no lifeguards, it was nice to see guards on patrol at Indiana Dunes.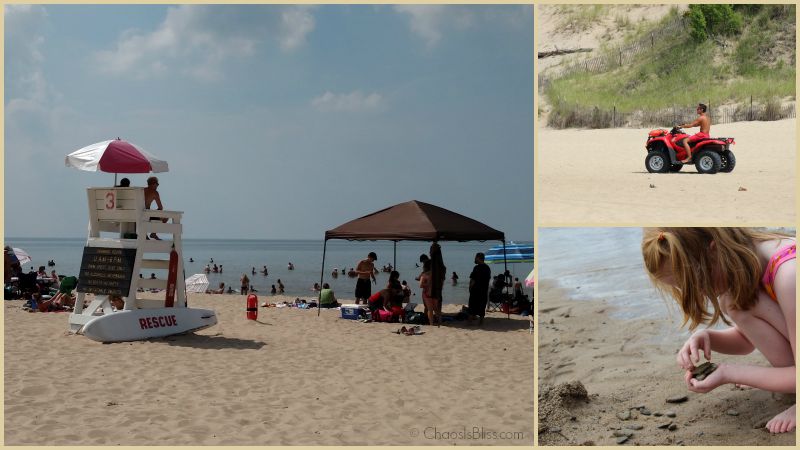 Whether you're into beaching, hiking, biking, birding or a little of it all … there's something for everyone to explore at Indiana Dunes.
Lodging near Indiana Dunes
As I mentioned in Part I, having a family of 5 is often problematic, especially on a tight budget. We have had good luck at a few chain hotels that offer a sofabed for our 5th sleeper, but we really wanted to stay at an independent inn or bed & breakfast on this trip. After calling many, many places, we were thrilled that the Inn at Aberdeen had a room large enough for a rollaway, and the magic word, "availability."
Larry and I have really only stayed at a couple of B&B's, so we don't have a great deal of experience to compare to, but the Inn at Aberdeen has set the bar from which we'll now judge any one ever after.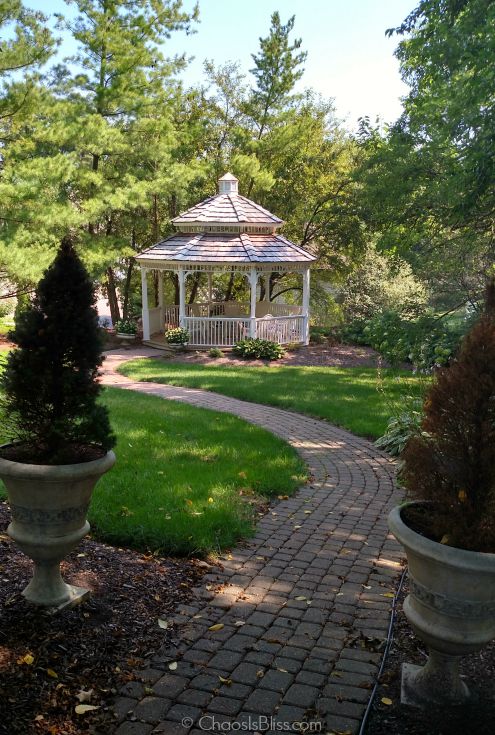 The inn was built in the 1850s, with a large renovation in the late 1990s to offer 11 suites with jacuzzi, fireplace and a patio or balcony. You can stroll the beautiful gardens and gazebo, relax in a little sitting room (stocked with coffee, dessert and snacks – my kids loved that!) and feast on breakfast in their lovely dining room.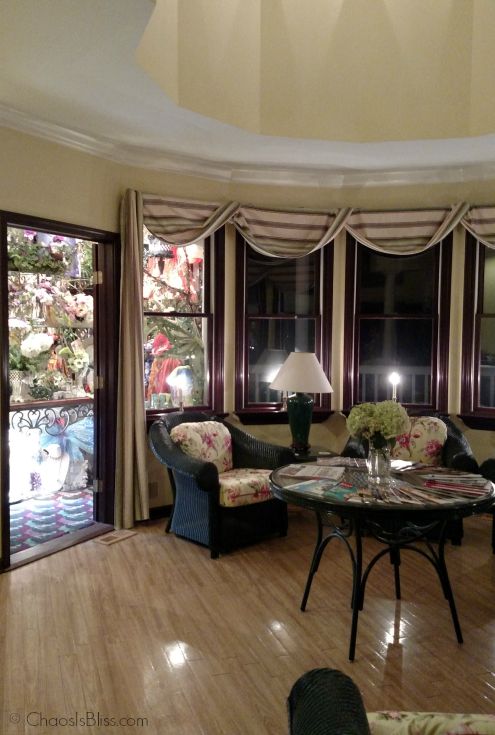 Having young kids at a bed & breakfast is a little nerve-wracking, worrying if other guests would mind the pitter-patter clomping of little feet in the hallways and on stairs. But I seriously cannot say enough about how pleasant our stay was. And hello budget travelers, there's even an Inn at Aberdeen coupon I didn't notice until the kind woman taking my reservation mentioned it!
Learn more about Inn at Aberdeen here, or other places to stay near Indiana Dunes here.
Restaurants & Activities near Indiana Dunes
We ate at two amazing, family-friendly restaurants near Indiana Dunes that I would highly recommend.
Industrial Revolution Eatery & Grille (Valparaiso) – I'm so glad we discovered this place! The theme is "Saluting America's Greatness", which is evident not only in their menu but also in their 'upscale industrial' decor and architecture. I thoroughly enjoyed, and nearly finished the Edison Burger: 1/2 pound Angus beef topped with bruschetta, pesto mayo and a parmesan crisp. And I loved that the good selection of craft beers are served in a strong-arm mug! Please, no matter where you're headed in northwest Indiana, absolutely eat here!
Lucrezia Italian (Chesterton) – Such a quaint Italian restaurant in a former residence, thus cozy dining rooms, and I couldn't help but stare at the awesome copper double-ceiling fan (like this one). If weather permits, you might try dining al fresco on the patio. Try the Chicken Vesuvio!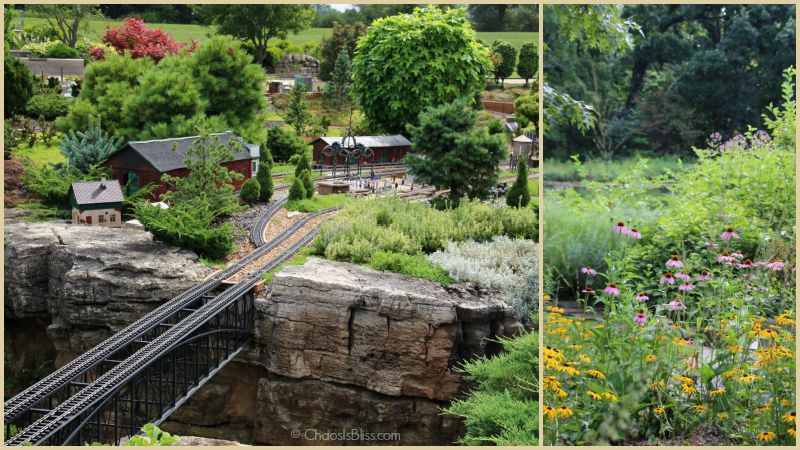 And to cap off our very busy trip we made a quick stop to tour the Gabis Arboretum (formerly Taltree Arboretum), a non-profit preserve featuring a Children's Adventure Garden, Railway Garden, and an abundance of prairies, woodlands and wetlands.
Plan your trip to Indiana Dunes and southwest Michigan
Are you ready to travel to one of the MANY places we visited on our trip? Here are some quick resource links:
All that in 5 days! Know of some friends that could use the helpful tips in this post? Sharing is caring! Use the buttons above this post, or off to the side to share with your friends.
You might also like…
This post was sponsored by the Indiana Dunes tourism department, but all words, opinions and my love of family travel are 100% my own. See my disclosure policy for more on that.
(Visited 2,053 times, 11 visits today)