Here is a fun home activity for your preschooler, that besides being fun, can also teach sharing, a little math and hey even let's throw in some consumerism!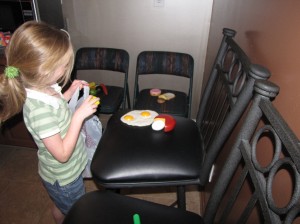 My kids like to play (as we named it) RoheMart!  From the play kitchen we pulled our pretend fruits & vegetables, breads, meats and canned goods. I place them on chairs according to their department: Dairy, Meat, Bakery, Produce, Canned Foods etc.
We have a toy cash register (a calculator would work great too), so one child will be the cashier, the other the shopper, then they take turns. One child can play the Greeter, welcome the shopper, ask if there's anything they can help them find, and show them on their way.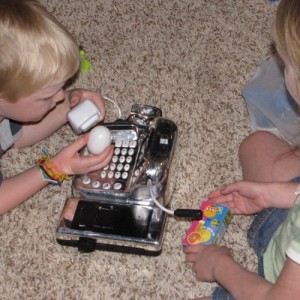 When my daughter is done shopping, she'll take her goods to my son the cashier, he'll 'scan' the items and tell her how much she owes. (Since he's 4, he comes up with some pretty funny amounts -" One thousand eighty dollars"!  We sometimes use play money to exchange, he will bag up her groceries, and she trots away.
There are some great subtle lessons that could be taught in a game like this:
recycling (with reusable shopping bags)
nutrition (choose more produce and fewer sweets/snacks)
saving money (use an envelope with expired coupons for pretend play)
counting ("We need 2 apples and 3 oranges")
math (use masking tape to create price stickers, older children can add with mental math or on calculator)
You could expand the grocery store game to other rooms in the house. How about a furniture store?  Thrift store? Maybe mess around with dad's (safest) tools and play Hardware Store?!
Now I just need to refrain from teaching my almost-2 year old to say "Charge it"!
(Visited 196 times, 2 visits today)