I really enjoy hosting my kids' birthday parties at home. You would think it should save some money, but when you start adding up the crafts, decorations, food, cake (purchased or ingredients) and party favors; it's probably better to say it breaks even with dropping $200 on a party venue.
When my son had his 5th birthday this February, he chose a Pirate theme, which was so much fun to plan! Oriental Trading had the coolest pirate party supplies, even a great selection for a girl's pink pirate theme if you're looking for something different for your daughter!
Where I did save money was on the invitations, by printing them on my home computer. I wanted them to have an antique look, wound like a scroll. I even used pirate-speak on the wording… Google is just amazing at finding exactly what you need!
If you're hosting a pirate party, or any other event where it could be more special or authentic to have an antique look to your paper, here's the steps on how to do just that:
Create your invitation. I used Word, set the page to Landscape and created 2 columns so I could have a smaller invitation, two to a page. I used Word's freehand drawing tool to create the border (and set the border to a thick dashed line instead of solid), trying to give it a feel of a treasure map. I printed half as many sheets since I was getting 2 invitations per page. Before antiquing, I used a straight edge to rip the two invitations apart.
For the antiquing process, I boiled 1 cup of water and put 1 family-size bag of tea into it to steep. When it had cooled, I poured about 1/2 cup onto a cookie sheet with an edge so it didn't spill over. I put two invitations at a time into the tea, turning it over and pressing lightly to be sure it was getting good and saturated. As the tea ran out, I poured the remaining onto my cookie sheet.
Time to dry: Next I placed the wet invitations onto a clean baking sheet, and put it into the oven at 200° for about 6 minutes. You can turn it over after 3-4 minutes, or you don't have to, sometimes it will curl more if you don't turn it over. If it's not perfectly dry, no worries – just gently peel it off your cookie sheet and set it aside, it'll finish air drying while you put the next set into the oven.
That's it! It is really simple!  It did take a bit of time but in the end it was really worth it. I finished the look by loosely rolling into a tube and tying a string around it into a knot. This wouldn't work to mail invitations, but thankfully I was passing them out at preschool!  I had so many compliments on the invitations and for me, it's fun to do something different. I did the same process for the thank-you notes, just changed the wording, and printed 4 to a page instead of 2. I left a blank to detail the gift, and Dylan signed his name on each.
Believe me, I usually purchase the matchy matchy fill-in-the-blank invites; however I wanted to give this a try and thankfully it worked!  Here's the end result, side by side with an original to see what a difference it makes: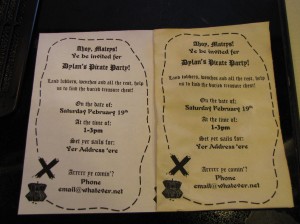 Oh p.s., I also made Dylan's cake at home, a treasure chest! That was also a quick find through searching "treasure chest cake", I was able to find a video on how to make it on Family Fun's website. I'll be writing up my "How To" on that, so if you're not yet following me, you may do so via email updates, Facebook, Twitter, or all three!
(Visited 489 times, 1 visits today)