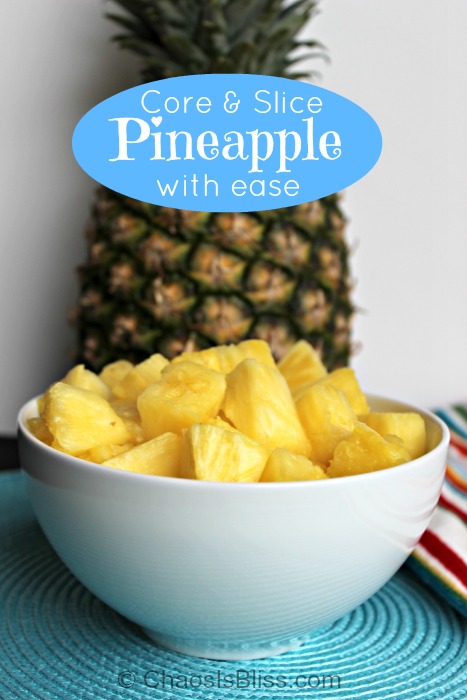 There is nothing quite as good as fresh, sweet pineapple. The canned variety will do fine for recipes, but after I found my new favorite kitchen tool I have no more excuses! Aside from nearly pricking a finger on the spiny rind, coring and slicing a pineapple has never been easier. I am even debuting my first ever video to demonstrate, at the bottom of this post!
How do you know if a pineapple is ripe?
I do the sniff test. I invert it and sniff its bottom (*giggle*). Similar to how I tell if a cantaloupe is ripe, you should smell a slightly sweet, pineapple-y smell. If you don't smell anything or if it's beyond ripe (possibly even a sour or vinegar-y smell), I'd choose another. Its leaves should also be green, and not dried or brown.  
How to Core and Slice a Pineapple
First you'll want this tool: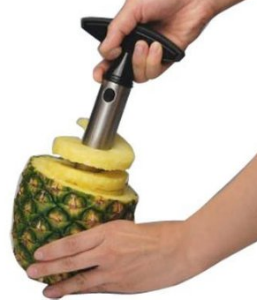 The Easy Tool Stainless Steel Fruit Pineapple Corer/Slicer/Peeler is absolutely dirt cheap on Amazon (less than $5 usually), and ships FREE. I will say however, the shipping is just above a snail's pace – my checkout page showed 17-28 days and it arrived in about 3 weeks. There may be others, and this is not a paid review by any means, this is just the particular tool I bought and had really great luck with it!
Next, use a serrated knife to lop off the top of the pineapple. Insert the Pineapple Corer/Slicer and begin twisting with the handle. You really don't need to apply much pressure, it cuts in very easily. Continue rotating the blade down until you feel you're close to the bottom. Lay the pineapple on its side and slowly pull the fruit out using the tool handle. Once the pineapple is removed, take the handle off and use your knife to slide the pineapple off of the tool. It will already be spiral-sliced, now simply cut it into rings or chunks to suit your fancy.
Want to give it a-go? Purchase the Pineapple Corer/Slicer/Peeler here.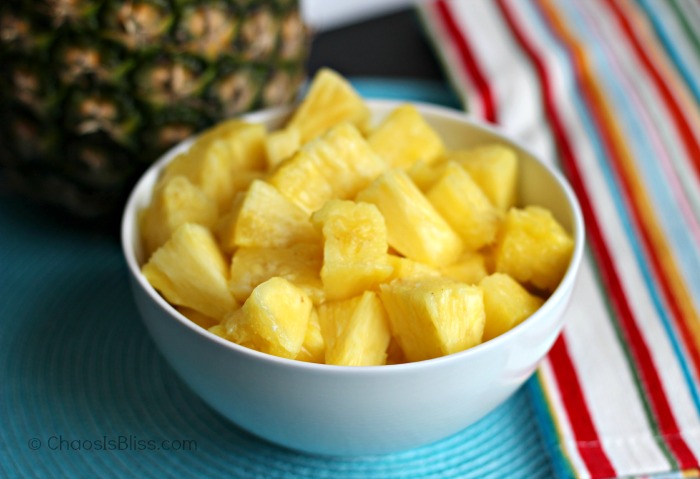 And to show you how simple it was, here's a quick video I made to demonstrate that it's super easy to core and slice a pineapple!
Note: This is my first ever video so please excuse my son's interruption and the messy background. I literally grabbed my Flip to start videotaping and thought if I had warned the kids ahead of time what I was doing, they would for sure have start acting like the crazy little lunatics they are, on camera.

You may also like to check out these related posts:
(Visited 2,155 times, 23 visits today)