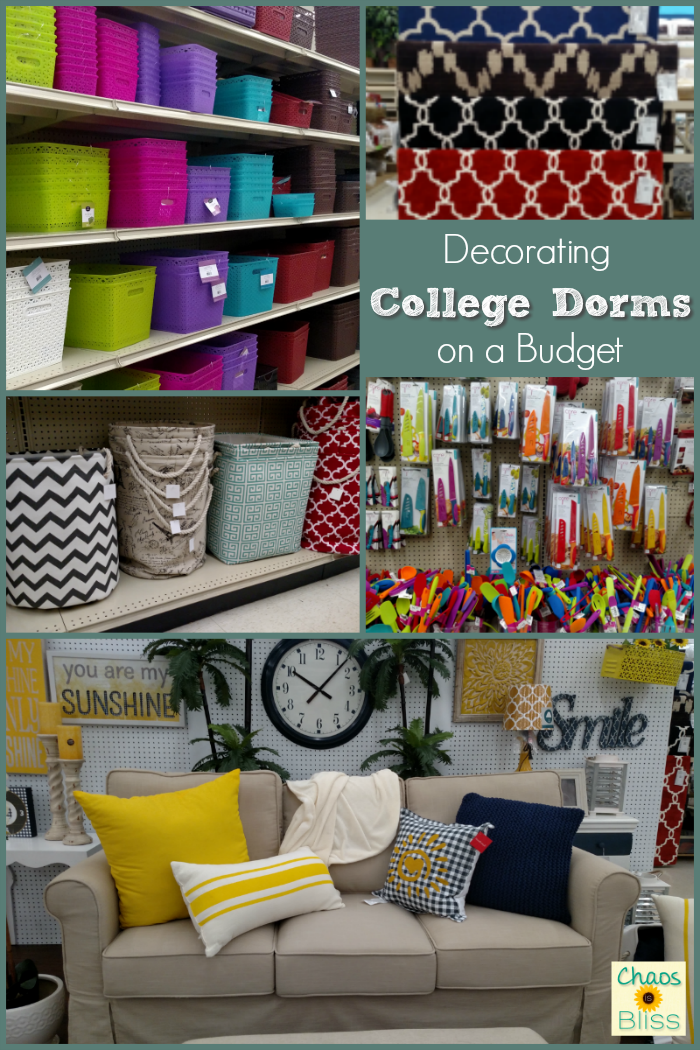 If you have a recent grad getting ready to head off to college, you'll want to know all about decorating college dorms on a budget!
Probably by the time I was a sophomore in high school, I knew I was going to follow in my big brother's footsteps and head to Purdue. I lived in a dorm my first year, and became a member of Zeta Tau Alpha where I lived the rest of my days at Purdue.
I loved the independence of being away at college, and decorating my dorm room – and later my sorority room – was something I took almost as seriously as my classes. But bedding, throw pillows, rugs and desk essentials adds up … so it's important to look for great everyday prices at stores you can trust.
At Home stores opened up recently in the Indy area (here's the national locator), and I could tell by the exterior it must be a pretty large store.
Friends, I had no idea how big this store was until I stepped inside. Aisles upon beautiful aisles of home decor for indoor and outdoor, furniture, rugs, mirrors and artwork, kitchen tools and baskets galore.
Click the little arrow on the image below to see my video scan of just one pillow aisle (yes, there were more than one pillow aisles!)
These are some of my favorite decorating tips, which can easily be applied to college dorms:
Sturdy baskets. You can find them in every color under the sun, or in natural color materials. Baskets are my favorite way to declutter quickly – let's say when your parents make an unexpected visit to your dorm!
Stackable drawer bins. The ultimate in function! Available in smaller sizes for your desk to store printer paper and writing utensils, or larger drawers that sit on the floor which can double as a nightstand.
Kitchen gadgets. You might have a dorm fridge and microwave in your room – so you'll need a few basic kitchen gadgets for cutting, stirring etc. Store in an upright utensil caddy which saves from taking up drawer space.
Pillows. While you don't need a dozen throw pillows to take on and off your bed every day, one or two that complement your bedding colors add a nice touch to your decor. You can also find floor pillows when you feel like lounging!
These are just a few ideas of how to decorate a dorm on a budget. You'll find so much inspiration on this Back to Campus page from At Home stores!
And so that you don't forget a thing before heading off to school, print this handy Move In Checklist!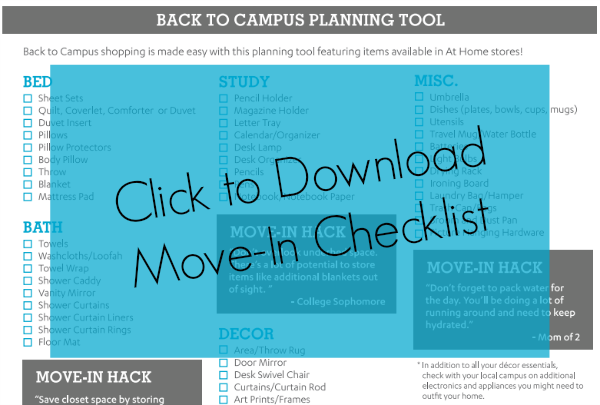 This post was sponsored by At Home and MomSelect, but all words and opinions are 100% my own. Please see my disclosure policy for more info.
You might also like to check out:
(Visited 556 times, 1 visits today)