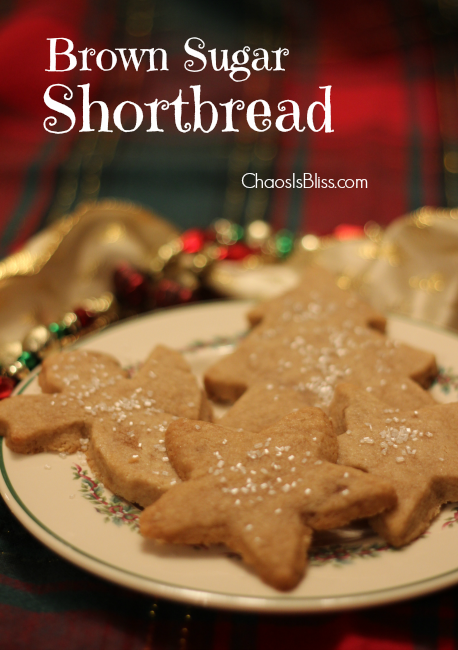 I discovered this recipe in a Christmas with Southern Living cookbook, and despite it only having 3 ingredients, it is now one of my favorite cookies! It's easy to make, and if time were a concern then instead of cutting shapes with cookie cutters, you could just roll out the dough and cut into squares, then cut on a diagonal for a traditional shortbread look.
Brown Sugar Shortbread Recipe
1 cup butter, softened
1/2 cup firmly packed dark brown sugar
2 cups all-purpose flour
sparkling sugar (optional)
Easy directions
*Note: Allow 30 minutes to chill, baby!  Place softened butter into mixing bowl and beat at medium speed until creamy. Gradually add brown sugar, beating until light and fluffy. Slowly add flour, beating at low speed until smooth. Cover and chill 30 minutes.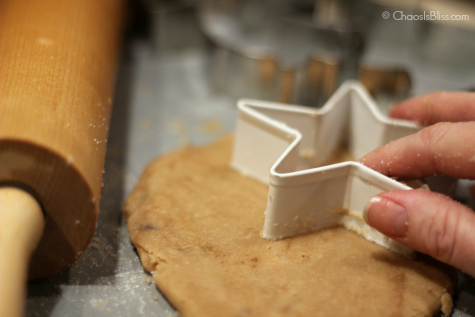 Roll dough to 1/4″ thickness on a lightly sugared surface. Cut with cookie cutters and place 1″ apart on lightly greased baking sheets (or use parchment paper). Sprinkle evenly with sparkling sugar. Bake at 375 degrees for 10-12 min or until edges are golden. Cool pans on a wire rack for 5 minutes. Remove to wire racks to cool completely. Yield 12-18 cookies.
What other Chaos Is Bliss recipes  or fun posts have you missed?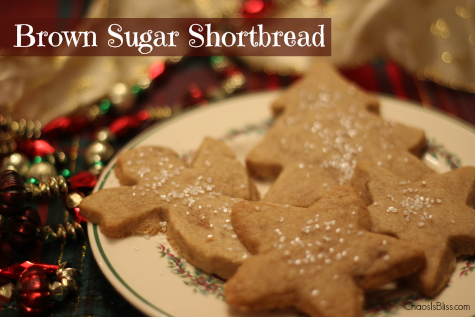 (Visited 2,902 times, 29 visits today)