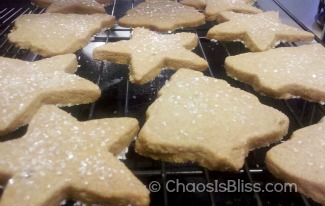 Maybe it's because I have been blogging Christmas deals since mid-November, or maybe it's because stores have been playing Christmas music and selling their holiday wares since October, but I feel like Christmas is coming up fast, and I'm so not ready! Our house is 70% decorated indoors, and only 25% outdoors. Shopping is 50% done. Baking, something I truly enjoy, was 0% until today when I made these absolutely delicious Brown Sugar Shortbread cookies.
Several times this year I have had the privilege to share some recipes, tips and fun facts as a Table Talk contributor for Indiana's Family of Farmers. I enjoy cooking and baking not just for my own family, but to share with others. Whether it's a for a friend with a new baby, someone who is ill, or just because (which is my favorite), it brings me great joy to share meals and treats with others.
Indiana's Family of Farmers sent me an array of wonderful baking tools, and a couple of them came in handy for baking these cookies today:

Chef'n Switchit Silicone Spoon Spatula, Cherry: This is a double-ended spatula. I have at least 5 silicone or rubber spatulas that I use regularly, so at first I wasn't too super excited to see another one. But it actually worked really well in this recipe! I used the larger end to scrape down the sides of my mixer for the butter/sugar mixture, and while that end was still a bit messy, I flipped it upside down and used the smaller end to push the dry ingredients from a smaller bowl into the larger mixing bowl. That worked out great!
Silpat Non-Stick Baking Mat: Another kitchen tool that I didn't really think I needed, but so glad to have now. If you can spend a little more than $20 on an item that makes your cookies slide right off your baking sheet, and makes cleanup a breeze, then by all means it may be worth it for you.
Brown Sugar Shortbread is a perfect mix for cookie cutters. The firm shortbread holds its shape well, and it's sweet enough to not need frosting – thus the sparkling sugar adds just the right dazzle to holiday cookies.
Note, for the 'trouble' (although it really isn't all that much trouble, especially with only 4 ingredients!), you might consider doubling this recipe as it really only makes about 2 dozen smallish cookies. If you don't have time to roll & cut with cookie cutters for that much dough, refrigerate or freeze half for another baking day soon.
Brown Sugar Shortbread Cookies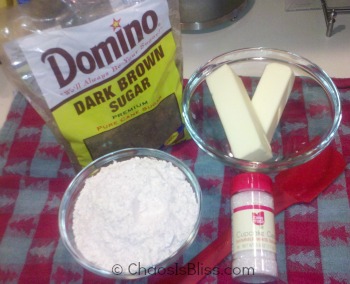 1 pound butter, softened
1/2 cup packed dark brown sugar
2 1/2 cups flour (I mixed in some whole wheat flour, no more than 50/50)
Sparkling sugar
Beat butter at medium speed with an electric mixer until creamy; gradually add brown sugar, beating until light and fluffy. Gradually add flour, beating at low speed until smooth. Cover and chill 30 minutes.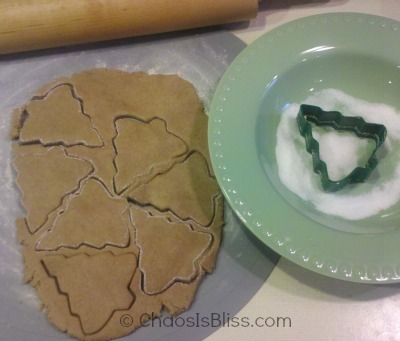 Roll dough to 1/4″ thickness on a lightly floured surface. Cut with a 2″ cookie cutter; place 1″ apart on lightly greased baking sheets, parchment paper or Silpat. Sprinkle evenly with sparkling sugar. Bake at 375 degrees for 10-12 min or until edges are golden. Cool on pans on wire rack 5 min. Remove to wire racks to cool completely. Makes 30-36 cookies depending on size of cookie cutters.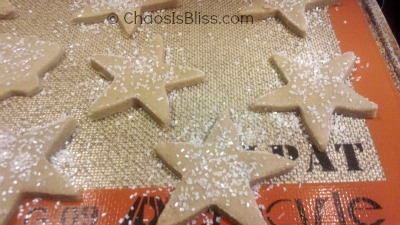 And you can see from the photo up at the top just how well they turned out! Try them soon, they make an tasty, beautiful homemade gift for teachers, bus drivers and neighbors.
Chances are if you like this recipe, your friends will too! Please take a sec to pin it … and follow me on Pinterest while you're there!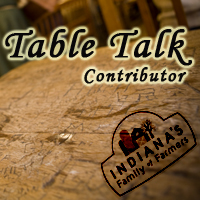 If you're a fellow Hoosier you might enjoy some recent Indiana mentions. Also take a look at other recipes I've shared.
This post was sponsored by Indiana's Family of Farmers. All opinions are 100% mine. See my disclosure policy for more information.
(Visited 1,440 times, 10 visits today)