No creature on earth can give unconditional love to its family, quite like a dog.
You leave the house to walk to the mailbox, and upon return your dog greets you like you've returned from a month-long vacation. They don't need much besides food, shelter, and your love.
Molly
We adopted Molly from our local animal shelter, but I don't refer to our story as "rescuing" her. She was a puppy, and would have been quickly picked up by another family had we not set our hearts on her. True dog rescues, to me, are older dogs who have bounced around foster homes, and those deemed "unadoptable"; at many shelters facing euthanasia.
Molly is our snuggler. Quite the opposite of the dog we had before her, who preferred to lay on hard surfaces, Molly will lay down on any thing fluffy – blankets, freshly folded laundry, and any pile of softness.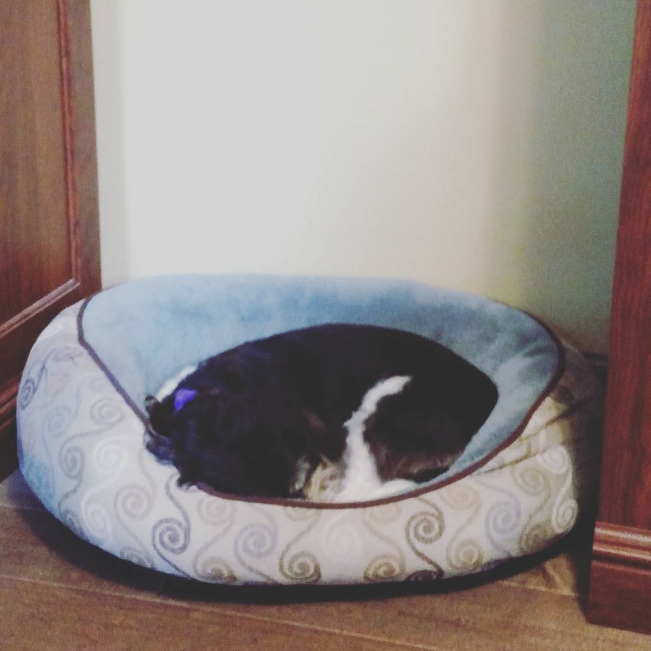 This is my favorite … when I'm working, she curls up in her cuddly bed. Let sleeping dogs lie.
Hallmark Gold Crown has partnered with Best Friends Animal Society to provide hope, in finding homeless dogs new "furever" families.
They have introduced a new line of "My Best Friend" plush dogs (available online and in stores now), and when you purchase from this line a portion of proceeds will be donated to Best Friends Animal Society.
Learn a little more about My Best Friends:
Brown and Black Service Dog Stuffed Animal: Known for his strength, intelligence and trainability, this service dog is the preferred breed for police and military functions, as well as family protector.
Devoted Golden Dog Stuffed Animal: As a trainable, gentle dog, this adorable golden pup also gets major points for being friendly, playful, loyal and cute!
Wrinkly Toy Dog Stuffed Animal: With an adorably wrinkled mug, muscled body and curly tail, this captivating puppy is ready to become man's best stuffed friend.
Long-haired Terrier Stuffed Animal: Light as a feather, this long-haired pup can fit easily in your bag or crook of your arm, making it the perfect grab-and-go companion.
In addition, Hallmark Gold Crown has introduced the Let's Get A Pet! Storybook:
Meet some sweet four-legged friends who are waiting for the most special gift ever—a new home! This storybook takes a playful tour through the most popular dog and cat breeds and includes a space at the end for readers to record which pet they chose and what name they'd like to give their new four-legged friend.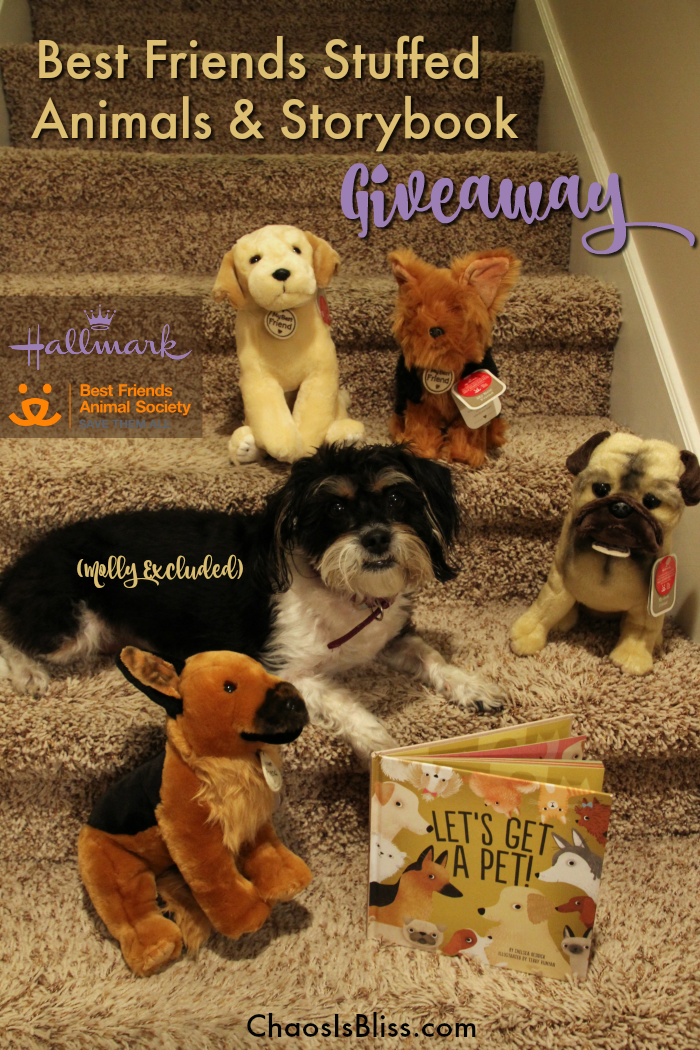 GIVEAWAY
Hallmark Gold Crown provided me with a set of these lovable plush dogs and Let's Get a Pet! storybook, and a set to give away to one of you!
Enter through the Rafflecopter widget below. The contest is open NOW, and ends on Tuesday, 9/27/16 at 11:59pm. Good luck!
a Rafflecopter giveaway
About Best Friends Animal Society:
Best Friends Animal Society is the only national animal welfare organization focused exclusively on saving the lives of dogs and cats in America's shelters. Best Friends believes in taking a positive and collaborative approach to saving lives. An authority and leader in the no-kill movement, Best Friends runs the nation's largest sanctuary for companion animals, as well as lifesaving programs in partnership with rescue groups and shelters across the country. Since its founding in 1984, Best Friends has helped reduce the number of animals killed in shelters nationwide from 17 million per year to about 4 million. And they will not be done until that number is zero.
Hallmark has made a $100,000 donation to Best Friends, to help offset pet adoption fees. Hallmark will also sponsor adoption events in the fall.
Learn more about the Hallmark Best Friends line here.
You may also want to check out: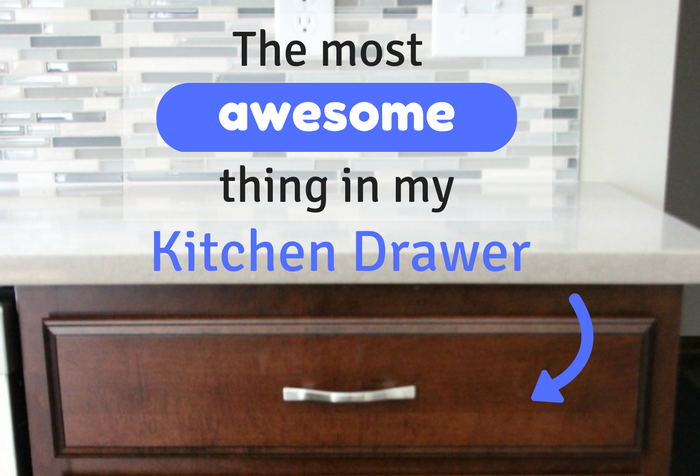 (Visited 497 times, 5 visits today)