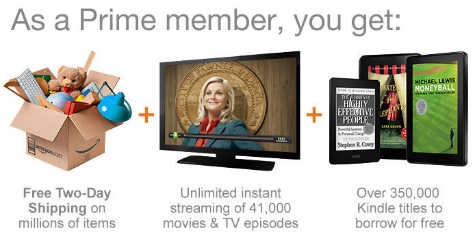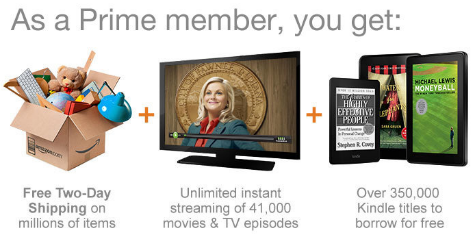 Amazon Prime benefits have dramatically increased since I first wrote this post. Have you invested in a membership?
I use the word "invested" on purpose, because $99 is a chunk to shell out for (what initially seems like) an intangible product, but I have found it totally worth it!
If you aren't yet a member, here are the Amazon Prime benefits and why I think it's worth it:
Free photo storage via the Amazon Photo app, for you and 5 of your friends! You also get 5gb of cloud storage for music & other files. Without having the Prime membership, this photo storage service would cost you $12/month.
Gift card reload bonus. Let's say you're given an Amazon gift card. You use it. After it's spent, you can reload it and get $10 for reloading $100 back onto the card.
When you buy an album you get the digital mp3 version of that album for free.
Amazon sample boxes. There are sample boxes for K cups, beauty & skin care, dog treats and so much more. They're not free, but when you buy them as a Prime member you'll get equal credit for what you paid, toward a future purchase. So it's kind of like getting it for free
You'll get a FREE 30-day trial. Trust me – take advantage of this!  Did you get an Amazon gift card for Christmas? Or have you racked up some Discover cash back dollars, because you can even pay for Amazon orders with it!
You'll get FREE 2-day shipping on thousands of items. Just look for the little Prime logo: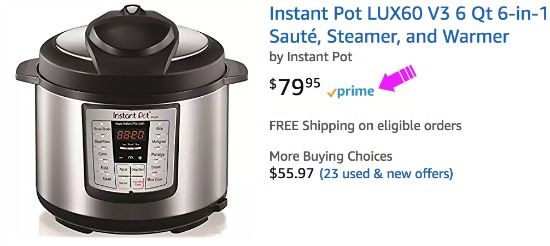 There is no minimum order for the free 2-day shipping! This is a HUGE benefit to me, because even while I was 99% of the time using Amazon's free Super Saver shipping I didn't necessarily want to place a $35 minimum order. I just wanted what I wanted. With Amazon Prime, you don't need to worry about that. Any order that qualifies for Prime shipping, will ship to you in 2 days, with no minimum order required.
You'll have access to borrow 1 book for FREE each month through the Kindle Owners' Lending Library!
You can stream hundreds of FREE movies and TV shows!
And now, if you choose "no rush shipping" you'll earn perks like $1 Instant Video credit or $5 in Prime Pantry credit, as a thank-you for not being in a rush to get your order in two days.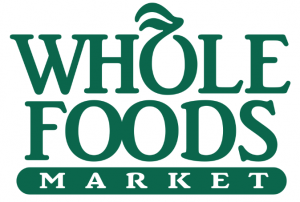 Lastly, if you're a Whole Foods shopper, you can now enjoy a bonus 10% savings as an Amazon Prime member! Here's how to take advantage of this discount.
Sign up for your FREE 30-day trial of Amazon Prime and see if you like it. You can always cancel before your 30 days is up if it's not for you. If you want to keep it, you'll pay $99/year. The free 2-day shipping alone makes it worth it for my family, everything else is just perks!
This post has been updated from its originally published form on Dec. 27, 2013.
(Visited 479 times, 3 visits today)