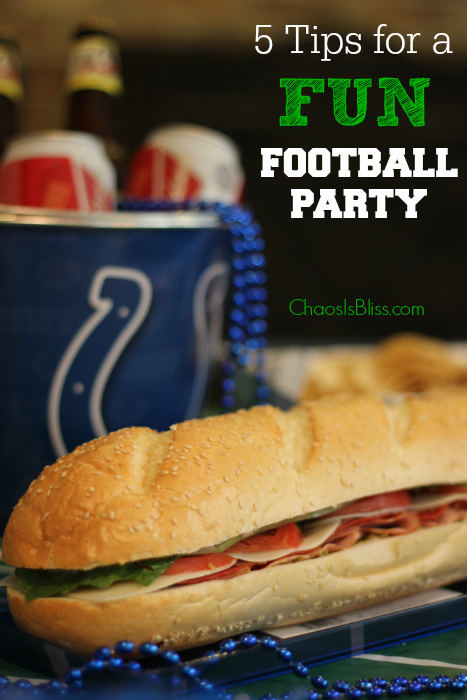 My home team, the Indianapolis Colts, had a better-than-it's-been-in-a-while preseason (let's be honest, but who's counting preseason). But I have faith, and with these 5 Tips for a FUN Football Party along with an easy Mega Italian Sub recipe, you can have some fun cheering on your favorite team as well!
#1 The Decorations
Unless you flip flop teams like a fair weather friend, skip the wimpy solid-color tablecloths that melt as soon as you lay down your hot nacho dip, and invest a few more dollars into higher quality football decorations you can use season after season.
I found the perfect heavy-duty vinyl tablecloth striped like a football field, and it was packaged together with an awesome high quality Colts flag, and the set happened to be on clearance for just $15 at Party City (in stores only, but I did find the reusable vinyl football field tablecloth here).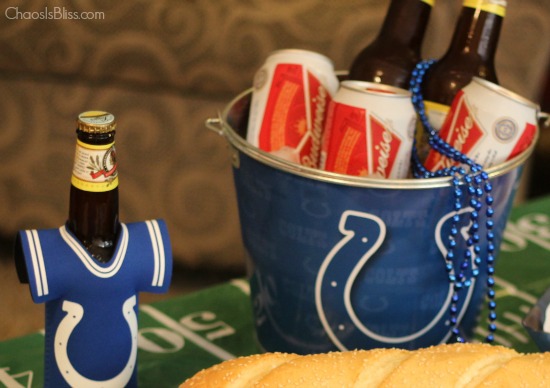 You can also have fun with a team bucket for keeping a few beers on ice, and super inexpensive beaded necklaces in your team's colors (I found some for 29¢ each!).
#2 The Drinks
As with any party, have a few beverage options for your guests – both with and without alcohol. If your main adult beverage is beer, be the host with the most … selection! Find out what your friends like to drink, so they don't need to pack a cooler when they come to your house.
Save money on bottled water and instead, use a glass pitcher with filtered tap water, with a fresh flavor from cucumber slices floating on top. (I know, I just girlie'd this party up, didn't I)?!
Make a fun team-colored punch that the kids would enjoy! If you're lucky enough to find the right colored sherbet, just mix the softened sherbet in a punch bowl with Sprite or 7-Up.
#3 Football Fun for Kids Too!
Whether your own children will be hanging out during the party, or you have a houseful of rugrats from a no-babysitter-needed invitation, you can either ship the kids off to a room with their own TV for a kid-approved movie, or involve them in the football fun!
Here are a few resources to get your creative juices flowing:
#4 Football Pools
Care to make your party a little more "interesting"?
Create a free printable football squares page, and list one team name at the top and the other along the side. Let those guests that care to place a wager (or make it free fun) write their name in a square (or multiple squares). Once all squares are filled, randomly assign the numbers 0-9 across the first row of squares on the top, and again randomly down the left side.
At the end of each quarter, look at the last digits of each team's score, and figure out which square is designated for that score. For example, 17-13 would be "7" across the top, and "3" down the side. Whoever's name is occupying that score's square, wins for the quarter!
Here are more tips on running a football pool with squares.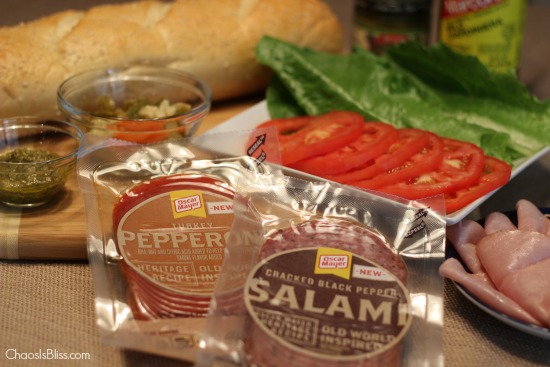 #5 The Food
Ahhh, saving the best for last. Food can make or break a party, and when you're planning on a 4-5 hour event like a football game viewing party, you'll want plenty of options, both healthy and hearty.
One way to feed a crowd is with a few Mega Italian Sub Sandwiches, made with a long loaf of French bread and packed with flavorful Oscar Mayer Old World Style Pepperoni and Salami.
Mega Italian Sub Sandwich Recipe
Ingredients (one sandwich serves 4-6):
1 loaf French Bread, sliced longways
3 Tbs prepared pesto
1/2 cup mild giardiniera, such as Marconi
6-8 slices each: Oscar Mayer Old World Style Pepperoni, Old World Style Cracked Black Pepper Salami, and Oscar Mayer Ham (I also like the Oscar Mayer Bold Italian Style Herb Turkey Breast)
4-6 thin slices provolone or mozzarella, such as Kraft Slim Cut
5-6 slices tomato
3 long leaves Romaine lettuce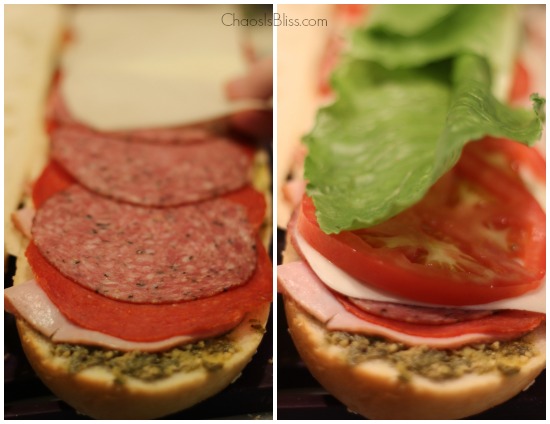 Easy peasy directions:
Spread pesto across bottom half, and giardiniera on top half. Layer meats, cheese, tomato and finally lettuce. Place top half onto sandwich, and slice into 4-6 servings.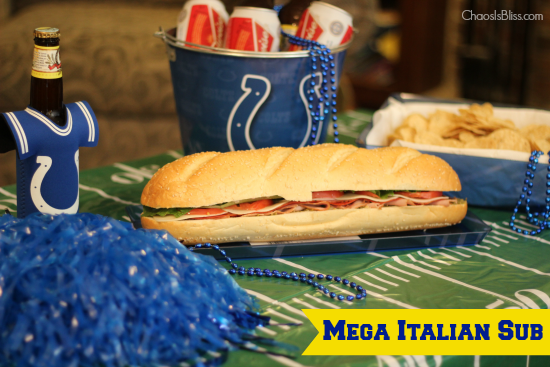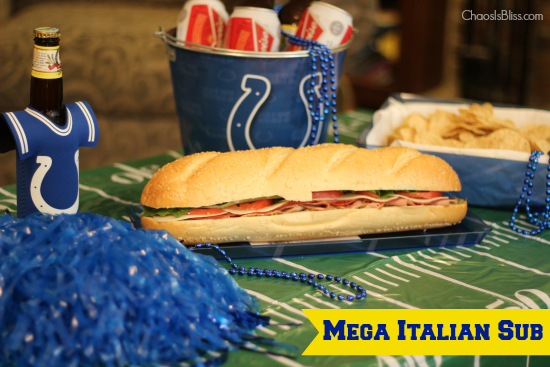 Be sure to check out more of my family favorite recipes, such as:
(Visited 684 times, 10 visits today)