Make memories with a fun family game night! Easy tips to have a family game night, and including grandparents!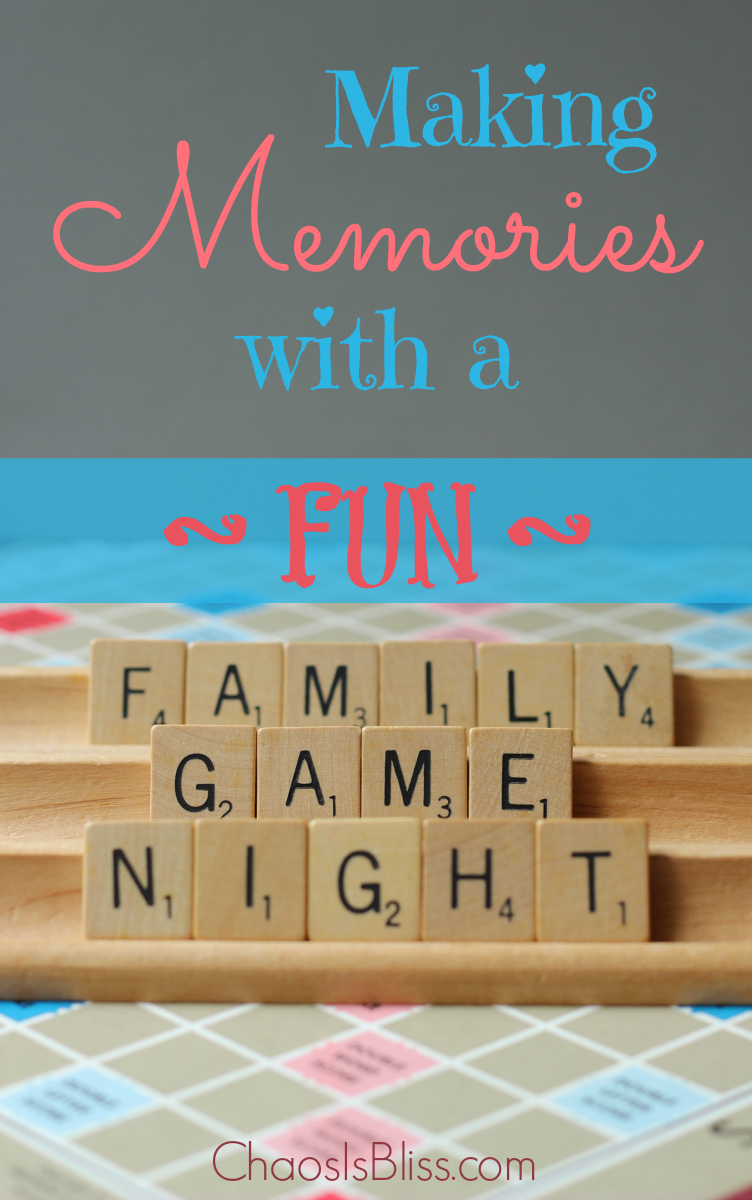 The one thing about social media that kind of stinks, is seeing what wonderful things other friends are doing with their families, and you kind of feel defeated because your experience doesn't look the same.
Take my sister-in-law for example. She grew up playing games with her parents, and instituted fun family game nights with my brother-in-law and their kids. Rounds of Monopoly (they own more than 20 versions), or any other board game in their game closet, have snacks and a roarin' good time.
But when I've tried it with our family, it's just a disaster. Someone ends up crying, there's shouting, the dog's barking, the kids want a snack every five minutes, and we vow never to do it again.
But then, I had an idea.
I'll ask the grandparents to get tangled up onto our craziness.
Yes, that's it! The kids always behave better when Nana and Grandpa come over. It's brilliant!
And you know what? It was brilliant.
We had a memorable, fun night with laughter, and … what was that I saw on my kids' faces? SMILES. Holy cow, my kids enjoyed themselves and each other.
There was no magic formula, but these 5 tips for a fun family game night just might spark a smile out of your kids, too.
5 Tips for a Fun Family Game Night
1. New games – We have a boatload of games, from gifts received, or from buying one on a whim thinking that would make for a magical evening. But for this game night I opted to buy three new games, just to add some excitement for the kids. Using Amazon's free same-day delivery we bought Rummikub, Rory's Story Cubes and Blokus.
2. Friendly competition – My daughter Mallory made a simple scoreboard on a poster board, lining up everyone's names and the three games we played. We placed gold foil star stickers for everyone that participated, and two if you won a round.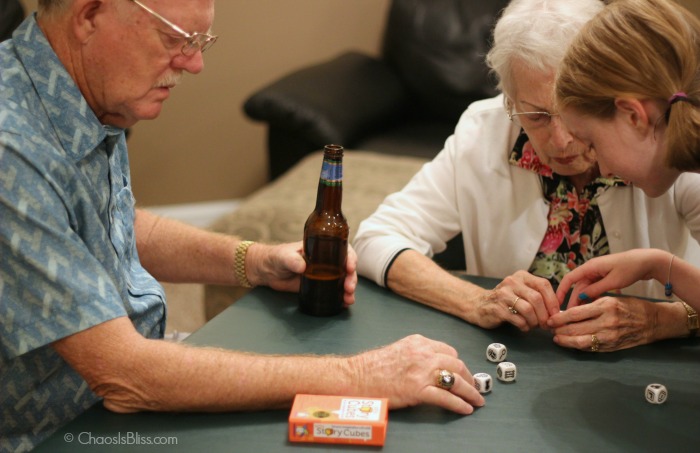 3. Inviting others – I'm thankful my parents were in town and had no plans, because adding them to our fun allowed us to spend quality time together, tell stories and enjoy laughter. I worry sometimes they think the only reason I call is to ask them to watch their grandkids so we can have a date night; so it's important for me to share more of our everyday life – even a Friday night, family game night. And that's truly priceless.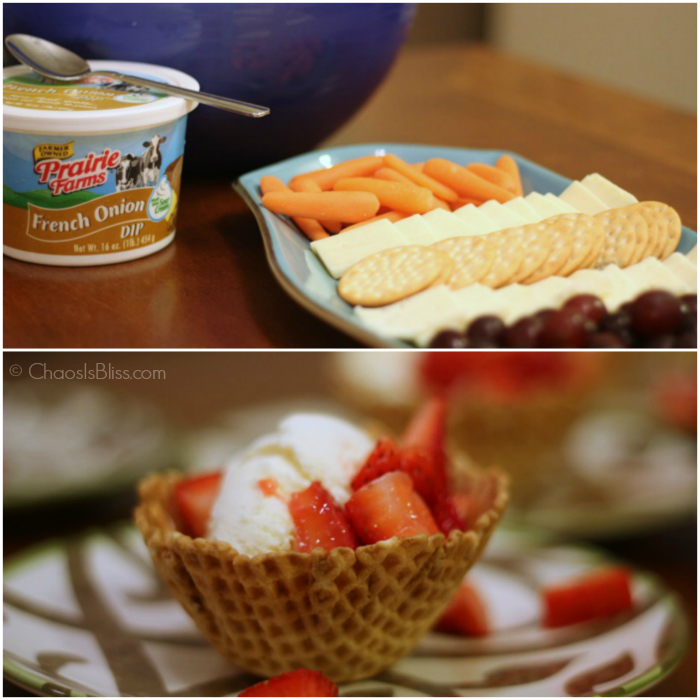 4. Snacks – It's impossible to have a game night without snacks! Make it easy on yourself with veggies & dip. For a dessert after the games were over, my mom scooped vanilla ice cream into waffle-cone bowls, with fresh strawberries on top. Simple, easy and delish.
5. Cool gear – If you want to go all out for your next family game night, family reunion or even an office team-building event, design a team logo and have it printed on cool gear! CustomInk has the simplest online Design Lab, that allowed me to make this "Rock & Rohe" t-shirt design in under five minutes. Once my design was created, I browsed through the brands, styles and colors of t-shirts available and settled on a Hanes tagless. It was seriously that simple.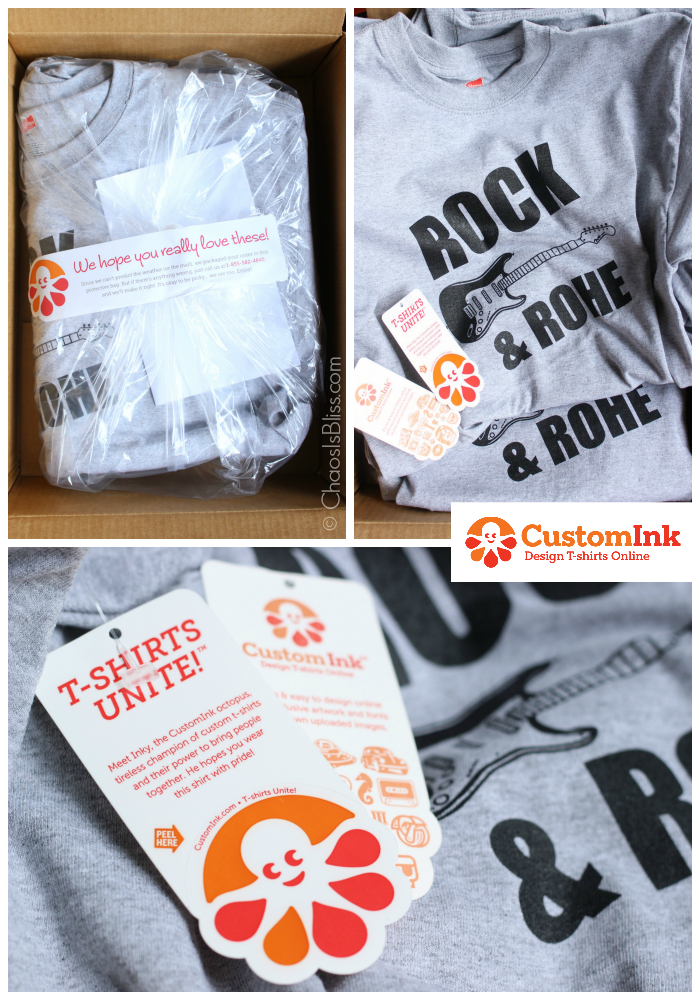 After having this rare positive experience of a family game night with the kids & grandparents, we vow to have more!
So tell me, what do family game nights look like in your house?
(Visited 1,267 times, 12 visits today)