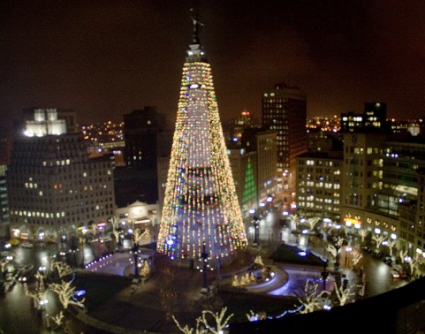 Nothing takes my breath away more than experiencing the sights and sounds of Christmastime. Dazzling light displays,  scents of cinnamon and pine, and a steady stream of people sharing merriment (and a cocktail, or three).
If you live in the area or will be visiting Indy, here are 5 Must-See Indianapolis Christmas Events (there are MANY more!):
1. Monument Circle. Head downtown to see the Soldiers & Sailors Monument "tree" lit up. Thousands brave the cold and the crowds to  "Ooh!" and "Aah!" when the switch is flipped on the Circle of Lights, and it is spectacular all month long. (above photo credit: Historic Indianapolis)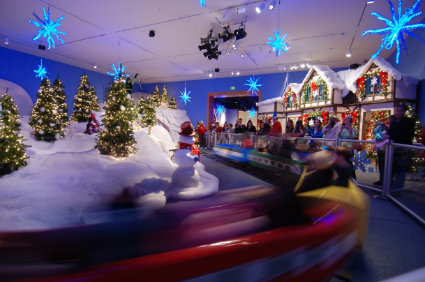 2. Celebration Crossing at the Indiana State Museum. Through December 24th, this fun and festive family event at the Indiana State Museum brings the joy of Christmas past in the form of a recreated L.S. Ayres window display, along with children's Christmas crafts, the Holiday Express train ride and a visit with Santa. (above photo credit: What's Up Fagans)
3. Reynolds Farm Equipment in Fishers. A tractor store?! I know, right? But trust me. The light display here is one of the best around, and we take our kids every year. Lighted figures such as the Abominable Snowman and even a lit ice skating rink with animated lighted skaters … children young and old will be delighted. This Friday, Dec. 12th from 6-9pm Santa and Mrs. Claus will even make an appearance!
4. Conservatory Crossing at Garfield Park Conservatory. Decked out with a magnificent poinsettia display, the conservatory also boasts a train village and thousands of twinkling lights. This Saturday December 13th, visit the free event "Christmas at Garfield" with Santa, and activities and crafts for children. Thanks Sheri!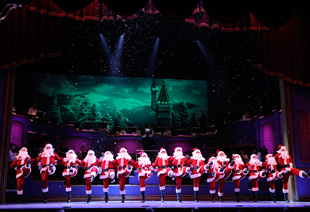 5. Yuletide Celebration with the Indianapolis Symphony Orchestra. Some of Broadway's best singers and dancers perform with the Indianapolis Symphony Orchestra in this can't miss holiday event! Returning this year are some favorite songs from Disney's Frozen, as well as many pop tunes. Thanks Julie!
Find more fun happenings and ways to save around Indiana.
(Visited 937 times, 16 visits today)