This post was sponsored by Indiana's Family of Farmers. All words and recipe are my own. See my disclosure policy for more information.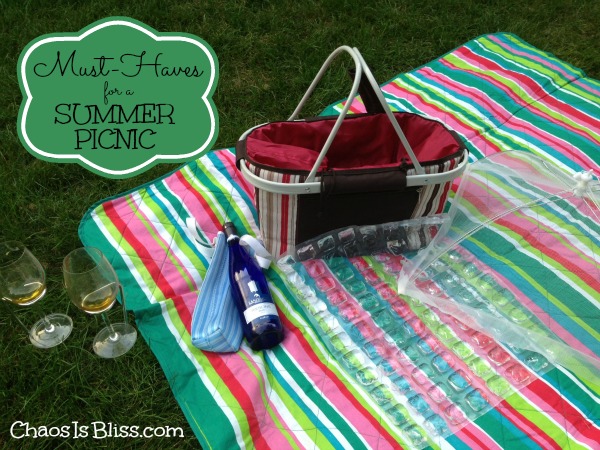 One of my husband's and my favorite things to do in the summer is to see the Indianapolis Symphony Orchestra play in the outdoor amphitheater at Conner Prairie, known as Symphony on the Prairie. We bring a picnic, lawn chairs and a blanket and curl up under the stars for a night of beautiful music.
To be honest what I enjoy as much as the music and atmosphere, is our picnic. Sometimes we go with another couple, always without children – love them dearly, but let's be honest – sometimes kids can spoil a romantic date.
Indiana's Family of Farmers sent me a wonderful array of picnic-perfect must-haves, and by adding in my own favorite picnic tools into the mix I thought it would be fun to share with you my…
10 Must-Haves for a Summer Picnic
1. Picnic Basket
There are oodles to choose from, ranging from a traditional wicker basket to what I'll be trying out soon – an insulated Picnic Time Metro Insulated Basket which doubles as a waterproof cooler. If you like the look and nostalgia of a wicker picnic basket
, make sure it's sturdy and can handle the weight of its contents. Ours has a leather shoulder strap, it's fabric-lined and includes elastic bands under the lid to secure wine glasses.
The nice thing about an insulated basket is it will help keep your food and drinks cold, and the Picnic Time insulated basket has an added bonus of being collapsible for storage.

2. Disposable Plates and Utensils
Unless you would prefer to bag up your dirty utensils and plates and bring home to load into your dishwasher, I'd suggest sticking to a disposable, single-use option. Make sure your plates are heavy-duty, no one wants wimpy plates or cole slaw dripped onto your lap!
You may like to try out earth-friendly Bambu All Occasion Veneerware made from 100% certified organic bamboo, and it's available in a 24-pack of utensils, plus varying sizes of plates.
3. Ice Sheets
Is this not the coolest thing ever?! Refreezable Ice Sheets
are like bubble wrap, only instead of air pockets, they're filled with water (100% chemical free!). Lay them on top of items in your picnic basket or cooler (you can even cut them to fit smaller spaces), or even lay it on your table top and place a dish on top that needs to stay cool. Remember that cold food should be stored at 40°F or below.
4., 5., 6. Let's Talk Wine
It goes without saying, wine will be in our basket for many a picnic. For family-friendly, non-alcoholic events have fun with a sparkling juice. Wrap glasses carefully with cloth napkins for a special touch, and for Pete's sake, remember the corkscrew!
Now you can find insulated neoprene wine bags
with handles, that help keep a chilled bottle from going wimpy in warm weather. Or even better – at my neighborhood book club someone brought a white wine in a freezable wine holder like this one – how smart is that? And cute too!
And another must-have for wine connoisseurs are these wine glass stakes
! Most likely if you're picnicking on blankets, the ground is uneven – or in our case at Symphony on the Prairie we're on a slanted hillside, proving difficult to not spill your glass! These also make a great add-on if you're giving a bottle of wine as a hostess gift.
7. Netted Food Tent
We don't take our netted food tent on every picnic, but it is useful for keeping bugs at bay if you're having a pitch-in dinner outdoors where there are lots of food dishes on a table. A quick and easy bug repellent for picnic surfaces can be made by filling a spray bottle 1/4-1/3 full with peroxide and filling the rest of the bottle with plain tap water.
8.  Portable Slow Cooker
I know, you need another slow cooker like you need another hole in the head, right?! Just wait, and you'll see why this made my must-have list.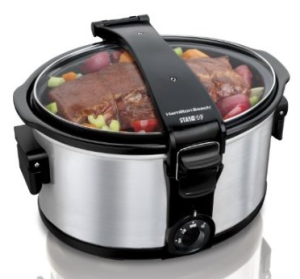 For 10 years I was a member of MOPS, and twice each month I relished our abundant pitch-in brunch at our meetings. At one of our last meetings this Spring, a friend brought a baked breakfast quinoa in a portable slow cooker. The Hamilton Beach Stay Or Go Slow Cooker
allows you to bring your hot meal to a potluck without the worry of a lid sliding off and chili or soup sloshing out and giving you 3rd-degree burns or a mess to clean up in your car. The handle and lid snap closed securely. So while I may not lug it to a picnic for two, it's definitely perfect for pitch-in picnics!
9. Portable Table
Tuesday nights in the summertime in Fishers, Indiana mean concerts at Nickel Plate Amphitheater, another free family event that draws hundreds from around town. Behind our family at a recent concert sat a couple of ladies with the cutest square wooden picnic table, and I thought that was the perfect must-have for a summer picnic!

10. The Pie. Don't forget the pie.
Indiana's Official State Pie is Sugar Cream Pie, sometimes referred to as Indiana Farmer Pie. This by far is my Favorite. Pie. Ever. Depending on who you ask, sugar cream pie recipes can vary, but most call for a combination of sugar, heavy or whipping cream, and butter to be baked in a pie crust, with optional egg yolk, flour and nutmeg or vanilla, which varies from source to source.
My second favorite is Blueberry Pie. Fresh fruit is abundant now, and there's no better dessert at a picnic, potluck or pitch-in than a fresh, homemade pie. Whether your blueberries are from California, Michigan or locally picked, they are plentiful now and super cheap! I sent my hubby to Sam's Club last night where he got a big container for just over $5.
If baking isn't your forte, you have no need to worry about this being a flop. This Blueberry Pie recipe is as easy as … well, pie.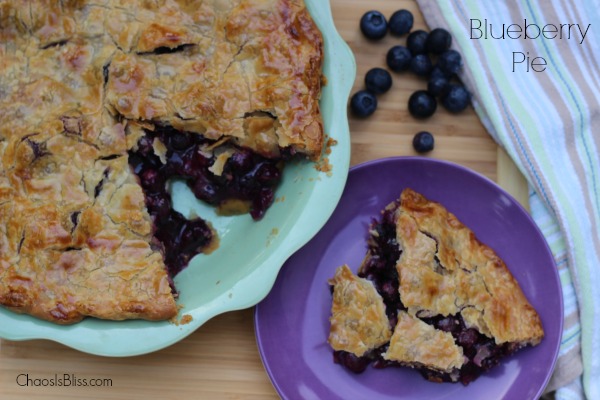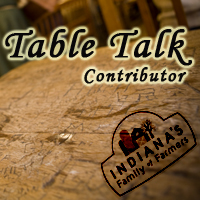 If you're a fellow Hoosier you might enjoy some recent Indiana mentions. Also take a look at other recipes I've shared.
(Visited 1,237 times, 14 visits today)