A frequently asked question by beginner crafters is "Where do you find unfinished wood rounds?". If you're wanting to make a decorative wooden sign for your home, below I share some options for different unfinished wood rounds, and where to find them.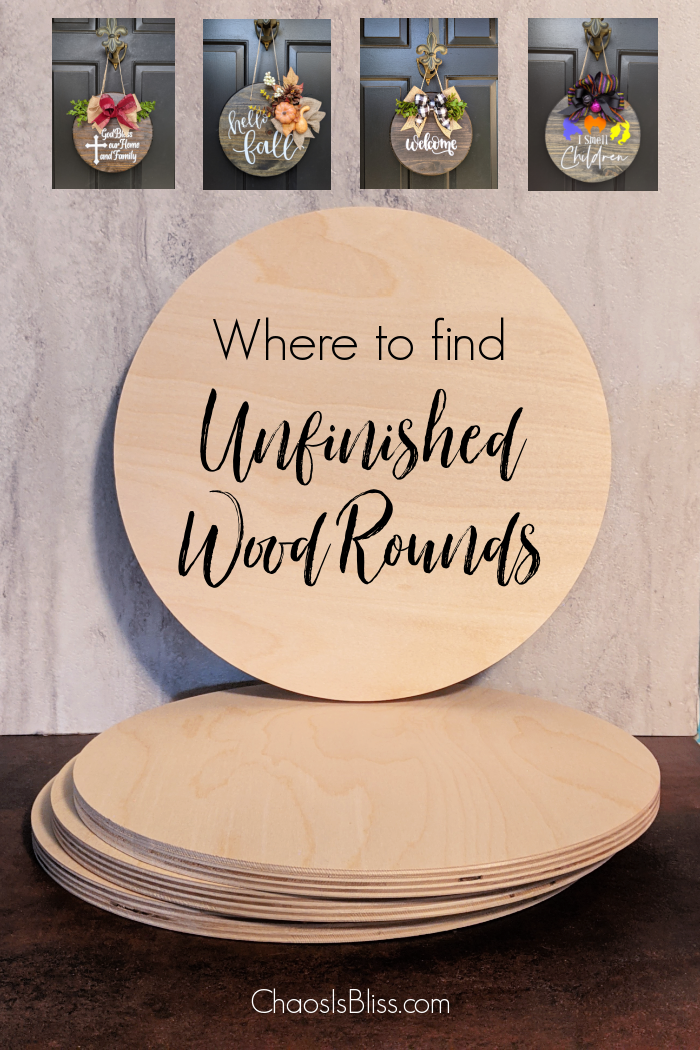 What is a wood round?
A wood round is an unfinished, circle-shaped piece of wood used in crafting and furniture making. The wood rounds I craft with are made of pine boards finger jointed and glued together.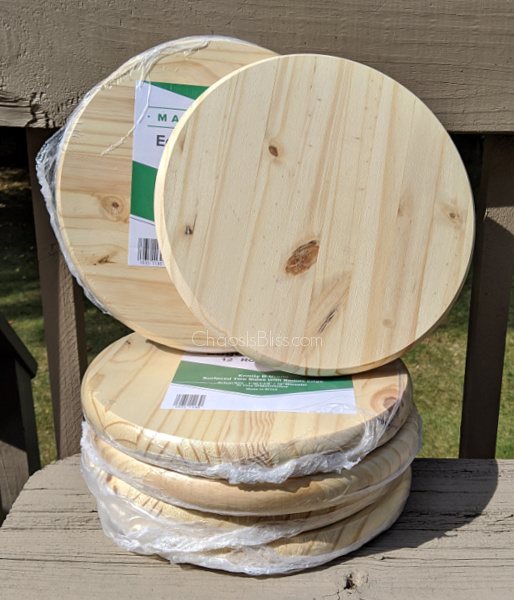 Wood round options and where to buy
I bought most of my unfinished wood rounds (pic above) at Menards for less than $8 each. I've checked Home Depot, but the store near me never seem to have them in stock. The wood rounds I have been using are 12″ in diameter and 1″ thick, weighing about 2 lbs. They're hefty, which is what I wanted, because I want my buyers to receive a quality piece that won't easily blow away or break.
I have also bought wood rounds at Lowes. They are a little thinner at 1/2″ thick, and don't have the nice smoothed edge like the version at Menards. I do like that the Lowes website tells you exactly how many your store has, and what aisle and bin they can be found in, like this:

Here is what the Lowes version looks like (after I found it precisely where the website said it would be!):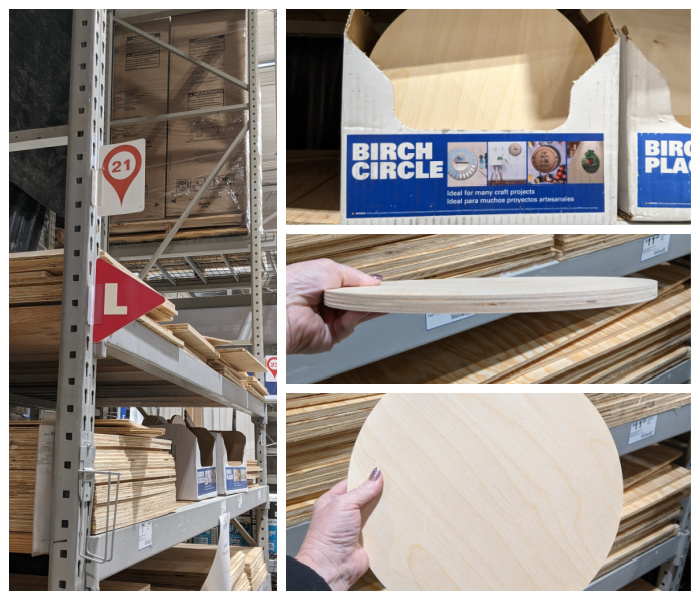 Shop Wood Rounds Online
To purchase similar ones online, you can get a 2-pack of 8″ diameter wood rounds for about the same price. They're 4″ smaller and only .6″ thick, but still a good option.
"
Wood circles
" are very thin (1/8″), you can sometimes find them individually at
dollar stores
, or in
multi-packs
online. These are a great option for lightweight uses and children's craft projects. But because they are so thin, personally I wouldn't hang on an exterior door as it might blow around.
Wood slices
are on my list to try next. They have natural bark on the perimeter, and no two are exactly alike. I found some that are
9″-11″ wide
which would make a lovely, rustic door sign.
I also love the smaller ones that some crafters use for making ornaments,
some come with screw eyes
for an ornament hook, or
pre-drilled with a hole
to tie a ribbon onto.
Other places to look for unfinished wood rounds include:
Joann's
Michaels
Hobby Lobby
Other hobby/craft stores
Other hardware stores
Woodworking stores
24HourCrafts has options for widths up to 24″ and thicknesses up to 1/2″ (Thanks to reader Robin for the tip!)
(Visited 60,590 times, 2,022 visits today)