This is a sponsored post written by me on behalf of Atlantic Luggage. All opinions are 100% my own.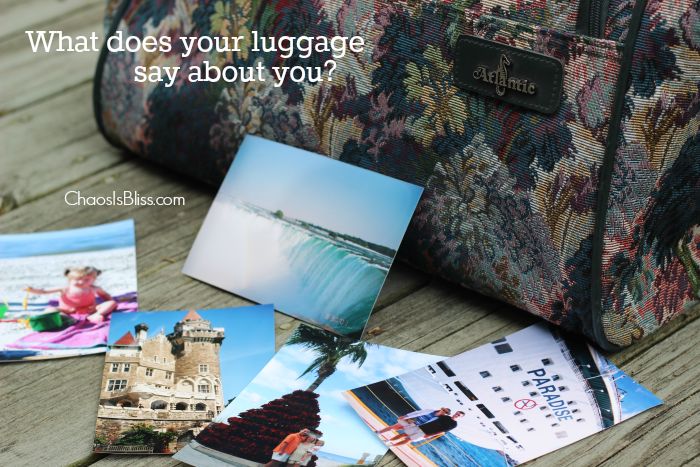 When I graduated college, my parents bought me my first set of luggage. It was Atlantic Luggage. Twenty-something years, 1 husband and three kids later, we still use it.
This luggage has been with us to Chicago, Nashville, Boston, Las Vegas, St. Louis, Orlando, Fort Myers, Toronto, the Caribbean, London and Paris. And likely a few more places I can't think of. When it's not full of shoes or stuffed animals, it's full of memories of family vacations, and a few getaways with my husband.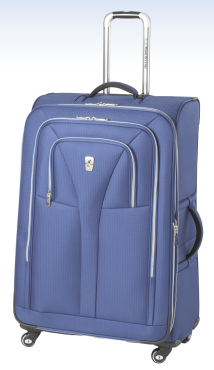 I love the tapestry fabric that my parents chose when they gave it to me, because it certainly stands out among the rest traveling along the airport baggage carousel. Still today there are oodles of style choices in Atlantic Luggage, and of course new-fangled features ours don't sport, like 360-degree 4-wheel spinners and  the Link2Go™ system which allows you to connect multiple pieces of luggage for easy one handed rolling. Seriously, if my 20-year-old set of Atlantic Luggage weren't still in such great shape, I would love some of these newer features; especially now that we travel as a family of 5 – we need to be able to move our suitcases around easily.
What does your luggage say about you?
As I alluded to earlier, ours are filled with shoes and stuffed animals, and we squeeze in a few articles of clothing and necessities. That says that a) I am indecisive on which shoes I wear with what outfits, and b) our kids' stuffed animals are as part of the family as our toothbrushes when it comes to family travel.
What does your luggage say about you? Yours might say that packing is an art, and that unpacking is a chore. Or that the bumps and scrapes on the outside, are as a part of your travel memories as a skinned knee is for summertime. Par for the course.
Atlantic Luggage wants to help one family make some new memories, and allow possibly YOU to pack suitcases full of all the shoes, stuffed animals and souvenirs you like.
Win a Family Trip to Orlando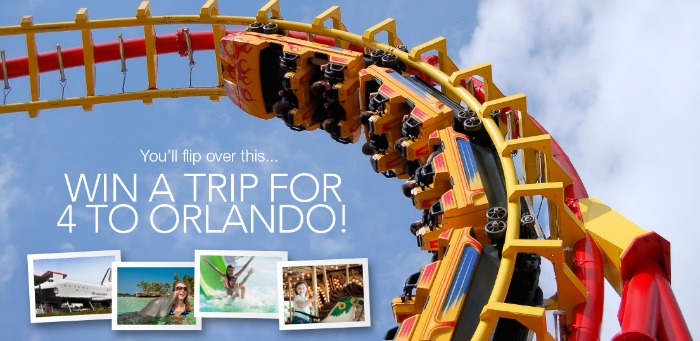 You have an amazing opportunity to win a trip for 4 to Orlando, Florida, courtesy of Atlantic Luggage!
The trip includes round-trip airfare for four, 3 nights of hotel stay, four two-day admission passes to 34 of Orlando's best attractions, $150 spending money and 4 carry-on pieces of Atlantic luggage. The total prize value is $4,270!
How to Enter:
Then you'll see this – super simple!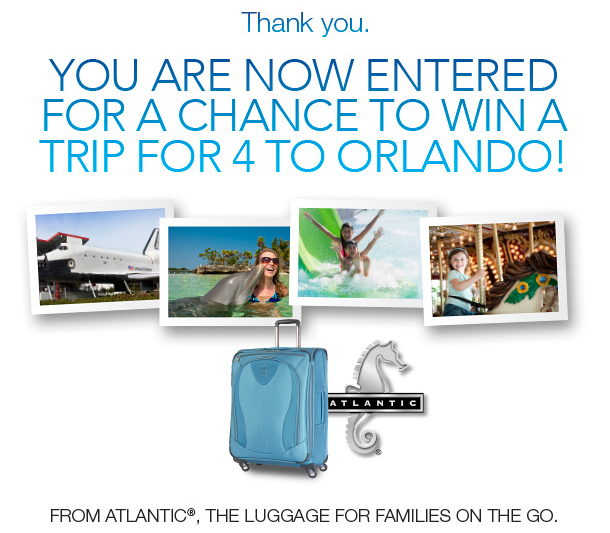 The sweepstakes is open now, and continues through June 15, 2015. The winner will be chosen 7-10 days following the close of the sweepstakes. The Grand Prize trip must be booked by March 31, 2016 and travel must be completed by June 30, 2016.
Good luck!
Be sure to check for more family travel posts, like our most recent trip report for St. Louis! You may also want to follow my Travel Board where I pin all sorts of fun travel tips!
(Visited 1,795 times, 5 visits today)