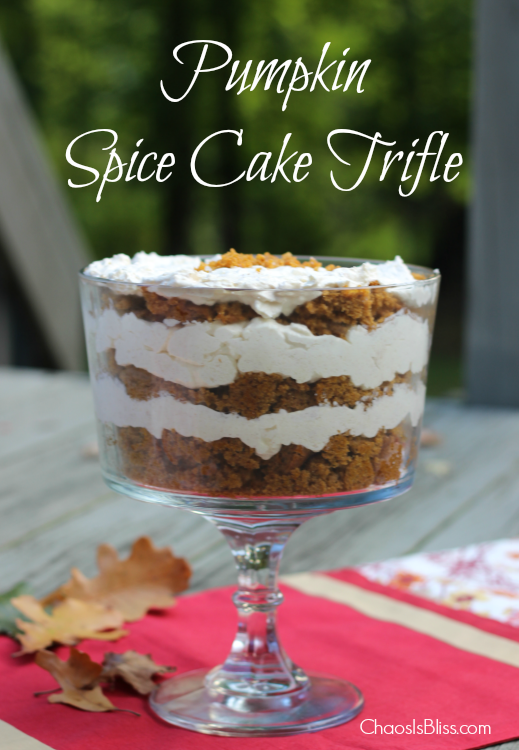 Pumpkin is one of those flavors that people either love, or hate. You can enjoy it in this Pumpkin Spice Cake trifle recipe, but also in pies, dips, and more sweets. Don't forget toppings like streusel, gingersnap crumbs or good ol' fashioned whipped cream. And don't even get me started on pumpkin soups and other savory sides that have made their way into mainstream pumpkinlore!
Adding pumpkin into a spice cake, with the intensity of clove, ginger and cinnamon, takes Fall baking to a whole new yum factor. And let's not stop with your run-of-the-mill whipped topping. I've made a White Chocolate Whipped Topping to layer among the chunks of Pumpkin Spice Cake, stacked beautifully in a trifle bowl. Your guests will be impressed [and your thighs will thank me] …
Pumpkin Spice Cake Trifle Recipe
This Pumpkin Spice Cake makes a large cake in a jelly roll pan. It does make a great snacking cake that is sweet enough to not need frosting – but really, no frosting? Unimaginable! You can dust the cake with powdered sugar, or if you're feeling extra snazzy, use my tips below to make a white chocolate whipped topping and layer in a trifle bowl for a beautifully impressive dessert.
Pumpkin Spice Cake Ingredients:
4 eggs
2 C sugar
1 C vegetable oil
1 can pumpkin (15 oz)
2 C flour (I use 1 C whole wheat flour + 1 C unbleached flour)
2 tsp baking powder
2 tsp cinnamon
1/2 tsp baking soda
1/2 tsp salt
1/2 tsp ground ginger
1/4 tsp ground cloves
Easy peazy directions:
In a mixing bowl, combine the eggs, sugar, oil and pumpkin. Beat at medium speed until smooth. Next, mix your dry ingredients. Look how gorgeously yin-yangy my 1/2 and 1/2 whole wheat and white flour looks: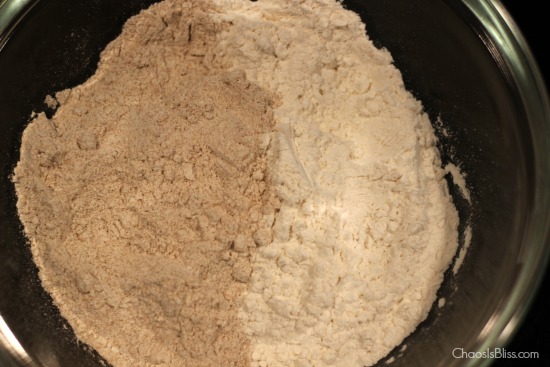 Add in the spice, girls: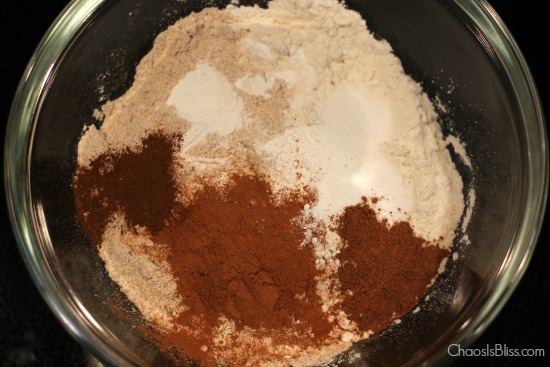 Start pouring dry ingredients into mixer, and mix well. Spread into a 15 x 9 x 1 jelly roll pan.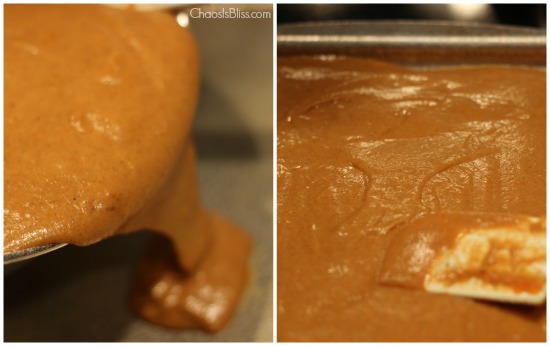 Bake at 350 degrees for 25-30 minutes, until a toothpick inserted in the middle comes out clean. Cool completely on a wire rack.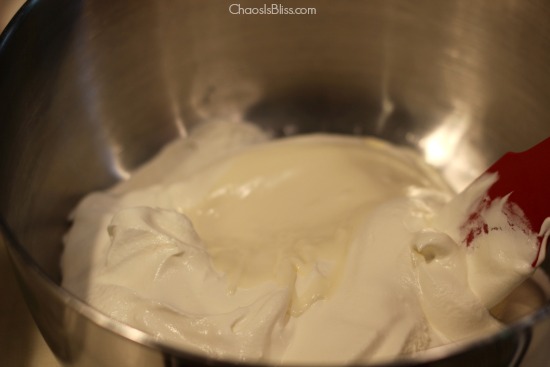 White Chocolate Whipped Topping Ingredients:
2 tubs whipped topping such as Cool Whip, thawed
2 cups white chocolate chips, I use Nestle
1/2 tsp cinnamon
Easy peasy directions:
Melt white chocolate chips in a glass bowl in the microwave for 1 minute on medium-high heat (70%). Stir, and you'll magically see how they continue melting until smooth. If needed, heat another 10 seconds on 70% and stir. Gently fold melted white chocolate into whipped topping. Sprinkle in 1/2 tsp cinnamon for extra color and flavor.
Assembling Pumpkin Spice Cake Trifle
Carefully break the cake into chunks. I ended up only needing about 3/4 of the cake. Layer Pumpkin Spice Cake chunks on the bottom of the trifle bowl, then lightly spread a layer of white chocolate whipped topping. Repeat two more times, ending with topping on top (ergo, the name). Sprinkle a few cake crumbs on top as I did in the photos, or if you have graham crackers or gingersnaps on hand, those crumbs would do nicely as well.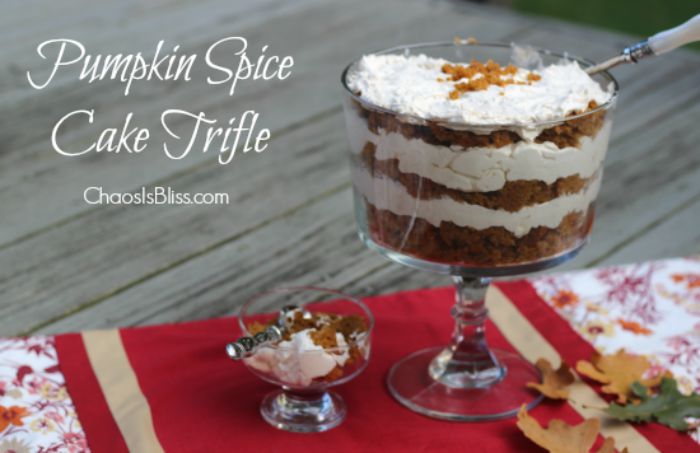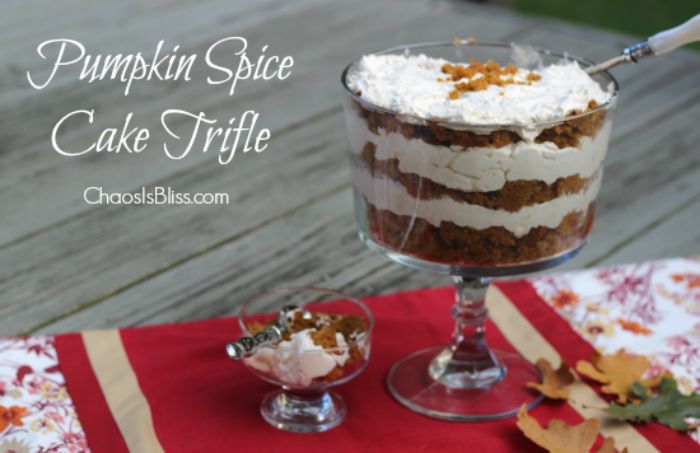 Be sure to follow me on Pinterest, and check out more of my family favorite recipes, such as:
(Visited 5,144 times, 37 visits today)