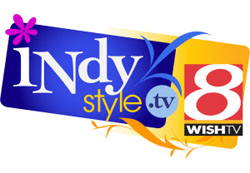 If you happened to catch me on Indy Style this morning on WISH-TV 8 and you're new to Chaos Is Bliss, welcome! Thanks for stopping by!
Today I showed how you can save on Halloween treats and costumes:

Save on Halloween Candy
My 4 tips for saving on Halloween candy are:
Buy in bulk. In general (but not always), larger bags will have a lower price per ounce than smaller bags. Sometimes you can get huge bags at warehouse stores or you can find candy deals on Amazon.
Match coupons with sales. This could also make for a situation where a smaller size bag, with sale + coupon, could be less per ounce than buying a larger bulk size. More on that in a bit.
Chocolate costs more. Consider non-chocolate candies or even Goldfish Crackers, plus non-candy items like stickers, tattoos, pencils, and even McDonald's treat coupons.
Avoid seasonal packaging, often it costs more than shopping in the year-round candy aisle. (Sidenote: I don't know for sure, but I often wonder if red foil-packaged chocolates from Christmas packages are repurposed into Valentine's Day candy. Just sayin'.)
Here's how to get the Snickers deal at Target that I showed on Indy Style this morning:

Print these coupons now and use at Target this week: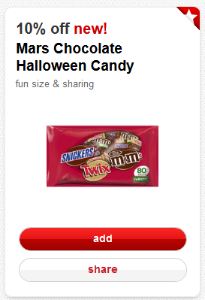 Also clip this Target Cartwheel coupon:
Purchase 3 11.18 oz Snickers Fun Size bags for $8 (Target sale price through 10/12/13, reg $3.24 each). Grab one of the jack-o-lantern treat pails pictured above ($1.00).
Use above printable coupons to save $2, and the 10% will be another 60¢ savings at checkout. Your treat pail will ring up FREE after purchasing the 3 bags of Snickers.
Total out-of-pocket $5.40 (value $10.72), plus tax for 3 bags of candy and treat pail!
While this particular deal I'm highlighting expires on Saturday 10/12/13, the premise remains: Check for available coupons to match with sale items. Always.
Save on Halloween Costumes
My 4 tips for saving on Halloween costumes are:
Shop consignment and thrift stores. Even year-round, check consignment stores for dress-up costumes and accessories that can be used for Halloween.
Swap costumes with friends. Or join a Facebook marketplace in your area that may have a group just for costumes.
Repurpose an old costume. Use pants and a shirt from a Scarecrow costume, add a Werewolf mask and there you have a Teen Werewolf.
Use a "non" costume. This means anything you can put together in the most basic sense and still have a clever theme or idea. And if you really want a low-key costume without a lot of expense or fuss – Wear all black, attach socks and dryer sheets … and you have Static Cling!
More savings … If you live near a Spirit Halloween, print this coupon to save on Halloween costumes and accessories:
I hope you found these tips for Ways to Save on Halloween helpful! You can view the video clip on IndyStyle.tv or on my media page.
Want more on Halloween?  How about 20 Halloween Treats for Kids, and 20 FREE Halloween Printables!
Plus here are a few more areas you might like to look around:
If you're new to Chaos Is Bliss, you may want to follow me on Facebook, Twitter, Pinterest and sign up for email updates so you don't miss a deal!
This post contains affiliate links. By using these links you support my site – thank you! See my disclosure policy.
(Visited 307 times, 3 visits today)