This post may contain affiliate links. By using these links you support my site – thank you! See my disclosure policy.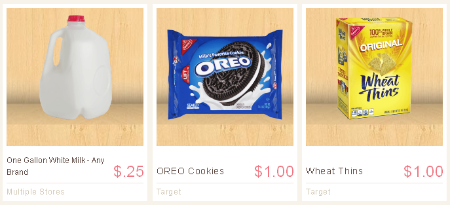 If you missed my money-saving tips this morning on Indianapolis' B105.7, here's the rundown!
Ibotta, which is the smartphone app that pays you cash back for grocery purchases, has an awesome bonus plan for December. You can earn $10 cash back when you redeem $10 worth of rebate offers this month, and you can do this up to 3 times, scoring you an extra $30! Some of the current rebates include Oreos, any brand of milk, bread or cereal, and even some toys. Get started here.
If you love Starbucks coffee but you choke on the price, here's a deal scenario to save more on Starbucks at home!
And if you're still looking to pick up an iPad for someone on your wish list, you can score a $20, $30 or $50 Target gift card when you buy your ipad at Target through this Saturday.
~ ~ ~ ~ ~ ~ ~
If you'd like to hear audio from today and the past couple of weeks, you can visit my media page.
You may also like to poke around my recent Indiana deals, and my most popular categories online savings and printable coupons.
If you like these deals, you might like to subscribe by email or RSS for a daily recap. And be sure to follow me on Twitter and "Like" my Facebook page for extra tips that don't make it to a blog post!
(Visited 247 times, 1 visits today)