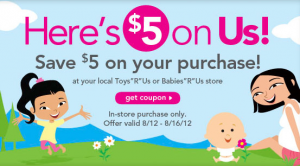 If you missed my money-saving tips this morning on Indianapolis' B105.7, here's the rundown!
This is the last week for the Indiana State Fair, and I wanted to hit on a couple of discount days where you can get in for cheap. Today is BMV day, and you can get in for half off if you print the voucher at mybmv.com. And tomorrow if you're a member of Hoosier AAA you can show your membership card to get in FREE. Find all the great discounts and deals for the Fair!
Just through tomorrow if you go to BabiesRUs.com or ToysRUs.com, you can print a coupon for $5 off your purchase at either store, with no minimum purchase required! Even if you don't *need* a toy or baby item, you can stock up on batteries, wrapping paper or other items you might run out of, and get them for nearly FREE. The coupon expires tomorrow, so hurry over to one of these stores and grab a freebie! Thanks SwagGrabber!  UPDATE: Apparently the coupon has been taken down, boo! Thanks to reader Cassie for bringing this to my attention. You may check TRU/BRU's Facebook pages to see if it is reinstated, if I find out any more I'll post a comment here.

~ ~ ~ ~ ~ ~ ~
Tune in this Friday morning for Friday Freebies on B105.7 during Sean Copeland's morning show for more money-saving tips!
If you like these deals, you might like to subscribe by email or RSS for a daily recap. And be sure to follow me on Twitter and "Like" my Facebook page for extra tips that don't make it to a blog post!
(Visited 67 times, 3 visits today)