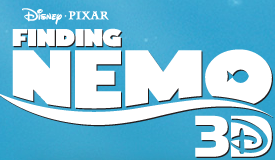 If you missed my money-saving tips this morning on Indianapolis' B105.7, here's the rundown!
If you love to share your opinion on products, and you love free money, you can sign up for the CVS Advisory Panel. They will send you online surveys which payout in the form of Extra Care Bucks you can use in-store, ranging from $5-15 just for taking the time to complete a survey. And who doesn't love to share their opinion?!
If you haven't heard the buzz, Dollar Tree is now accepting manufacturer's coupons. Now while some of their food products you may have never heard of those brands before, they do carry major brands that you can match coupons with, such as Chex Mix, Cheerios, Smucker's Ice cream toppings, Uncle Ben's rice, Campbell's soups and many more. Browse through available coupons at Coupons.com, Red Plum and Smartsource.
Finding Nemo 3D is already in theaters nationwide, but you can get a FREE movie ticket by purchasing a select Disney movie on Amazon. After you make your purchase, you'll receive an email with a promotional code and link to claim your free ticket. Don't forget that every time you purchase a Disney movie, enter the Disney Movie Rewards code found inside your movie and earn rewards!
~ ~ ~ ~ ~ ~ ~
Tune in this Friday morning for Friday Freebies on B105.7 during Sean Copeland's morning show for more money-saving tips!
If you like these deals, you might like to subscribe by email or RSS for a daily recap. And be sure to follow me on Twitter and "Like" my Facebook page for extra tips that don't make it to a blog post!
This post may contain affiliate links. By using these links you support my site – thank you! See my disclosure policy.
(Visited 236 times, 3 visits today)