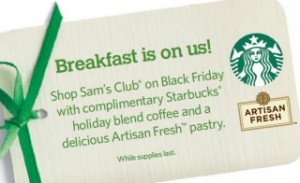 If you missed my money-saving tips this morning on Indianapolis' B105.7, here's the rundown!
If you're out Black Friday shopping and you're a Sam's Club member, you can stop in for a free cup of coffee and a free pastry starting when they open at 7am on Friday, while supplies last.
~ ~ ~ ~ ~ ~ ~
Be sure to check out my top Black Friday store highlights and be listening Friday morning for some Black Friday Freebies, and next Monday I'll be back with Sean with some hot tips for Cyber Monday shopping!
If you like these deals, you might like to subscribe by email or RSS for a daily recap. And be sure to follow me on Twitter and "Like" my Facebook page for extra tips that don't make it to a blog post!
This post may contain affiliate links. By using these links you support my site – thank you! See my disclosure policy.
(Visited 64 times, 1 visits today)