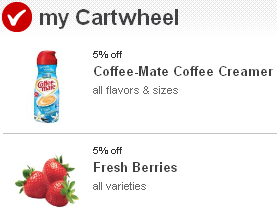 If you missed my money-saving tips this morning on Indianapolis' B105.7, here's the rundown!
Abe's Market is an online retailer that specializes on organic and gluten-free foods as well as natural products for your home. Now through the 17th if you pledge to do one thing better for your health or the environment, you'll get free shipping on any size order. Plus stack the free shipping offer with coupon code SPRING20 to get 20% off your order.
So you already know there are several ways to save at Target, with printable and mobile coupons. I just discovered a new Target savings source, called Cartwheel. You have to have a Facebook account to login. When you see an offer you like such as 5% off fresh berries, click the offer and it will flip over for details, then just click the "add" button. Now the best part is you can stack a Cartwheel coupon with BOTH a Target store coupon AND a manufacturer's coupon, such as this post on cheap Coffee-Mate Creamer available through Saturday.
~ ~ ~ ~ ~ ~ ~
Tune in this Friday morning for Friday Freebies on B105.7 during Sean Copeland's morning show for more money-saving tips!
If you like these deals, you might like to subscribe by email or RSS for a daily recap. And be sure to follow me on Twitter and "Like" my Facebook page for extra tips that don't make it to a blog post!
(Visited 200 times, 3 visits today)