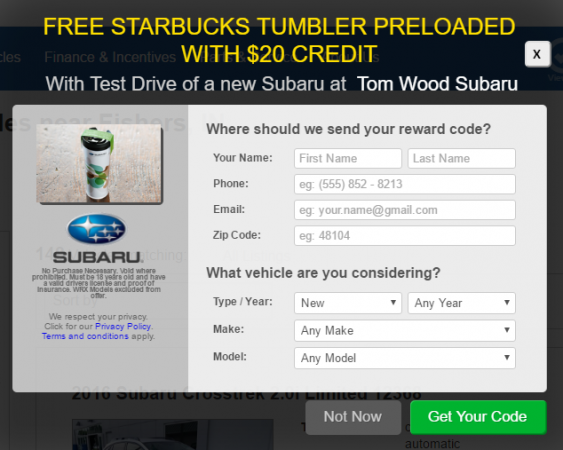 If you missed my money-saving tips this morning on Indianapolis' B105.7, here's the rundown!
If you're in the market for a new vehicle, when you test drive at a Subaru dealership through Saturday, you can get a free Starbucks tumbler preloaded with $20 Starbucks credit. Simply head to Subaru.com, click on the "Find a Retailer" link, and when you find the nearest retailer to you, click "View Inventory". There will be a pop-up window with this offer.  Thanks Hip2Save!
T-Mobile users, every Tuesday you have a chance to win a free Wendy's Frosty, Domino's pizza, a free Lyft ride and even a share of T-mobile stock! You'll need to go through either the T-mobile app on Android or iOS, or else visit T-MobileTuesdays.com. Thanks Free Stuff Times!
Target has released their newest Beauty Box, and if you're all about trying new beauty products, for just $7 you can get all kinds of samples and even sometimes full size products, and it ships free. *Currently unavailable, I'll keep checking – hopefully if it's sold out they will restock!
This Friday the Kroger Free Friday download is Belvita Breakfast Biscuits, I love those! You'll have to load the digital coupon to your Kroger Plus card on Friday, but you have until Oct 23rd to use it.
Listen to audio from this morning's segment here.
~ ~ ~ ~ ~ ~ ~
You may also like to poke around what else I've been sharing about Indiana.
If you like these deals, you might like to subscribe by email. And be sure to follow me on Twitter and "Like" my Facebook page for extra tips that don't make it to a blog post!
(Visited 200 times, 1 visits today)