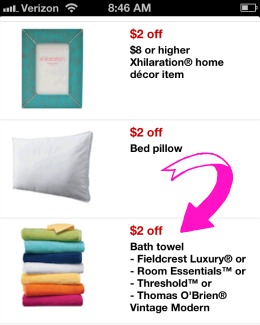 If you missed my money-saving tips this morning on Indianapolis' B105.7, here's the rundown!
If you're getting Target mobile coupons, there's one this week for $2 off a Room Essentials bath towel. Stack it with the new 15% Cartwheel savings to get a fresh new towel for only $1.27!
This Friday and Saturday when you spend $75 at Meijer, on groceries or whatever – you'll get a $10 custom coupon at checkout to use on your next purchase! And if you're new to MPerks you'll start off with $5 off your grocery bill the first time you sign in to your MPerks account at checkout! Also don't forget the FREE Jif Peanut Butter offer, good just through tomorrow!
And of course the Indiana State Fair is off and running, remember tomorrow (Thursday 8/8/13) is when state employees and military personnel will get free admission, but you can also bring in a Pop Weaver box top and save $5 on gate admission. And just through tonight you can enter my giveaway for 4 tickets to the Indiana State Fair, sponsored by Indiana's Family of Farmers.
~ ~ ~ ~ ~ ~ ~
Tune in this Friday morning for Friday Freebies on B105.7 during Sean Copeland's morning show for more money-saving tips!
If you like these deals, you might like to subscribe by email or RSS for a daily recap. And be sure to follow me on Twitter and "Like" my Facebook page for extra tips that don't make it to a blog post!
This post may contain affiliate links. By using these links you support my site – thank you! See my disclosure policy.
(Visited 212 times, 4 visits today)