This is a sponsored post written by me on behalf of Tyson Pet Products, Inc. All words and opinions are entirely my own. See my disclosure policy for further info.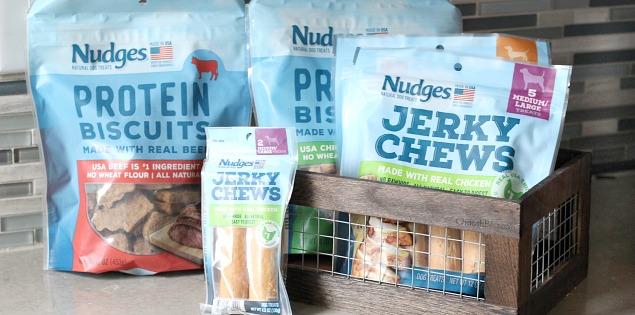 Rescue dogs are loved unconditionally in my family, and I'd love to share with you the tales of two dogs.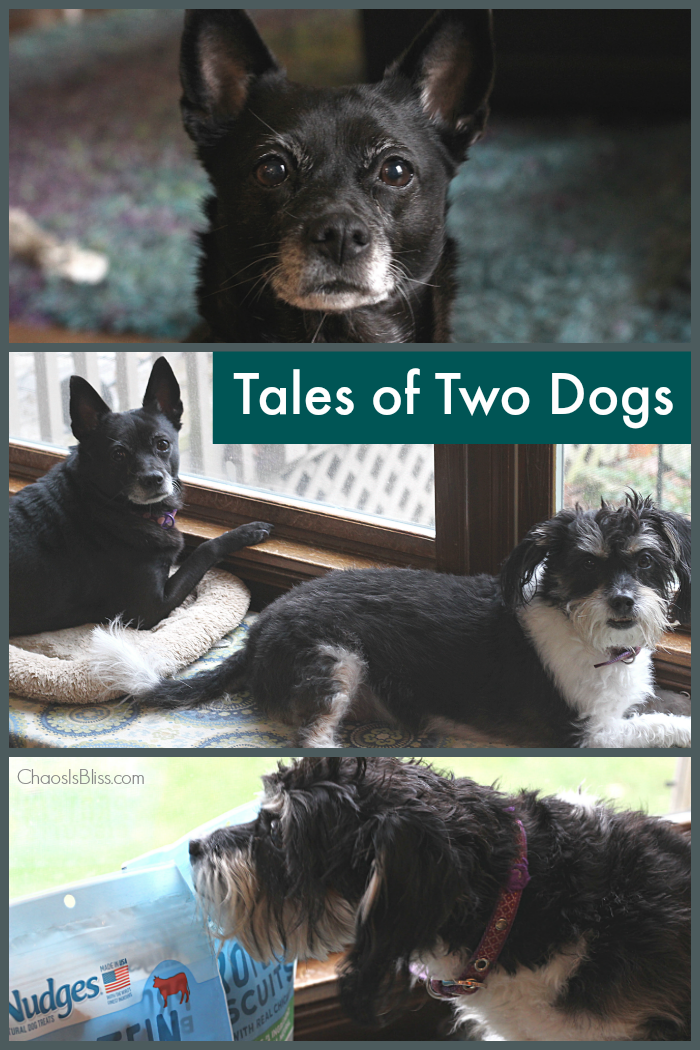 Since my husband and I were first married, we were a one-dog household. Our first dog was with us for 10 beautiful years before crossing the rainbow bridge, and after a brief (lonely) time, we were ready to open our home again.
Molly: A rescue dog story
I've been a passionate advocate and volunteer for our local no-kill animal shelter for a number of years, and it was there that a stray puppy made her way to the adoption floor, waiting for her "furever" home. The timing was right for our growing family, and we adopted Molly in February 2013.
We affectionately refer to our rescue dog Molly as "part bunny" because of her soft hair and how she hops in the snow:
Molly barks at squirrels, chases her tail, and loves to cuddle on the sofa when the kids are in bed. One of her bad – but trainable – habits is running out the front door when friends come over to play. Our fear is that a car will be coming at the precise moment she escapes. Read on to learn one way we're working with her to curb this habit.
Fendi: A rehoming story
Life had been grand with Molly in our lives, and we weren't necessarily looking to expand our pack. Then a friend shared pictures and the backstory of a dog she was helping to rehome. After a meet-and-greet that went very well with Molly (and the five humans living here), we brought Fendi into our family.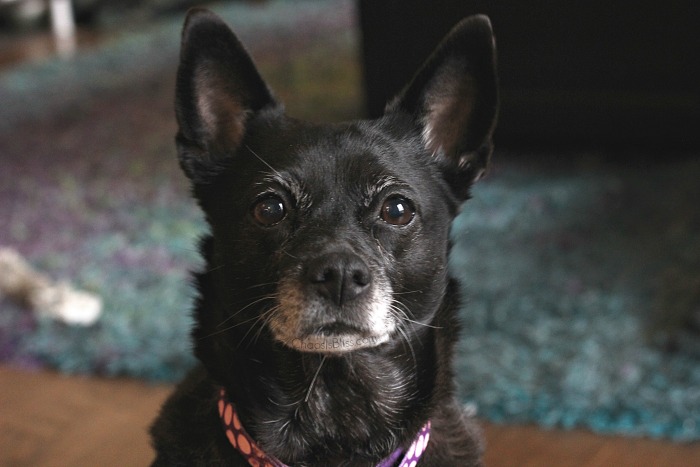 Fendi is a lover. Her favorite spot is not only in your lap, but stretching the length of her body, chin up, so she can look at you. If Molly is part bunny, Fendi is part snake the way she curls her body so tightly into a little black doughnut.
Her estimated age is 8 years, close to Molly's age. Molly's reminders of who is the alpha in the pack started strong, and now have subsided. But the bad – but trainable – habit that Molly has of barking excessively and running out the door, have now been copied by Fendi.
Rewarding positive behavior
Now we have two dogs needing trained to curb less-than-desirable behaviors. We know we can pay trainers, send the dogs away to be trained, or purchase shock/vibrating/beeping/citronella/you-name-it collars and other training tools. Those options aren't off the table entirely yet, but for now we're DIY'ing it with treats to reward positive behavior, and ignoring or redirecting the unwanted behavior.
The American Kennel Club offers several suggestions to
curb unwanted behavior
, one of which is to use
high value treats
. Thankfully, we have two very treat-motivated dogs!
We also have two dogs that are loved unconditionally, and we want them to be the healthiest possible. Regular vet checkups and watching how much – and what – they eat, are two ways we're invested in their health.
Nudges® Protein Biscuits
are a quick and easy all-natural treat for our dogs, made with real U.S.A. chicken or beef as the #1 ingredient, and with no wheat flour.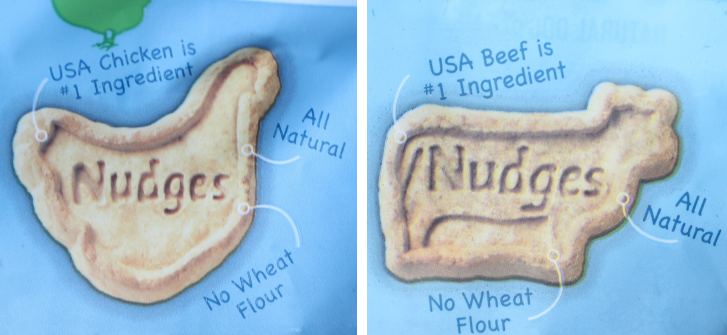 Nudges® Jerky Chews are also all-natural, made without rawhide or fillers, and made with real U.S.A. chicken. It has a unique dual texture of a chicken chew wrapped in chicken jerky.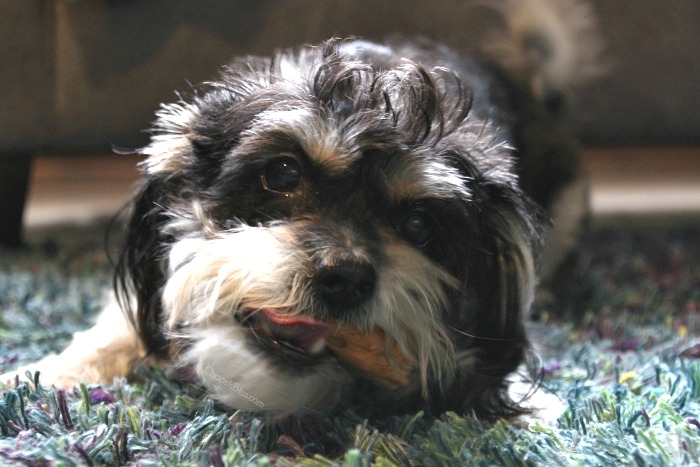 While we are working on training our dogs with positive reinforcement, I feel good about choosing all-natural treats made with real U.S.A. protein, for their rewards.
Needless to say, our dogs love them too!
Wait for it …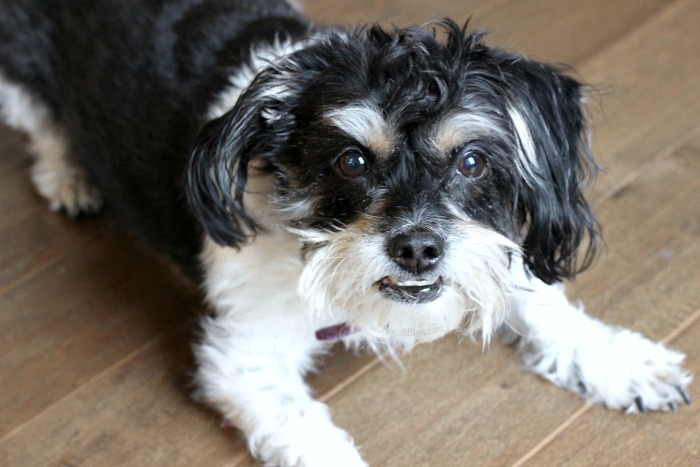 "Treat!"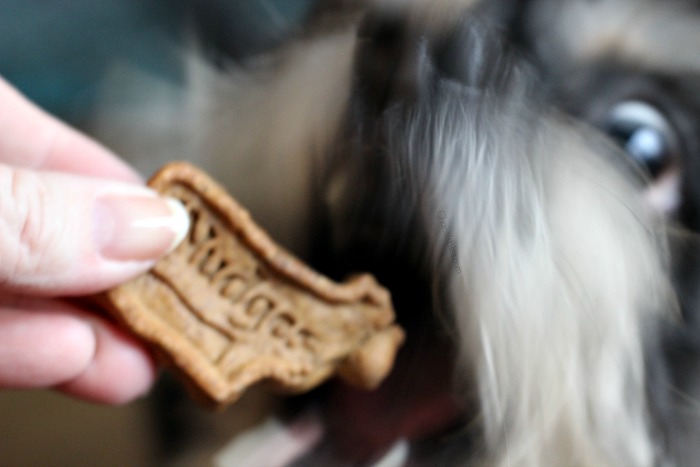 (Visited 453 times, 10 visits today)