This post contains affiliate links. By using these links you're supporting my site – thank you! See my

disclosure policy

.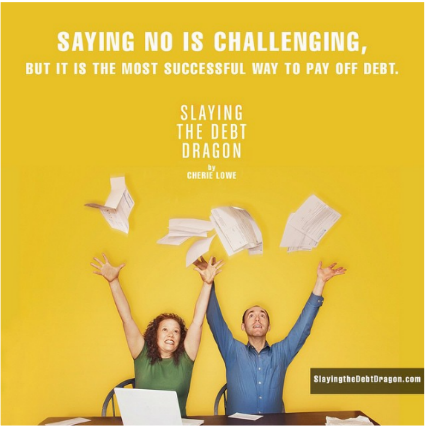 It is one thing to talk the talk.
You see this splashed across headlines: "Couple pays off $67,000 in debt in 18 months", and you read on to learn it's a get-rich-quick scheme, or they scrounge their neighbor's trash to find things to sell for cash. Dig deeper, and you find it's all just 'talk'.
Cherie and Brian Lowe walk the walk.
Through hell and high water, thick and thin, brown baggin' and no-meat months, they slayed their debt dragon of $127,482.30 in just four years.
And they want to share with the world their inspirational story, with practical advice everyone can dig in to, to help dig themselves out.
Slaying the Debt Dragon is a faith-filled, practical account of how Cherie (better known as the Queen of Free) and Brian overcame feelings of doubt and darkness. Now they're sharing their fairytale, except this story is far from make-believe.
I started reading Slaying the Debt Dragon when I was on a plane headed south to be with my parents after my dad had open-heart surgery. As I read Cherie's book, I started making notes of tips and quotes that were inspiring, smart, witty, and very-Cherie. And boy, did this resonate with me.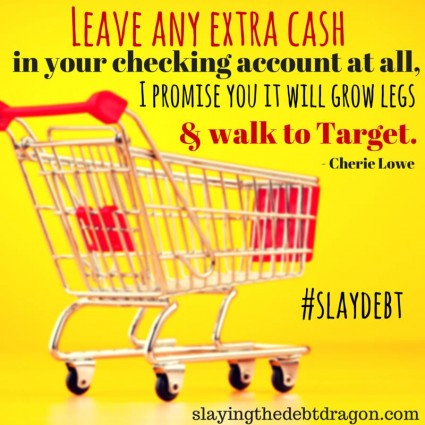 While we don't have $127k in debt, we do have a mortgage and a car loan, with kids' activities, outgrown clothes and shoes, and so on. But these money-saving tips can be applied to financial woes both large and small:
Practical:
Life hacks that whittle away everyday expenses
Quick ways to start building an emergency fund
Just saying "No" to 19¢ placemats. "Saying 'no' is challenging, but it is the most successful way to pay off debt."
Inspirational:
As one who worries about my home isn't

(fill-in-the-blank)

enough, this quote spoke volumes to me: "Put off the old eyes of looking at the world with that scarcity lens, and put on your new frugal eyes, realizing there is plenty to enjoy within your home and even to share with others."
Don't feel like you have to jump right in with both feet. Ease into the process; give yourself permission to start slow. Try spending only cash at the grocery store, track it for 30 days and see how you do.
Funny:
Fred Johnson's underwear. (You'll have to read the book!!)
Grocery Store Ten Commandments
Inheritances from Yo' Mama and Yo' Daddy, and how you are not doomed to repeat their mistakes
Did Cherie and Brian slay their debt by panhandling? Renting out their basement to their parents? Hawking deodorant, Haribo gummy bears and French's mustard at a flea market that were free after coupons? That's a whole bag o' Honey Bunches of nope.
Whether you're up to your eyeballs in student loans, credit card debt, car loans and mortgages – or if you maybe only have a small amount of debt but you really want to stay on top of it so it doesn't become your demon and your dragon; I encourage you to borrow or buy the book. Take a chance that you'll learn something new and inspiring!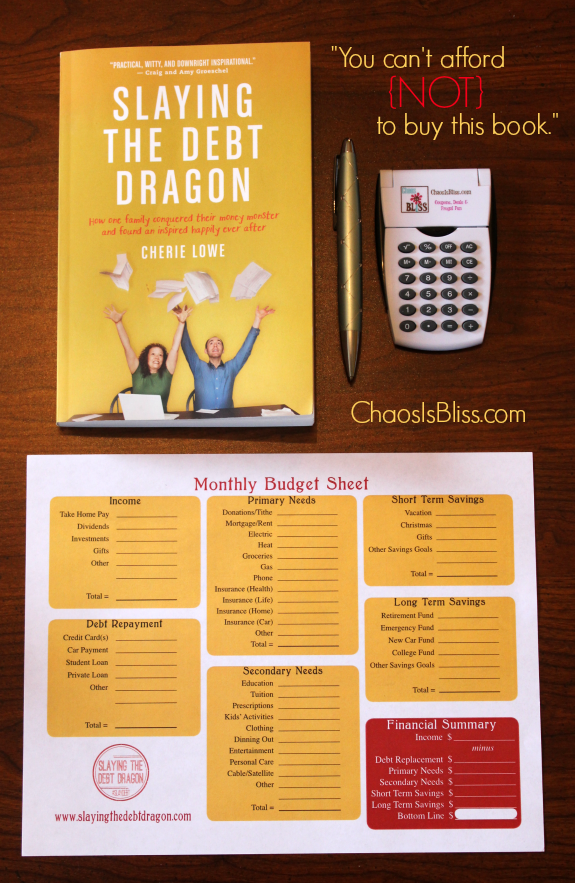 How to get it:
The most frugal way? Visit your local library. If it's not there, request they get a copy, or a dozen.
I have another way for one of you to get the book in the most frugal way possible: FREE, yo.
GIVEAWAY
UPDATE: This giveaway is now closed. Congrats Sarah R.!
I've been provided with a copy of Slaying the Debt Dragon to give away to one lucky Chaos Is Bliss reader!
It's super easy to enter:
You'll need to visit this Slaying the Debt Dragon page and scroll to the bottom to take a peek at the free printables, then answer the question asked in the "Comment" entry. Additional entry methods are optional, but increase your chances of winning!
The giveaway is open now, and ends next Tuesday night, Feb. 3rd. Good luck!
(Visited 475 times, 5 visits today)