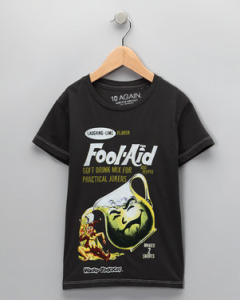 If your son likes to make his little sister squirm with anything "gross", he may be the perfect candidate for the 10 Again sale going on now at Zulily. This Fool-Aid T-shirt for boys normally runs $28, but is just $8.99 now through the morning of 3/15 on Zulily!
Zulily is a flash sale site offering deep discounts for 72 hours only. This 10 Again sale will expire March 15th at 6am PDT/9am EST. Many items sell out quickly, or the particular size you may be looking for can sell out. As with other flash sale sites, shop quickly before the best deals are gone!
One other great point about Zulily, once you place an order and pay for shipping, any subsequent orders the rest of the day ship for FREE!
Be sure to check out all my favorite flash sale sites for deep discounts on all your favorites as well as recently posted social shopping deals!
(Visited 242 times, 1 visits today)