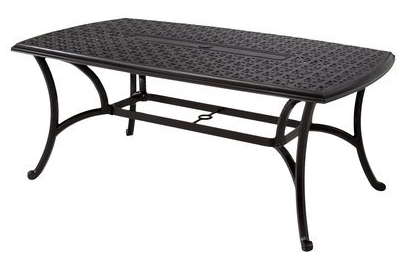 Ok if you only knew how bad in need we are of a new patio set … I have ("had" because the legs on one finally rusted out last Fall) 4 aluminum/painted chairs with the rubbery plastic weaving ever since my first home back in '97, which were mismatched with a table that I had to purchase after the matching original table fell over in a storm and shattered on my patio. The umbrella is mismatched too … hey, I've gotten by for 15 years with this set with minimal complaints!
But now we're "in the market", and wow do prices vary!
I looked at a set at Target last week, and now I just saw this sale on patio furniture that I wanted to share with you in case anyone else is in dire need as well!
Target has marked Patio Furniture on sale 25% off. This Smith & Hawken San Rafael Dining Table was originally $424, now sale priced at $299.
Sale ends 3/31/12. You'll have free shipping and even save 5% on this and every purchase with a Target Red Card!
You can also shop Target online through Ebates and earn cash back on purchases. Read more about Ebates, or if you're new to Ebates, sign up here.
Check out other ways to save when shopping online!
This post may contain affiliate links. By using these links you support my site – thank you! See my disclosure policy here.
(Visited 580 times, 1 visits today)