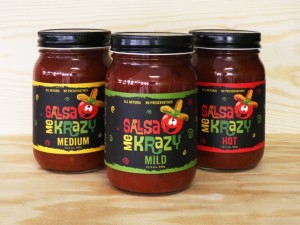 Cinco de Mayo is just days away, but you can stock up on your salsa with this super hot savings!
A few months ago I was able to taste Salsa Me Krazy for myself, and provide a review with giveaway. I'm not a huge fan of uber spicy foods, so when I opted to try the Medium heat I was preparing myself for a fire. I was completely wrong, it is just the right heat with a sweet, tangy taste. If you love a sweeter salsa taste, you've got to try Salsa Me Krazy!
If you live in Indiana (Carmel or Greenwood), Kansas or Missouri, you're in luck and you can pick up a jar or 3 or 30 at a nearby retail location. Otherwise you can save 20% on your Salsa Me Krazy online order through 4/30/13.
Heads up for a Salsa Me Krazy Giveaway!
Be sure you "Like" Salsa Me Krazy on Facebook, as starting this Friday, Salsa Me Krazy will be giving away a 3-pack of Mild, Medium and Hot on their Facebook page, as part of a Cinco de Mayo celebration!
Find more Indiana deals and recent online savings!
(Visited 129 times, 4 visits today)