So it's been a couple weeks since I last posted on my home organization project. Admittedly I have been sidetracked, with life, and laundry, but now I'm getting back on track. Ain't that just the way things go sometimes.
A few years ago I hired a friend from church who is a professional organizer, Joani P., to come over and give me a once-over on tips to organize our home office in our last house. I still use her ideas today, because they just make sense. Here are the steps I have learned, that I am working on in our new house. These can – and should – be applied to ANY room.
Step 1: Remove EVERYTHING off your surface, clean the surface, and put 'pretties' back – but nothing else.
I started with the desk, and took each pile down onto the floor. After dusting every crevice, I put back only the desk mat and our file basket. In concept, once your surface is clean and you have any decorative accents in place (picture frames, a lamp, candle etc.), you won't want to ugly it up again.  In concept.
So now I have even MORE piles on my floor!
Step 2:  Sort, Categorize, Prioritize.
This gets a little trickier when you're dealing with a hodge-podge of junk, but for these piles I'm working on from our home office it's actually not that tough.
I started with the top of the first pile (I have heard professional organizers suggest you turn a pile over, and work from the bottom, because those will be the oldest papers. However I needed to find things that could be needing more urgent attention, so I started from the top. You accounting folk would recognize this as the LIFO method!).
Each paper, coupon, receipt, photo, whatever, was sorted into a new pile. You can see in the photo below, I made categories called "To Do", "Read", "File", "Larry", and "Coupons". The lower pile is what I'm working on.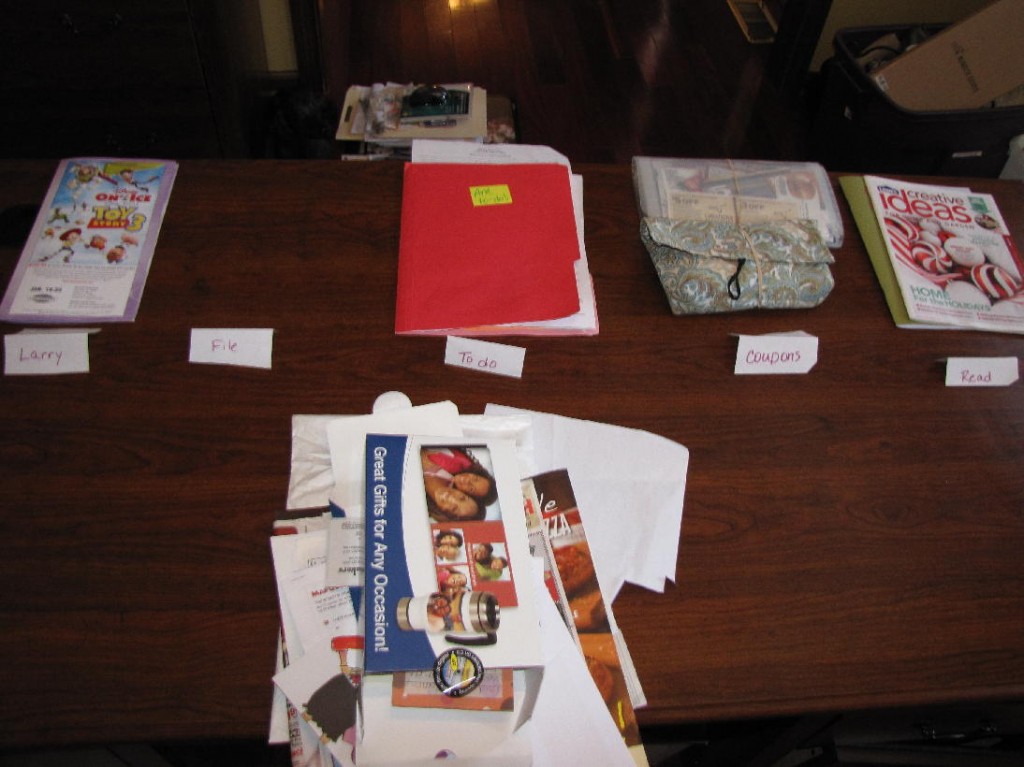 As I was working on a pile, if something jumped out as obviously outdated, unneeded, etc. then I put it into recycling or trash.
One important note that really has hit home, especially in this room which becomes our dumping ground when company comes over:
If it doesn't permanently belong in the room, put it where it permanently does.
Does that not just make the most sense?!  So while it doesn't apply so much to the papers on my desk, you'll see this come through in my next posts about my home office, because there are loads of crap in this room that certainly don't belong in here, temporarily or permanently.
If you're just dying to know, here's a short list of what's in my piles:
What's in my To Do pile:
Gobs of codes from Huggies Rewards and Pampers Gifts-to-Grow, that need to be entered.
YMCA program guide, with dog-eared pages: Figure out what classes to sign the kiddos up for, then do it.
Fishers Parks & Recreation Guide, ditto the Y guide.
What's in my File pile:
Bank statements for my business account
JC Penny Portrait Studio receipt with those cute little thumbnails of Carlie's portraits
Various school papers, some will conveniently disappear, others to save will quite honestly go in the big pile on the top of our bookshelf until further organizing!
What's in my Read pile:
Ikea catalog from last Fall
Lowes Idea catalog (pictured above, notice it's outdated with the candy cane on the front)
4 issues of Southern Living, 4 issues of Parents, 1 All You (a Halloween issue from 2009), 1 Oprah, and 1 Real Simple.
Step 3:  Just Do It.
Now that I have the junk from my desk into piles, it's time to actually act upon those verbs "Read", "File" and "Do".  If your life is chaotic like mine, it's more practical for me to break up the task into mini-chunks than to ignore my 2-year-old for half a day to get it all done (thereby risking a visit to the ER, and from DCS!).
Here are a few helpful tips on how to find the time to "just do it".
Since it takes so daggone long to boot up my computer, I use that time to file a few pages away.
When my internet's misbehavin' or my system slows from starting a scan or virus check, I can quickly purge outdated coupons.  (Probably the Mac users never have these timewasters, I'm guessing).
Many things in my "To Do" pile are computer-related, such as the Huggies/Pampers codes. I group these and it's quick to knock them out in less than 2 minutes.
Stand up.  This was a trick I learned when I actually had a paying career. You're less likely to get sucked in (to web surfing, to a conversation by a co-worker, etc.) if you remain standing instead of lounging in your office chair. I roll it completely out of the room, so it doesn't call my name.
If possible, leave the computer off.  In the rare occasion I have the house to myself, and I can work in the office, I leave the computer off so I can get more accomplished. Any random things that come up that you need to search for online, or email someone, just make a note of it, and do it at a later time when your computer is on again.
Multi-task. When hubby needed to use the computer, I took my "Read" pile into the family room and flipped through some old mags while catching up on Days.
I hope some of these steps and tips have been helpful so far. There's more to come!  Next up I'll be tackling my bookshelf stuffed with photos … two years' worth of school pictures, soccer photos, baby portraits, envelopes of printed snapshots – yikes, it will be quite a job!
(Visited 178 times, 1 visits today)