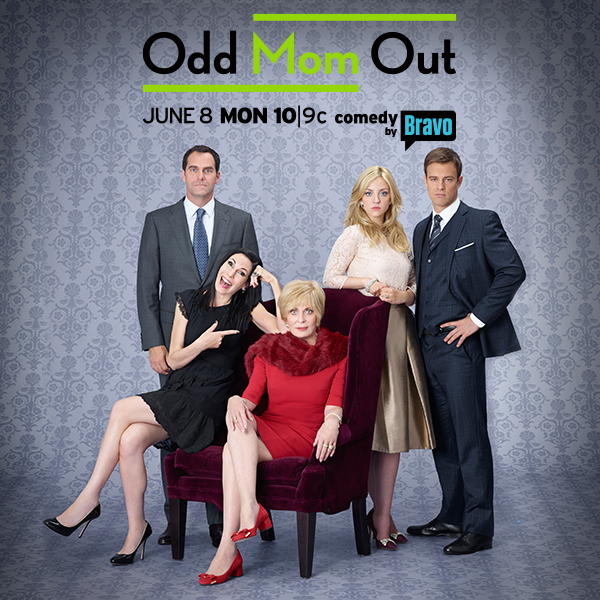 I am not ashamed to say I love late night TV. When the kids are in bed, I can watch my favorite shows live, recorded, or start up a movie. Most of what I watch my husband isn't into, or he'll fall asleep during the first half anyway. So I love my chick flicks & comedies that I can relate to!
Next Monday, the new Odd Mom Out premieres on Bravo, at 10pm EDT / 9pm CDT. You guys, this is *SO* my type of mom comedy!
Check out the trailer here.
Then tell me, have you ever felt like the odd mom out?
Your mouth moves faster than your filter can activate.
You want to wear sexy heels … then you trip and break an ankle.
You think no one in the world can rock that skirt like you can, then you see someone three sizes smaller than you rockin' it like a boss.
No? Just me? Come now, ladies.
About the show:
Odd Mom Out stars Jill Kargman, and pokes a little fun at society life in New York City's Upper East Side.  From Bravo's description: "Playing a version of herself, Jill is living in an ecosystem that has become so elite, hip and trendy, that she now finds herself as the 'odd mom out.'"
Odd Mom Out VIM Perks
What the heck is VIM, and why is it perky?
VIM stands for Very Important Mom – like you, and you, and you, and me!
When you join the Odd Mom Out VIM Perks Program on Bravo, you'll score sweet discounts from Perks partners like Lyft, Instacart, Glossybox and more, and you'll be entered into the Ultimate VIM Sweeps! Just be sure to use #OddMomOutSweeps and tag @BravoTV on Twitter.
Bravo Daily Dish App
If you & your mom friends like to dish, and dish on what you're watching, you'll have to download Bravo's Daily Dish app where you can get the latest happenings on all the Bravo shows, like Odd Mom Out!
Later this week I'm having a few blogger friends over for a screening party of Odd Mom Out! Look for my next post over the weekend with more details on the show, and how you can win $20,000 in the Tune In to Win Sweepstakes starting June 8th.
See more previews of Odd Mom Out here.
(Visited 459 times, 1 visits today)