When someone you know cares so much about a cause, you do what you can to help. Maybe it's with volunteering, making a donation, or spreading the word, any way you can use your time or talent for a cause so important, you do what you can to help.
This is a guest post written for Chaos Is Bliss by my friend Jackie, who started Monkey Do Project. Monkey Do is a non-profit organization striving to end child hunger in America, with special attention to Appalachia. Monkey Do partners with churches and other organizations to stock pantries, food banks and provide other basic needs for the poorest regions of our country.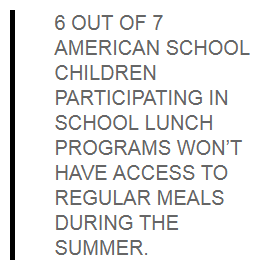 Why Some Kids Are Sad for Summer
It's refreshing to watch kids this time of year–they're excited for school to be out and playing with friends. These kids are looking forward to summer swimming and vacations and camps. However, there are many kids in the United States who are sad for summer vacation. For these kids, their days are not filled with summer fun and anticipation about upcoming vacations. Instead, for these children, they are preoccupied with grumbling tummies from lack of food. And, it's hard to focus on fun when you're hungry.
Summer Starvation
It's hard to imagine, but in our land of plenty here in the United States there are children starving. There are children who don't have regular food at home and rely on school breakfasts and lunch to get regular meals. And, the need is especially great in Appalachia, which includes some of the poorest regions in the entire country.
How Can We Help Feed These Kids?
The Monkey Do Project, a registered non-profit, is helping by working with food banks in Appalachia to ensure that some of these kids have food for the summer. As little as $10 can get a kid food for a weekend. Won't you consider giving so that these kids can eat these summer?
About Monkey Do Project
Monkey Do Project, Inc., is a registered non-profit based in Indianapolis, Indiana. The non-profit feeds and helps people in need in the poorest regions of U.S. Appalachia and relies on giving hearts like yours to help people right here in our own country.
(Visited 448 times, 5 visits today)