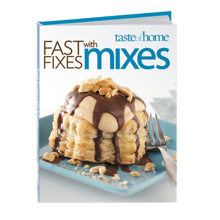 Stock up on $5 books from Shop Taste of Home just through midnight tonight!
I took a quick look and saw this Fast Fixes with Mixes on the $5 sale page, 82% off the cover price of $27.96. This is perfect for quick & easy desserts made with mixes you most likely have on hand in your pantry.
BONUS: Get free shipping with orders over $25 with code LS114.
These books are likely to sell out, if you find one you like, buy it before it's gone!
Offer ends tonight at midnight, 5/7/12.
Check out more great ways to save when shopping online!
(Visited 82 times, 1 visits today)