This is a sponsored post written by me on behalf of Home Run Inn pizza.
With our recent weather woes, I've been cooking a lot more from scratch than I normally have time for. Some after school activities have canceled, meetings moved, and I've actually been able to make a good homemade meal for my family.
Then there are the days like last night, when our kids get off the bus at 4ish, we scoot to piano by 4:45, get home at 5:30 and need a quick meal before basketball practice at 7:00. I just can't always take 45+ minutes to chop, mix and cook a healthy(ish) meal for the fam.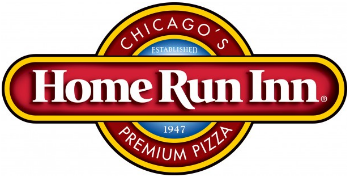 So those are the nights I turn to quick frozen meals. And once a week that's pizza.
Home Run Inn Frozen Pizza is new to the Indiana market (and also in 20+ states), and is available at Kroger, Meijer and Marsh stores (plus I also spotted it at Sam's Club). It began as a pizza restaurant in Chicagoland, and now they use their same family recipe in their new frozen pizzas, quickly making them Chicago's #1 selling frozen pizza brand.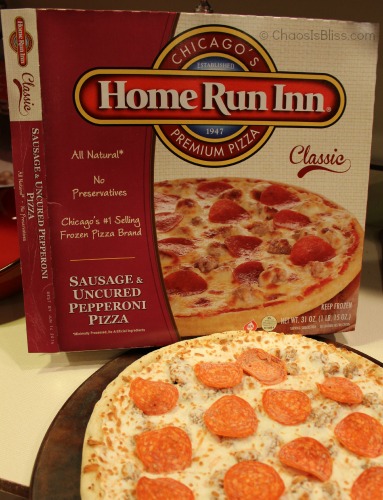 My kids are like most – picky. But when it comes to pizza, not so much. So while they're munching away on their Home Run Inn Pizza not thinking it's any different from the rest, I know that I've made a good choice because what they're eating is made with all natural ingredients, real cheese, no preservatives and 0g trans fat.
So not only do I feel good about what they're putting into their little bodies, but it's quick, easy and we LOVE pizza. Score! And even Consumer Reports consistently rates Home Run Inn #1 when compared to other frozen and delivered pizzas.
You can see from this image I took at Meijer, there is a wide variety of crusts available – Classic, Signature, Ultra Thin and Ultra Thick, plus several topping options as well: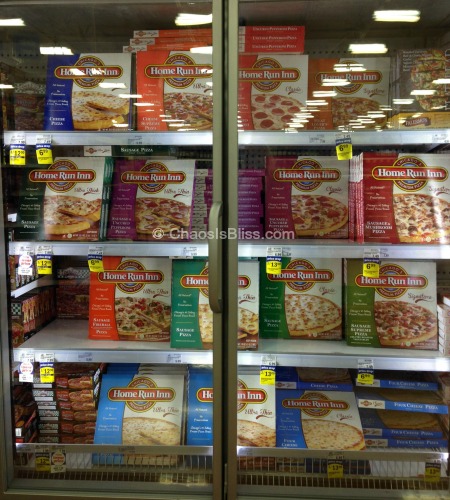 And my frugal friends – if you live near Chicago and can hit up a Home Run Inn restaurant, they have have a "Pizza Lovers" program for their restaurants. And if you don't, they have a MVP Frozen Pizza Club! When you sign up you'll get periodic emails with offers on Home Run Inn frozen pizzas plus you'll be entered to win pizza for a year!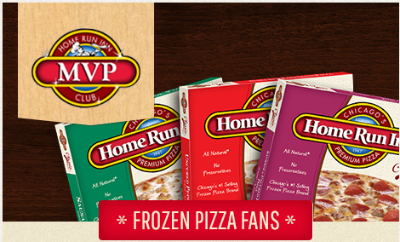 Home Run Inn provided me with a free pizza coupon to give away to one Chaos Is Bliss reader so you can try it out for yourself! And if you're not the winner – pick up one at Meijer, Marsh or Kroger, and 2-packs at Sam's Club.
The giveaway begins now and ends next Wednesday night 2/5/14. Good luck!
This is a sponsored post written by me on behalf of Home Run Inn pizza. For more info please read my disclosure policy.
(Visited 1,121 times, 21 visits today)