WOW!! If you have kids, I hope you already have a nice collection of National Geographic Kids books. If not? Here's your chance to start your collection!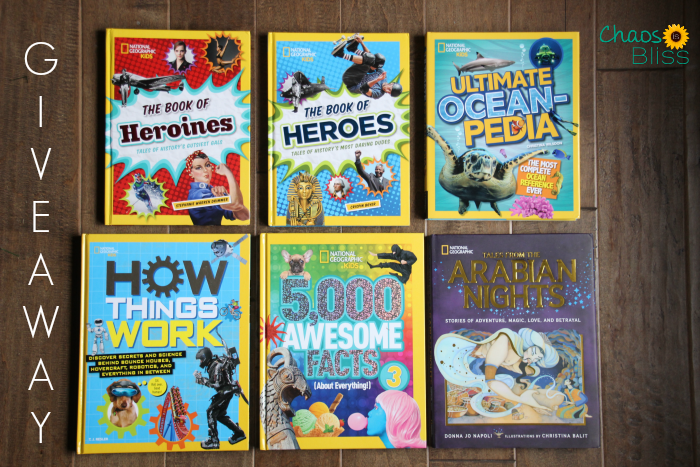 From the time my kids started preschool, we have purchased, gifted, and been gifted with many National Geographic Kids books and magazines; both hardcover and paperback.
Mallory (now 12) has always had a love for animals above and beyond anything else. When she first started reading early reader books, we picked up many Level 1 and 2 National Geographic Readers to encourage her love of learning about animals around the world. Many of those books passed through to her to Dylan, and now to Carlie as she's growing in her reading skills.
We have only a few of the nice hardcover National Geographic Kids books (Carlie loves her Little Kids Book About Big Animals!), so when I was offered the chance to review a set AND give a set away to one of my readers, I totally jumped at the chance! These are SUCH nice books, and make a beautiful gift that requires no charging cord.
Here's a little snapshot of each book included in my National Geographic Kids giveaway: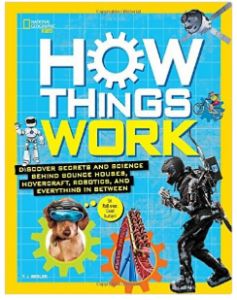 How Things Work (ages 7-10, $19.99) – Discover the secrets and science behind bounce houses, hovercraft, robotics and everything in between in this book that provides both the quick answers AND complete explanations for all things high tech, low tech and no tech (how DOES glue work???). Detailed diagrams, revealing photos, hands-on activities and and fascinating facts all help to demystify many common items — like how a microwave works, how an eraser makes pencil marks disappear and how an iPad or tablet can do so much. "Tales from the Lab" and profiles of talented engineers, inventors and scientists provide plenty of inspiration. How Things Work is perfect for the kid who thinks "just because" isn't a REAL answer.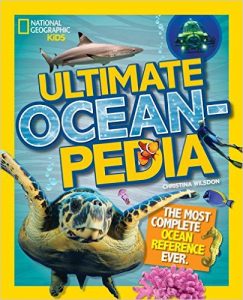 Ultimate Oceanpedia (ages 7-10, $24.99) – Perfect for the ocean-obsessed, this book is the most complete ocean reference ever! Ultimate Oceanpedia is overflowing with amazing facts, photos, art and diagrams that take the reader on a journey through the ocean. Whales, dolphins, porpoises, turtles, sharks, fish, crustaceans, sponges — from the weird to the wonderful — they are all featured in breathtaking photographs with easy to read captions.
Tales from the Arabian Nights: Stories of Adventure, Magic, Love and Betrayal by Donna Jo Napoli (ages 8-12, $24.99) — "A brilliant tapestry woven not of yarn but of stories, both fresh and faithful to its historical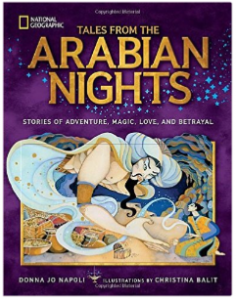 routes" — starred review, Kirkus
Do you have a child who loves magical stories about far away places? Classic stories and dazzling illustrations of princesses, kings, sailors and genies come to life in a stunning retelling of the Arabian folk tales from One Thousand and One Nights and other collections, including those of Alladin, Sinbad the Sailor, and Ali Baba and the Forty Thieves. In this beautiful, gift-worthy book, beloved author Donna Jo Napoli not only brings timeless tales of royalty, adventure and love to life but also includes sidebars that connect the stories to history, culture and geography.  A perfect story time selection for bedtime or anytime.
The Book of Heroines and The Book of Heroes (ages 8-12, $14.99) – All kids are heroes in waiting and these two titles are sure to inspire.
In The Book of Heroines it's all about Girl Power!  Looking for a leading lady? How about more than 100 of them?  True stories of superstars, war heroes, world leaders, ladies in lab coats ad everyday people who all have two things in common — they were girls and they changed the world.  From Michelle Obama, Jane Goodall and Wonder Woman to Susan B. Anthony, Gloria Steinem and Katie Ledecky, The Book of Heroines not only highlights how girls are just as tough as boys, but also challenges the reader to be a heroine herself and provides tips on how to unleash her inner heroine.
The Book of Heroes highlights 100 guys who had the boldness, bravery and brains to meet the challenges of their day. Featuring a very diverse array of amazing minds, heroes from history, sports stars and even action heroes — like Abraham Lincoln, Mark Zuckerberg, Stephen Hawking and Steve Irwin  — boys will be sure to find more than just a few role models in the pages of this book and also perhaps inspire them that they, too, are capable of extraordinary things.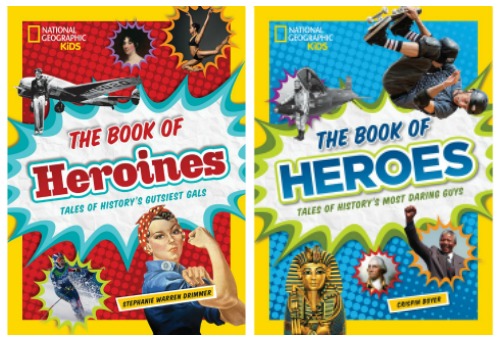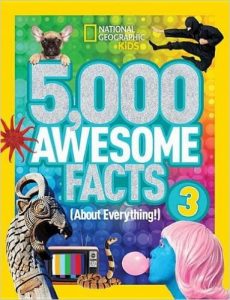 5,000 Awesome Facts (About Everything!) 3 (ages 8-12, $19.99) – Did you know that 1/3 of the earth is a desert, that beets are sometimes used to give red velvet cake its color or that there are more caribou than people in Alaska?  Well, that's only the beginning! 5,000 Awesome Facts (About Everything!) 3 features gross facts about toilets and edible insects, gravity defying facts about things that fly, awesome new dino-discoveries and even facts about newborn octopi and how many oranges it takes to make one glass of o.j. — to name just a few!  This book is the ultimate boredom buster and is perfect for curious kids who love to learn about the weird, wild and wacky!
GIVEAWAY
UPDATE: This giveaway is now closed. Congrats Julie L.!
This giveaway of a set of six National Geographic Kids hardcover books is open now, and ends next Tuesday, December 13th, so that one lucky winner might choose to have the gifts under the tree by Christmas!
U.S. residents only. No purchase necessary to enter. Enter through the Rafflecopter widget below.  Good luck!
a Rafflecopter giveaway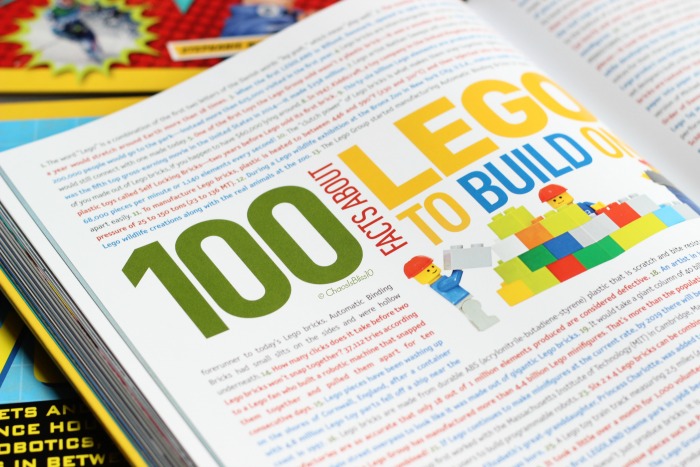 (Visited 745 times, 2 visits today)