I have only ever participated (because I can't really say "ran") in one 5K ever, and that was on a bitter cold day last November for the Ugly Sweater Run. A few Indianapolis women bloggers decided to bundle up and brave the elements (it was FREAKING COLD) and run, walk, run/walk, and meander our way through downtown Indianapolis, looking fun and festive in our ugliest of Christmas sweaters, thanks much to Emily's "Junky Brilliance" ugly sweater store: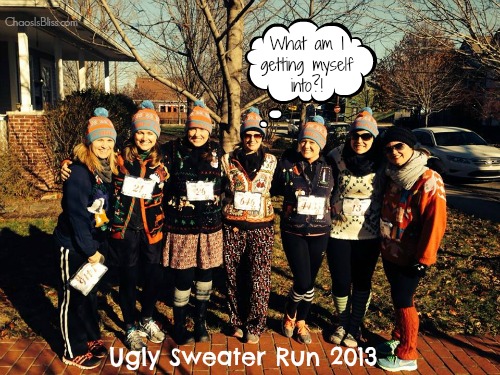 I have not been much of the workout type. Two summers ago I participated in a team challenge with a personal trainer, and I was purposeful and diligent, and I lost about 10 lbs and one size. For me, that was pretty good! And then, the challenge was over. And like you've heard a million times before, I didn't stick with it, so those 10 lbs came right back on.
May 3rd I will be participating (still not ready to say "running") in the OneAmerica 500 Festival 5K, and I have begun "training".
It is a slow go.
I used "training" in quotes, because it's laughable that I would even call what I'm doing "training". As a work-from-home mom with a preschooler still at home, my time is limited. I could seriously give you even more excuses than that, but we'll just leave it there. And really most people don't train for a 5K. They can run 3.1 miles like it's a warm-up. Well, not me. Maybe one day, but it can seem a long way off.
For now, I'm doing what I can.
Larry and I ended our gym membership because neither of us was going, and at $70-something a month, that's a high price for nothing.
So then my amazing and inspiring friend Jenn became a certified personal trainer, and I hired her to create a home plan for me, with the following parameters:
Our sessions could only be once a month, and I am accountable for following Jenn's plan in between sessions
I had to use the few tools and equipment I have (which ain't much), without buying much more
I had to be able to exercise in my basement, or weather permitting outdoors, but sticking close to home because much of the time Carlie would be with me
And you know what? It's a slow go, but it's working for me.
I'm admittedly not exercising 3x/week as the plan calls for, but when I do, I push myself to get my heartrate up, and on some off-days when I can leave the house, I'll go for a walk/run with my Couch to 5K app.
Be on the lookout over the next three weeks for more parts to this journey of getting fit for the OneAmerica 500 Festival 5K.
You might also find interest in more recent Indiana posts., and follow my friend Michelle's journey as she prepares for the 5K too!
This post is sponsored by McDonald's of Central Indiana. I was provided with OneAmerica 500 Festival 5K registration and McDonald's swag in exchange for my participation in this campaign. For more info please see my disclosure policy.
(Visited 261 times, 1 visits today)