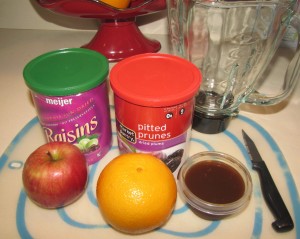 This is one of those "works-for-me-so-wanted-to-tell-everyone" kind of posts!
My youngest daughter Carlie (2) suffers from constipation. It could be a symptom of her low muscle tone, not sure, but it is just agonizing for the poor lil thing. I had been using Miralax mixed into her drink – which worked great, however I kind of had a gnawing feeling like it wasn't best for her, even though I was assured from her pediatrician it was perfectly safe for her to have every day.
One of Carlie's therapists recommended a recipe for Fruit Fiber Paste. Sounds appetizing, right?  It is actually just fruit, pure and simple, can't get any more natural than that.
So if your little one has similar tummy troubles, give this a try for a couple weeks and see if it doesn't do the trick. You may want to try only 1-2 tsp a day at first, you can then adjust up or down as needed. I have found 3 tsp at the same time each day does the trick for Carlie. If I even mess up 1 day, or give it to her late because I forget, it throws her off track.
The recipe follows, but here are the pics.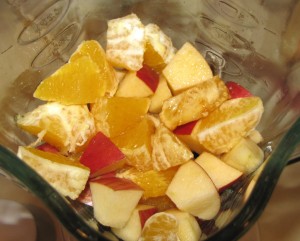 Yummy fruit cut into chunks (raisins and prunes are at the bottom). Juice is poured in last before blending.
Blending nicely … I told you it wouldn't be pretty!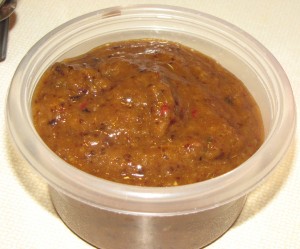 There we have it!  I promise you, it tastes much better than it looks.
Fiber Paste:
1/3 cup raisins
6 pitted prunes
1/2 unpeeled apple
1/2 peeled orange
2T prune juice
2T orange juice
Put all ingredients into a blender and puree until smooth. Offer 1 tsp daily at first, then slowly work up to 3 tsp (=1T) per day. Can be spread on crackers or toast, or mix into yogurt, applesauce, or eaten alone.
Couple of my personal tips:
Because this works so well for us, I double it and freeze half, so I don't have to pull out the blender quite as often.
The last little bit that's left in the blender – I put about 6-8 oz of water and a couple of ice cubes into the blender, blend it, then pour it into a cup for Carlie to have as her juice for the day.
BIG OL' DISCLAIMER:  I am certainly NOT a doctor and this post is not meant to be medical advice. This is merely a fruit recipe that works for many children suffering from constipation. If your child has medical concerns, see your pediatrician.
(Visited 542 times, 4 visits today)