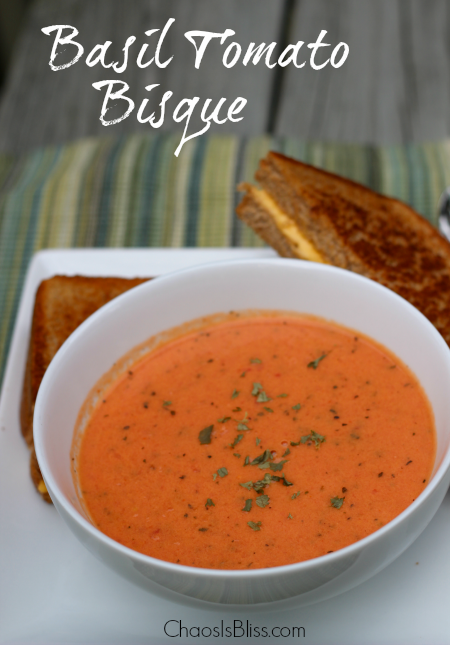 Tomato soup can run the gamut. Some are on the salty side and brothy, some are chunky (personally? = ew), some are so perfectly smooth you think it's tomato-flavored soup instead of the real deal.
I've always loved tomato soup, the creamier bisque-style especially; and I've tried it at nearly every restaurant that serves it. One that was fabulous was at Midtown Grill in the Broad Ripple area of Indianapolis, but sadly the restaurant closed its doors a couple of years ago.
After tweaking a few variations of Tomato Bisque recipes, I've come up with one that I really, really like. It makes enough to share with another tomato soup-loving friend or neighbor, and it's easy to fraction down for a smaller family.
Basil Tomato Bisque Recipe
Except for possibly the heavy cream, the ingredients for Basil Tomato Bisque you likely have on hand already. It's a great way to use up fresh tomatoes from the garden if you're making this in the summer, and fresh basil is wonderful, I just didn't happen to have any on hand so I used dried.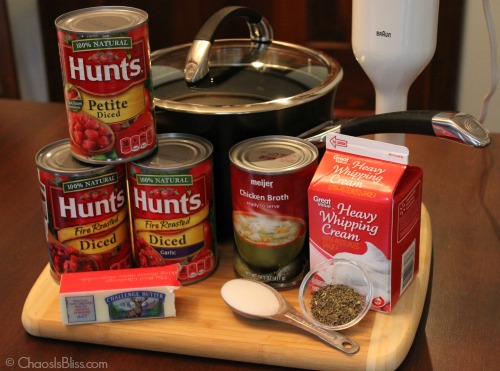 Ingredients:
3 14.5-oz cans diced tomatoes (I use 2 cans of Fire Roasted tomatoes for a bit more flavor, with 1 can regular. You can also try the variety with garlic & Italian seasonings)
1 14.5-oz can chicken broth
1 pint heavy cream
6 TBS butter, unsalted
1T dried basil (or 3T fresh)
1 T sugar
Easy peazy directions:
Pour tomatoes and chicken broth into pot. Chunk up butter a bit and add to pot, along with basil and sugar. Heat over medium heat until butter is melted.
Turn heat to medium-low and blend with hand blender.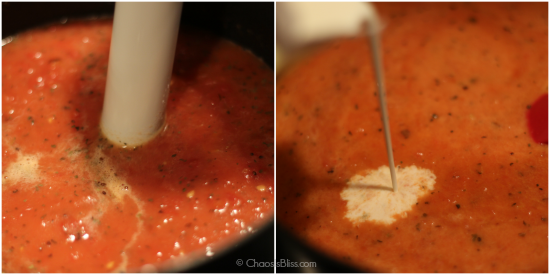 Because I don't prefer super chunky soups, I use a hand blender. You can blend it before heating, or during heating. An alternative is blending in a blender, then pouring into your pot.

If you're hand blending while heating, just exercise caution. You want the blade to be under the surface enough so it's not touching the bottom of your pot (it almost acts like a vacuum), but don't come too much to the surface or you will be cleaning tomato bisque off your light fixtures. I posted this on Instagram showing how I use short spurts and move the blender around the pot.
Keep blending until the soup is at the texture and consistency that you like.
Add a little bit of heavy cream slowly to the soup, while stirring. Then slowly add the rest of the cream, so as not to affect the temperature of the soup too drastically. You could also ladle out a couple scoops of the hot soup, mix all of the cream to that, then mix that back into the soup and stir.
Garnish with a sprinkle of basil, parsley, shaved Parmesan or top with croutons.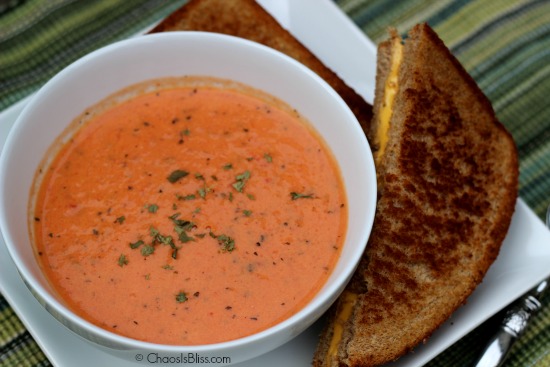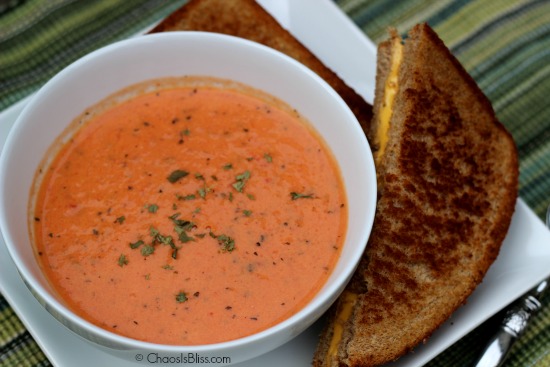 Be sure to check out more of my family favorite recipes, such as:
(Visited 67,218 times, 2,076 visits today)