Did you hear the news, that you can have Prime Now Fresh Thyme delivery in the Indy area?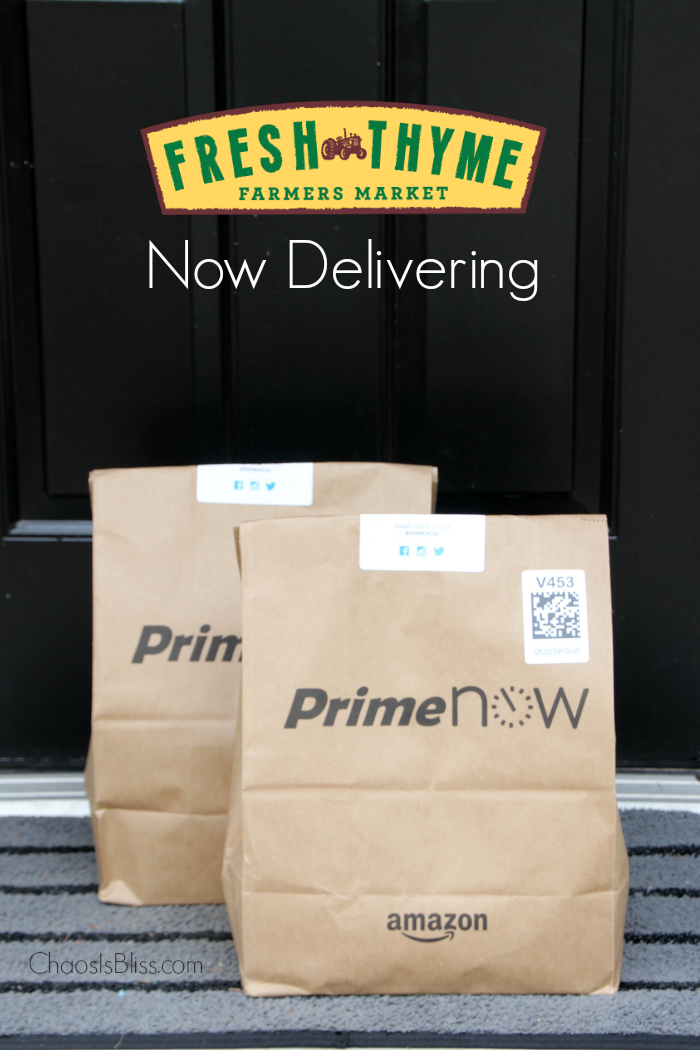 I tried it out for myself this week, and can't wait to share this Prime Now Fresh Thyme delivery review with you!
Prime Now Fresh Thyme Delivery Review
Ordering Fresh Thyme Farmers Market groceries through Prime Now is easy, but there are a couple of things you need to know:
Prime Now is one of the many benefits of an Amazon Prime membership. Not a member? You can get a free 30-day trial here.
Fresh Thyme grocery delivery is only available in Indianapolis right now, but is expanding! If you have a Fresh Thyme near you, input your zip code here to confirm that Fresh Thyme delivers in your area. You'll need to know before entering the giveaway below! Prime members in Avon, Speedway, Carmel, Broad Ripple and downtown Indianapolis will be able to shop for items from Fresh Thyme.
The only glitch I ran into is that while I do live in a city that has a Fresh Thyme, my store does not yet participate in Prime Now grocery delivery. But that wasn't a problem, as I knew I could have my groceries delivered to a friend's house, an office, my church…
I plugged in a nearby zip code where my church is, and boom – that's where I'd have my order delivered!
Ordering Process
The ordering process for Prime Now Fresh Thyme delivery is easy, except for the gazillions of choices you have. But the website is very user-friendly – just click on the category, such as "Farm-Fresh Produce", which further breaks down into subcategories like "Fresh Fruits", "Fresh Vegetables" and so on.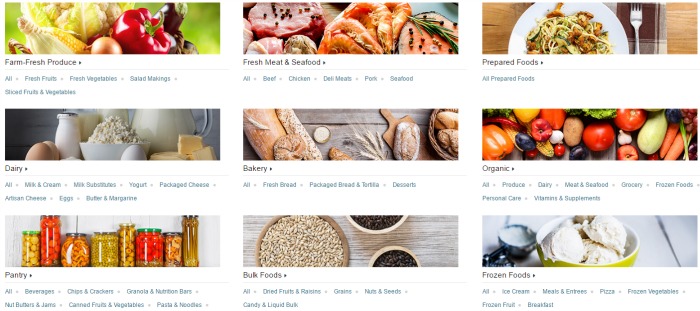 I ordered my groceries, and chose a delivery timeframe. You'll have free delivery within a two-hour window, or for a $7.99 fee your order will be delivered within one hour.
If this is your first time ordering with Prime Now, you can save $10 off your first order by using Prime Now promo code 10PRIMENOW.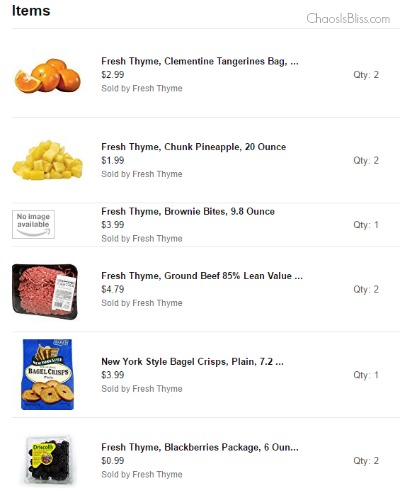 I received a text from my Prime Now Shopper letting me know my order was being prepared, and that they may message or call me with any questions.
A few minutes later, I received a second text letting me know that there were a few items I was wanting to order that were out of stock. Substitutions were offered, to which I replied and accepted all substitutions. Then I received a third text confirming, which also stated that I would be reimbursed for any price difference within 4-6 business days.
The timeframe I chose was between 12-2pm, and around 1:30pm I received a final text letting me know my driver was on his way. Here's the cool part – it included a link which allowed me to track where my driver was, as he was getting closer!
Hi, Ryan!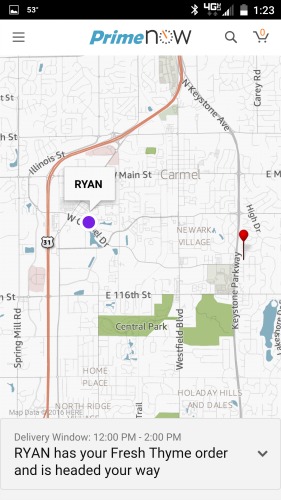 Ryan delivered my groceries without a single incident. Everything was bagged well, and my cold items were packed in insulated bags. Since I didn't have my order delivered to my home address, I brought a cooler with ice packs to keep the fresh meat and dairy cold.
I loved the convenience of trying out the Prime Now Fresh Thyme delivery, and will love it more when the Fresh Thyme closer to my house begins Prime Now delivery. Having fresh, great quality groceries delivered straight to me with just the click of a mouse, is something I can definitely get used to!
Indiana GIVEAWAY
UPDATE: This giveaway is now closed. Congrats Chris H.!
To help spread the word about Prime Now Fresh Thyme delivery available in Indy and beyond, Amazon Prime Now has provided me with a $50 promo code to give away to one lucky Indiana resident, so you can try Prime Now Fresh Thyme delivery for yourself!
This is a QUICK turnaround – the contest is open now and will end Saturday night at 11:59pm ET, 10/29/16. The winner will be drawn and contacted via email by 8am ET Sunday morning, and have until 12pm ET Sunday to confirm. After that time if I have not heard from the winner, another winner's name will be drawn. The promo code for the winner will expire at 11:59pm ET, 10/31/16, so please input your zip code here to confirm that Fresh Thyme delivers in your area before entering the giveaway.
If Fresh Thyme delivers in your zip code, you will see the Fresh Thyme logo appear under "Shop By Store":

Enter through the Rafflecopter widget below. No purchase necessary. You must be 18 years of age or older and an Indiana resident to enter.
Good luck!
a Rafflecopter giveaway
If you're bummed that Prime Now doesn't deliver in your area yet, You can download the
Prime Now app
 to be alerted when the service is available in your zip code.
Not sure if Amazon Prime is worth it? Check out this post with all the
Amazon Prime benefits
, and sign up for the
free 30-day trial
.
This post was sponsored by Prime Now, but all words and opinions are 100% my own. See my disclosure policy for more info.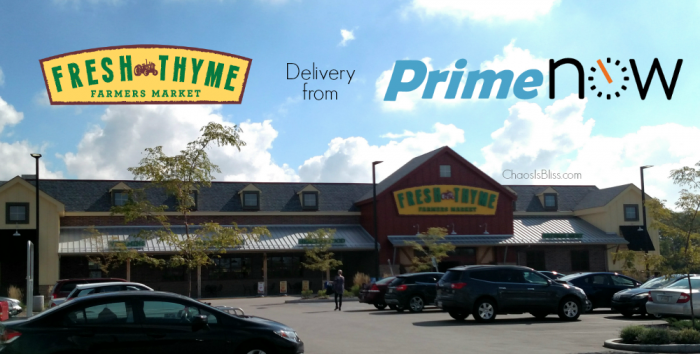 (Visited 2,129 times, 9 visits today)