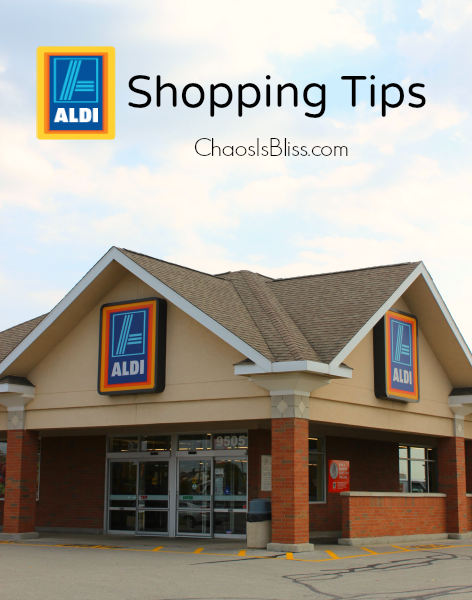 In some aspects, I consider myself a late bloomer. Like shopping at Aldi, for instance.
I seem to be among the last to jump on the Aldi bandwagon, because while it's only 5 minutes down the road, I was intimated to try it when my kids were young. I heard about how you have to rent a grocery cart, they don't bag your groceries, and they just don't have the shelf space for many choices. And I snubbed my nose a bit, thinking it was lesser quality food items, fresh produce or meat – I mean, in order to have lower prices, they have to lower their quality, right?
Now that my kids are all in school I can do my grocery shopping all by myself (birds chirping, heavens opening up, angels singing…). So I've had some time to shop at Aldi, get a feel for the store, and quite honestly, change my opinion. And on that note, this post was not sponsored by Aldi or anyone, and even if it was, my words are always 100% my own.
If you're new to Aldi, or like me – you are intimidated to try it, here are a few simple Aldi shopping tips.
Aldi Shopping Tips
You won't struggle to make decisions at Aldi, if you're the type that usually does (or if you're my husband). Their stores are easily half the size of other grocery stores, and with less shelf space you won't find 63 varieties of cereal to choose from. I would venture a guess that half the store is refrigerated, frozen and produce, and half is shelf-stable goods, paper products and some random gifts or home goods. You can see from this photo, one way Aldi saves money is by not using fancy shelving. Pretty much just stacks of product straight out of their boxes, on a palette or simple shelf:
If you are on a cash budget, Aldi is a great place to shop. They do not accept credit cards, but they do accept debit cards, EBT and cash. And make sure you have a quarter on you, because you do have to rent the shopping cart with a quarter deposit, which you get back when you return your cart. (Sidenote – it never fails, I *always* put the quarter in the wrong cart. It looks like you would put it in the 2nd cart to release the chain from the first one. But nope. Put it in the closest cart to you). The last time I was in, as I started to return my cart, another shopper gave me her quarter to take my cart. See? It's a community thang.
You'll also want to bring your own bags as those aren't provided. If you're a Costco or Sam's Club shopper, you already know the drill.
As far as what to buy at Aldi – I've heard from several friends that they buy their staples at Aldi – milk, eggs, produce and some basic canned vegetables. Aldi has also been increasing their organic and locally grown produce which is very encouraging, especially with all the healthy grocery stores (see this and this) popping up around Indy.
Aldi Price Comparisons
I happened to be out of Bisquick, and since it was on my way I popped into Aldi to see if they had a comparable baking mix. That, plus two other items I decided to price compare with Meijer and Kroger, turned out to be cheaper at Aldi: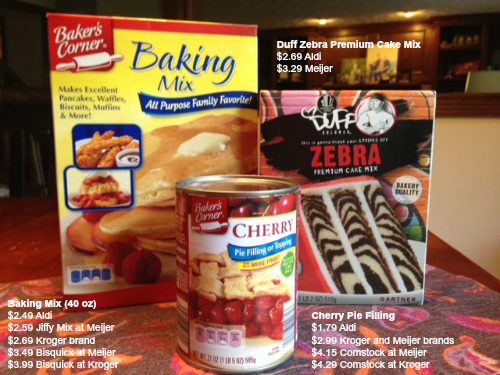 Aldi has several private label brands, the above photo shows Baker's Corner, which covers baking products. Other Aldi private label brands include Fit & Active (can you guess what that might be?), Clancy's (chips & snacks), Boulder (paper products), Live G Free (gluten-free) and several more. If you're not satisfied, the Aldi Double Guarantee means you'll receive your money back plus a replacement item.
Not everything will be cheaper at Aldi, especially when you factor in loss leaders that happen to be deeply discounted at other grocery stores any given week. For example, on this same trip Aldi had Dole fresh pineapples for $1.99, but Kroger had them on sale earlier this week for just $0.99. The Kroger ones were slightly smaller, which is usually the case when pineapples are so cheap. (Related: my latest favorite kitchen tool!)
Aldi Coupon Policy
There is none. Aldi does not accept manufacturer's coupons. You can sign up for their email list to receive their weekly ad, which will include hot buys for the week as well. Check their weekly specials online as well.
Learn more Aldi shopping tips here.
What Aldi shopping tips do YOU have? What do you like to buy at Aldi? Anything you prefer to shop elsewhere for? Leave a comment and share your experience!
(Visited 3,885 times, 20 visits today)